Back to Blog
Legal Operations
Legal Document Management, Explained
Legal document management can be the difference between a legal department that functions like a well-oiled machine and one that constantly stalls and breaks down.
Let's say you're working on a big patent prosecution project. Multiple in-house attorneys are collaborating with outside counsel and the U.S. Patent and Trademark Office (USPTO), which requires quite a bit of communication and document sharing.
Every patent search, correspondence with the USPTO, and application draft, has to be stored and accessible to everyone working on the project. The deeper you get into the work, the more difficult it gets to track document versions, find filings, or build a file history in case of future litigation.
Without a legal document management system in place, disorganized documents are bound to cause problems. Not only will your team risk making costly mistakes by viewing outdated versions of documents, they'll constantly waste valuable time hunting down the information they need.
Of course, not all document management systems will solve these particular pain points. Before you implement just any system, gain a better understanding of what legal document management software and solutions can do for your in-house legal team.
Document management is not the same as document storage
Although document storage and document management may seem like interchangeable terms, there is a wide gap between storing and managing documents.
Storage can be as simple as a folder on your computer or a cloud-based solution like Google Drive. With only basic file-sharing features and limited options for organizing documents, these storage solutions can get messy and frustrating.
Document management, on the other hand, is more involved and provides important features such as:
Versioning and audit trails
Full-text search
Secure user permissions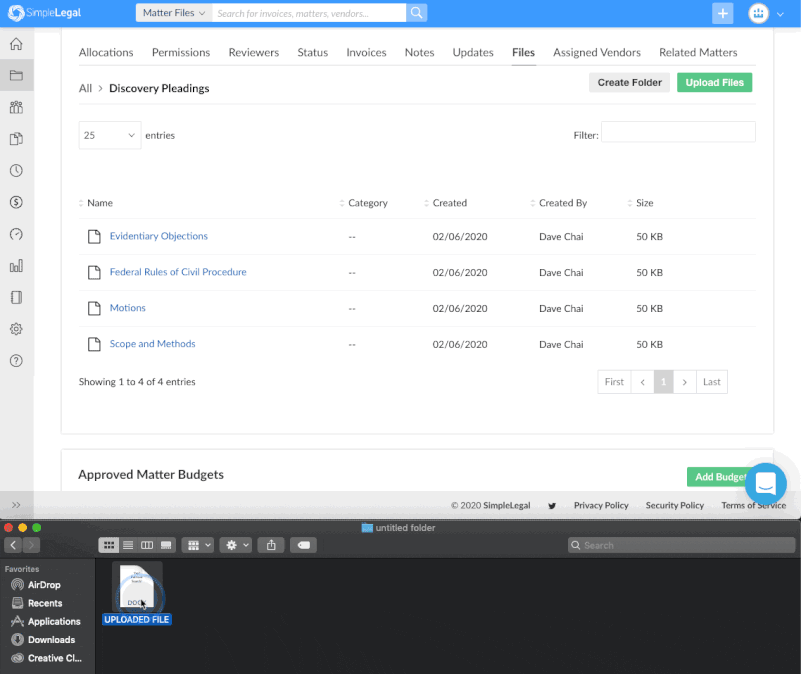 While both storage and management keep your documents in a central location, you can think of document management as a smarter and more accessible solution.
Document management versus legal document management
Document management systems are useful in a variety of industries, but legal document management takes it a step further by catering to the specifics of legal work.
Matter management
The ability to link documents to matters is essential. Associating relevant documents to each matter ensures that users will be able to quickly locate information as needed.
With legal document management software, you can even attach documents to specific steps within established workflows.
Document Sorting and Categorization
You often need to reference multiple documents as you work on a legal matter. Tagging documents by type — pleading, motion, order, deposition, exhibit, etc. — ensures that the information you need is always accessible. In such a document-heavy industry, being able to filter files by category is not just a time-saver but also an essential part of collaboration.
Versioning and audit trails
In a field where something as simple as a strategically placed comma could cause a debate, tracking changes to documents is invaluable. Legal document management software includes versioning and audit trails that allow you to review which users accessed each document and when, along with any edits made.
Secure Collaboration
To ensure that you are in compliance with local laws, maintaining attorney-client privilege, and protecting document access, your document management solution must go beyond basic user permissions.
With legal document management software, you can grant different access levels that determine how both in-house talent and outside vendors interact with each file. Different access levels can help protect your clients, your legal department, and your partners.
Understanding legal document management solutions
While there are standalone legal document management software solutions, document management integrations allow you to seamlessly move between systems and provide access to key legal document management features.
Integrations make information accessible to people in and outside of the legal department. While this is a significant time-saver, it also keeps documents more secure. Thanks to continuous data encryption, virus scan for all uploads, and TLS and SOC 2 compliance, documents are protected from unauthorized access and edits.
SimpleLegal's integrations with document management solutions like Box and iManage offer additional features including:
Option to auto-create associated workspaces – Save time by eliminating the need to recreate folder structures with each new matter
Auto-inherit user access permissions – Ensure file security knowing any user settings tied to the file in Box or iManage will be applied to the copy in SimpleLegal
Full-text search – quickly search file names and content
Real-time sync – no need to manually transfer documents into SimpleLegal
Ability to associate documents with matters and/or link to steps within a workflow – keep relevant documents linked to matters
SimpleLegal Document Management System
While we will continue to support Box and iManage integrations, we also have a document management solution (DMS), conveniently embedded into SimpleLegal to create a one-stop-shop for in-house legal teams.
SimpleLegal's DMS will offer all the features available through our integrations, as well as several additional capabilities:
File categories – Mark files as briefs, closings, disclosures, contracts, etc.
Labels – Add multiple labels to the same file and filter documents by labels
Outlook add-in compatibility – Save emails and attachments to SimpleLegal without leaving Outlook
Enhanced version control – Manage multiple versions of the same file based off user and date added/edited
Whether you leverage an integration or choose our DMS for a "one-stop shop," it's crucial to manage your documents effectively and not simply store them.
Streamline your legal document management
Centralize your documents, simplify collaboration, and gain more insight into the entire lifecycle of each matter with the help of our legal document management integrations. Sign up for a demo to see how linking your matter management and document management can save you time, money, and frustration.