SimpleLegal named Top 20 Most Promising Legal Technology Provider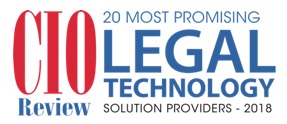 SimpleLegal is proud to be named one of the "Top 20 Most Promising Legal Technology Providers" for 2018 by CIOReview.
The technology magazine, which has been at the forefront of guiding organizations through the continuously evolving technology landscape, provides solutions to assist enterprises in implementing and maintaining state-of-the-art operations.
Legal Departments Shift Towards a Quantitative Approach
SimpleLegal joins the ranks of legacy legal technology companies, displaying how the landscape is shifting toward more modern solutions to meet the needs of today's data-driven general counsel and corporate legal teams.
SimpleLegal's legal operations software fills a gap in the legal technology landscape by replacing manual processes and clunky systems with an intuitive solution for collecting invoice, legal spend, and matter data in a streamlined and efficient manner. The comprehensive solution then leverages this data to spin up reports custom to the legal department's needs for quick and thoughtful analysis.
SimpleLegal also connects with other technologies often used by legal departments, like IP management software as well as AP and finance solutions, to close the loop and create a fully connected legal operations process.
Driving the Adoption of Legal Tech for More Efficient Legal Operations
CIOReview recognizes that legal departments are under pressure to be agile and responsive to change, and releases their list of "Top 20 Most Promising Legal Technology Providers" to help legal departments at organizations of all sizes navigate the legal tech landscape and adopt solutions that can make a difference in their decision making and overall productivity.
Click here to read the SimpleLegal profile on CIOReview.