Become a data-driven general counsel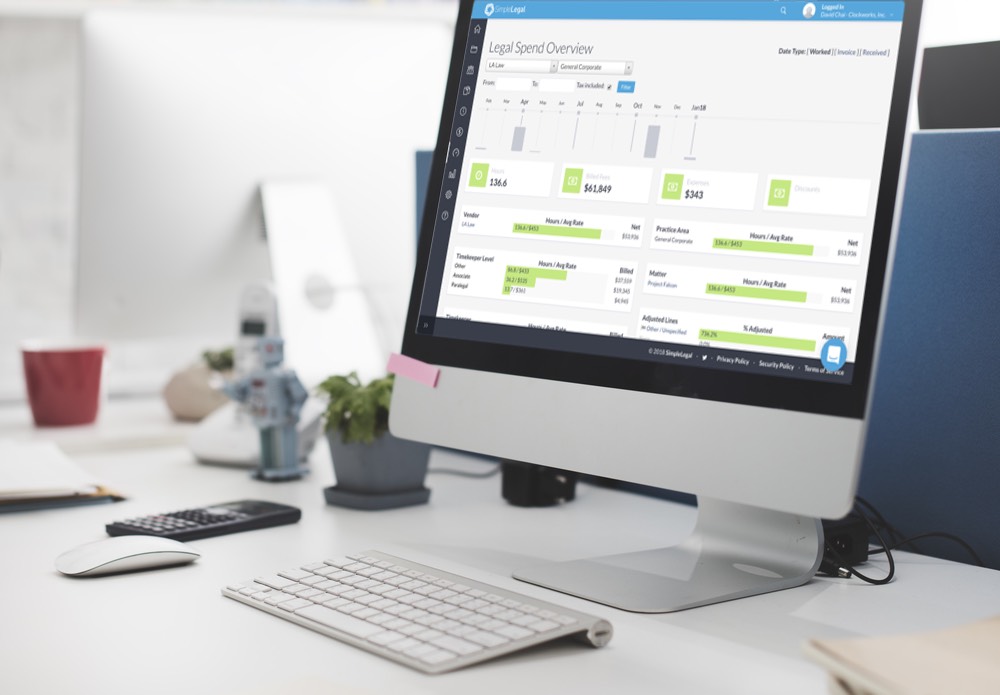 As a general counsel, you rely on your outside counsel and in-house expertise to direct your company in the right direction. You'll read through dozens of case studies, a mountain of text, and spend hours on the phone with your experts before you're comfortable making a big decision.
The question is, why don't you do the same with your legal data?
Insights from your legal data can give you the power to make key predictions about your legal expenses, grow your team in the right ways at the right time, and drive rate negotiations with your outside counsel resulting in huge savings.
We work with general counsel around the world, all of whom run their teams in their own way. One common thread we see, however, is that the great teams use their legal data to drive key decisions for their team. They apply the same critical legal thought to their legal data as they do to their legal decisions.
We've defined the way our users collect and analyze data to find key metrics with advanced legal reporting and metrics and clean and visual dashboards. This insight can drive efficiencies and optimize legal spend.
1. Define Your Goal
Every team is a little different. As such, their needs and goals differ. Some general counsel define spend optimization as their main target, others are more concerned with optimizing the efficiency and quality of work within their team. Determining your goals is the key first step to becoming a more data-driven general counsel. These goals will help you determine what data are most relevant to you. Some examples of goals are:
Cost-savings
Optimizing outside counsel efficiency
Improving quality of work
Optimizing in-house team growth
2. Determine What Data is Relevant to Your Goal
If your main goal is to reduce costs, then data on the efficiency of your outside counsel isn't that relevant. You're not concerned with speed, you're concerned with cost. Picking the key metrics related to your goals is the next step to a data driven legal team. Zone in on what is most important to you, and define those metrics that you can measure. Some examples of data that might be useful to you:
Total legal spend year over year
Top 10 outside counsel by spend
Top 10 matter types by spend
Timekeeper rate comparison
Monthly spend by matter type
Check out some of the top legal reports general counsel (and their in-house teams) use to make more informed, strategic, business decisions.
3. Build a Dashboard to Visualize Your Data
Most of the time, data is just a bunch of numbers and words semi-organized and trapped in an spreadsheet somewhere. Data is only as valuable as it is actionable. The key to making good data driven decisions is to have good dashboards.
Pick the data that is most important to you (defined in Step 2) and organize it in a way that makes sense to you. If you use a legal operations platform like SimpleLegal, we'll do it for you automatically, but otherwise you can drop it into a spreadsheet and build charts that help you visualize the data you have. Before long, you'll start to see trends that can help time and cost saving decisions that will make your life much easier.
A SimpleLegal user recently used our spend overview report, a report that summarizes all of your legal spend into visual blocks like those above, to save over $100k in one phone call with their outside counsel.
Become a Data-Driven General Counsel
Done correctly, becoming a data driven general counsel is not an arduous or time intensive transition. By following these three steps, proven time and again by general counsel around the world, you'll soon be able to make informed decisions about how you run your team.
If you're interested in learning more about how SimpleLegal can help you become a data-driven general counsel, schedule a demo to see our reporting engine in action.