How to leverage legal data for strategic business decisions as a GC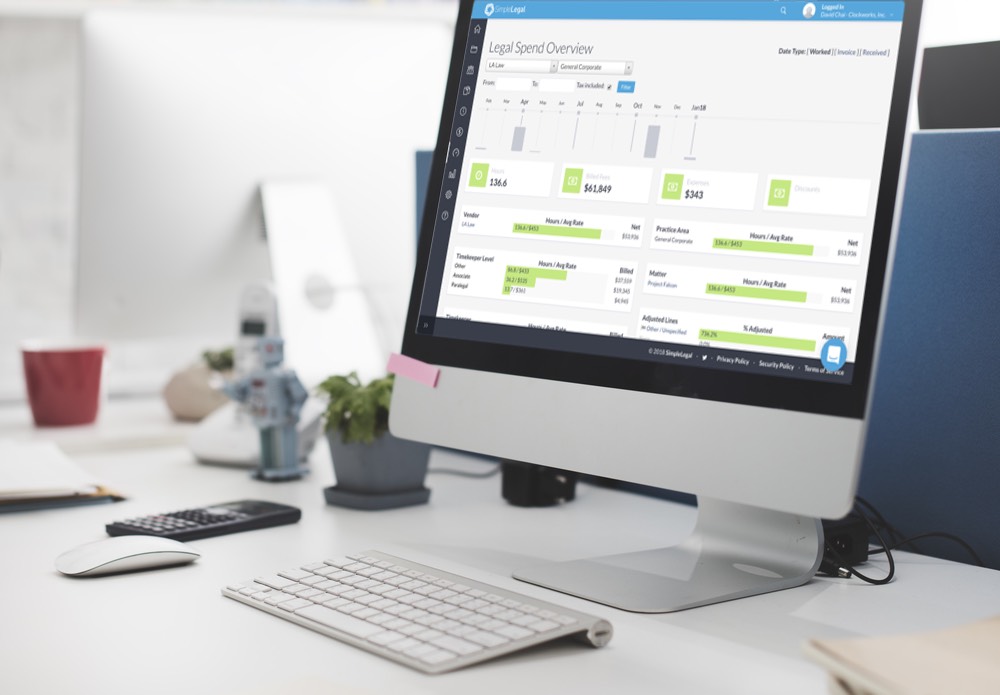 General counsel is no longer just a legal advisor. According to Deloitte, today's general counsel is a key player in business analysis and decision-making. But you need access to robust legal data to do so effectively.
Insights from your legal data help you make smart decisions around budget, negotiations, staffing needs, and other factors that make the team as productive and cost-efficient as possible. Want to set up a system to frequently collect and analyze legal data today? Here are some steps to help you do just that.
1. Define your legal department's business goals
Your goals determine the data you'll need to collect and analyze. For some general counsels, the main goal may be spend optimization. For another, it might be optimizing team efficiency. Regardless, your goals will determine the type of information to collect.
To effectively define your department's business goals, brainstorm the challenges your legal department currently faces in relation to the company's overarching business goals.
Some examples of goals are:
Cost-savings
Optimizing outside counsel efficiency
Improving the quality of work
Optimizing in-house team growth
On how to set smart goals, Sterling Miller, CEO & Senior Counsel at Hilgers Graben PLLC, shares a few tips:
Look at last year to determine where your team struggled.
Talk to your boss to understand their concerns for the coming year.
Talk to your team and other legal professionals to understand what is and isn't working (business issues, tech problems, changes they'd recommend).
Be proactive and think about the legal, regulatory, and business trends that might affect you in the coming year.
2. Determine what legal dataset applies to your goals
Hone in on the data that helps you achieve your goals, so you don't chase vanity metrics that do nothing for you. If your goal is to reduce outside counsel spend, for example, you are better off focusing on financial data like timekeeper rates, spend by vendor, and year-over-year legal spend instead of legal KPIs, like matter lifecycle time.
Say your goal is cost savings. You'll need to monitor cost-related legal KPIs, including:
Outside counsel spend
Matter types by spend
Timekeeper rate comparison
Monthly spend by matter type
To determine what unique dataset matters to your goal, break down your goal into steps. To achieve your goal, what steps would you and other members of your team need to take?
To reduce outside counsel spend, for example, you'll need to:
Determine how much work you outsource vs. how much you fulfill in-house.
Figure out the pay level of the work you outsource.
Figure out the expertise/training/hiring costs to complete those tasks in-house.
Understand if your vendors are billing timekeeper rates for tasks below their expertise, etc.
---
Editor's note: While you want to focus on goal-oriented data, it's still best practice to collect all the data you can to accommodate changing goals in the future. Check out some of the top legal reports that general counsels (and their in-house teams) use to make more informed, strategic business decisions.
---
3. Use a data analytics dashboard to visualize your data
Data is near useless when it's just a bunch of numbers and words disjointed across spreadsheets. You need to see data in a format that actually tells you a story and points to an action. It's hard to do that in a spreadsheet, especially if you're not a professional data analyst. It doesn't help that spreadsheets undermine your legal reporting with hard-to-notice mistakes.
That's why more legal departments are investing in legal operations platforms with visual analytics dashboards because they make it easy to understand the data and the challenges and opportunities it points to.
But if you don't have a centralized legal analytics dashboard like this one and can't justify the investment, you can try to collate your data and legal documents manually. You'll need to gather your previous and current year's paper invoices, court documents, and other legal information in a common format and enter them into a central database.
Collect vendor invoices, timekeeper bills, tech and tool bills, accruals, etc. Consider asking your vendors for copies of invoices you can no longer find. Once you have all the data on hand, record them in columns and rows by name, rate, cycle, and so on. This won't provide the visual clarity of a dashboard, but it at least centralizes your data rather than having it spread across multiple documents.
---
A SimpleLegal Success Story: Pacific Seafood's Deputy General Counsel, Tony Dal Ponte, brought on SimpleLegal to replace the department's frustrating manual invoice processes. Thanks to automated invoice and approval workflows and comprehensive insight into legal spend, his team was able to save multiple days every month, and Tony says he can "make better operational decisions and act as a strategic adviser to the overall business."
---
4. Analyze your law firm data and workflows for performance insights
Now that you have all your data in one place, it's time to analyze it to gain the insights you need to make smart business decisions.
Analysis can take different directions since goals are always different, but general rules for an effective data analysis apply:
Isolate your data by the time period you want insights on.
Compare similar KPIs for your vendors or matters. ( This is easy to do in one dashboard with legal ops software, see below.)
Look out for trends and/or abnormalities in the data related to your business goals, e.g., one vendor billing way more hours than other vendors for the same work or a vendor billing way less compared to others. Are they performing as high-quality work as other vendors?
Leveraging legal data isn't as hard as you might think. Start the transition today.
Done correctly, becoming a data-driven general counsel is not an arduous or time-intensive transition. With the right tool and a firm understanding of what you want to achieve, collecting and leveraging insights from data becomes less scary.
A good place to start with data to improve your team is in billing and matter management. Collecting data around these mundane tasks is easy to outsource to legal operations software. The data you collect around these two will help you understand team productivity, value, results, and outcomes. Those are the kind of insights you need to make decisions around staffing and costs.
If you're interested in learning more about pricing and how SimpleLegal can help you become a data-driven general counsel, schedule a demo to see our reporting engine in action.
This article has been updated to reflect new information and industry trends from the original article, published on August 2, 2016.