Legal billing guidelines: what to include & how to enforce them

Legal billing guidelines are a binding agreement between a legal department and a law firm, ensuring payment in exchange for legal work. The guidelines establish rules for legal invoicing formats, staffing, deadlines, and other important aspects of the working relationship.
Think of your legal billing guidelines (also known as outside counsel guidelines) as the underlying foundation for creating a positive and meaningful partnership between legal departments and law firms. Guidelines are one of the most effective ways to control your legal spend and build stronger working relationships.
Here's how to create your own legal billing guidelines to set up a successful, thriving relationship with your outside vendors.
Why it's crucial to set clear expectations for law firm billing
The foundation of any great relationship with your outside counsel is clear expectations. If law firms aren't aware of your goals or what you expect of them, they will likely miss the mark when they begin billing. Clear, actionable, easy-to-understand billing guidelines are the key to getting your outside law firms up and running at maximum efficiency.
When creating billing guidelines to better onboard outside counsel, in-house legal departments can be intimidated by the detail needed in these documents. Contrary to popular belief, billing guidelines don't need to be long, complex, and riddled with legal terms. Often, you can start with your main billing requirements, adding and improving detail as your needs change, your team grows, and your expectations become more specific.
What to include in legal billing guidelines
You want to convey to your law firms why billing guidelines are important. Guidelines aren't meant to set unachievable standards for your law firms; instead, they create a baseline for expectations, so you can ensure that everyone is on the same page.

In working with our clients and legal departments of all sizes, we've found five key elements common in legal billing guidelines:
1. Introduction
2. Staffing
3. Legal invoicing and law firm billing procedures
4. Timing
5. Signature page
Introduction
The billing guidelines introduction states the purpose of the document and the expectations of the relationship. Use this section to define what a great working relationship is for both parties. Keep in mind that your legal billing guidelines are not a set of demands; they are a guide for building strong partnerships between legal ops and vendors.
Your introduction to your law firm billing guidelines should include the following:
The date when the billing guidelines will go into effect
A declaration of your legal department's right to modify or reject invoices that do not comply with the guidelines
A reminder for law firms to accept the terms by signing the signature page included with the guidelines

Keep your introduction brief — three or four short paragraphs — so you don't overwhelm your vendors right at the beginning.
Staffing
The staffing section dictates dictates who has the right to hire vendors, addresses appropriate levels for staffing certain projects, and outlines the approval process for staffing changes.
Set the expectation that you will only pay for work that is appropriate for the timekeeper's role and expertise. In other words, clearly state that you won't pay partner-level rates for work that could be completed by an associate or paralegal. If your department does not pay for work completed by interns or first-year associates, include those rules as well.

It's also important to address inevitable changes in staff. If an attorney working on your matter leaves the law firm or moves to another account, how do you want the situation to be handled? Consider requiring vendors to notify your team within a certain number of days of a timekeeper's departure. You may also want to invoke your right to approve or reject the replacement timekeeper.
Legal invoicing & law firm billing procedures
Your billing procedures explain how outside counsel must submit invoices and define your preferred legal invoicing format.
First, establish how you would like to receive invoices. If you use an e-Billing platform such as SimpleLegal, include instructions (or a link to an external resource) for how to submit invoices through the system.
Next, describe how invoices should be formatted and what they should include. For example, you could write that all invoices must include:
Matter name and ID
Description of work completed
Timekeeper name, title, and rate

If you have a preferred format, such as LEDES files, state your preferences and acceptable substitutions.
Timing
This section outlines how often vendors should submit invoices and how they will be paid.
If you want to stay on top of your budget and accruals management, you need to control your invoicing timeline. Use this section to establish the following:

Frequency of invoice submissions (e.g., vendors must submit invoices weekly, monthly, etc.)
Timeline for invoice payment (e.g. we will pay invoices within 30 days of receipt)
Penalties for late invoices (e.g., invoices submitted 1-30 days after the due date will be discounted by X%)
Invoices that will not be paid (e.g., invoices submitted more than 90 days after the work has been completed will not be paid)
Method of payment (check or electronic payment)
Signature page
The signature page is your insurance that your outside law firms have read the billing guidelines.
It's difficult to enforce guidelines if your vendors can claim they never received or read them. A simple signature page that states, "Our firm acknowledges receipt and accepts the terms of these legal billing guidelines" can prevent a lot of disputes and headaches down the line.
How to enforce legal billing guidelines with e-Billing solutions
When leveraging a legal spend and a matter management solution, it's essential to specify how you want outside counsel to submit invoices and explain how you'll enforce billing guidelines. Law firms are accustomed to using various legal billing systems, so don't be afraid to get specific with your requirements.
If you use a system like SimpleLegal, you'd describe the process for submitting invoices via CounselGO. Outline the process for getting started with a new legal billing system, establish the timeline for submitting invoices, and provide any key contacts for billing related inquiries.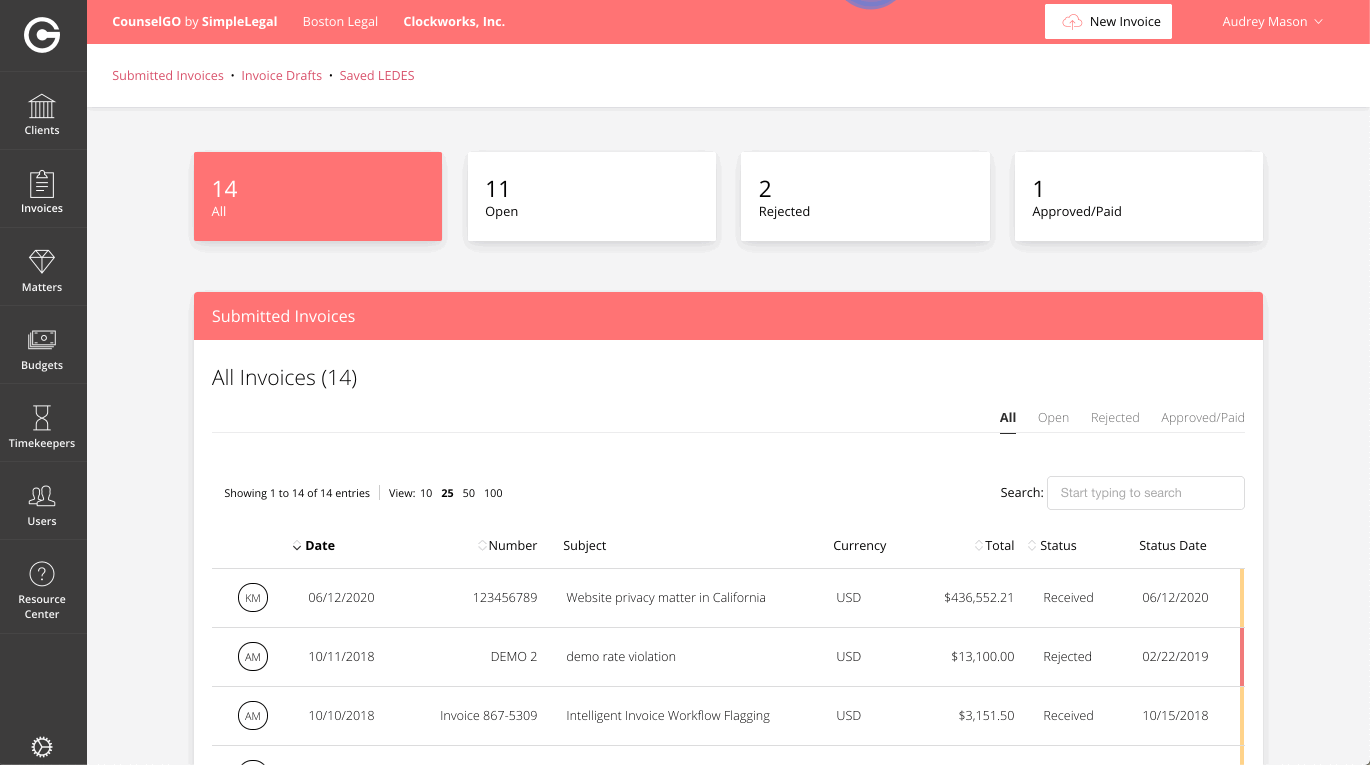 You may want to go beyond general law firm billing procedures — like explaining how vendors should bill specific expenses and fees. For example, if you limit the number of hours that can be billed to certain UTBMS task codes, make sure to include those details in your billing guidelines.
You should also include a section on prohibited fees so you can be clear about what you aren't willing to pay for. Below is an example of a section addressing prohibited charges:
[Company] does not accept invoices with block billing. We ask that all invoices include line item detail for work performed. Furthermore, we do not accept invoices that bill for:
First-class travel
Administrative work
Time spent preparing invoices
Expenses associated with printing, scanning, photocopying, or postage
Lastly, don't forget to explain how these rules will be enforced through your e-Billing system. If you're using SimpleLegal, you can automatically reduce or reject invoices that do not adhere to your legal billing guidelines — but you don't want that to come as a surprise to your vendors. Be up front about the reduction/rejection process so you can avoid disputes in the future.
Align with finance & accounting
Legal teams must align closely with their finance and accounting teams. Use legal billing guidelines to define processes that will help reduce billing errors and streamline collaboration between legal and finance.
For instance, if you're collecting monthly unbilled estimates from your law firms, it's important to explain how outside counsel should submit those estimates. If you're using SimpleLegal, we'll email and collect these from your law firms automatically.
Use legal billing guidelines to outline the processes for the following:
Accruals: How should they be calculated, and when should they be submitted?
Budgeting: Do you want your law firms to submit budgets and forecasts? If so, how often and in what format?
Work with finance and accounting to determine processes that will make their jobs easier. When the legal department and finance/accounting departments are on the same page, it's easier to gain better visibility in current and future legal spend.
The ultimate goal of legal billing guidelines
The goal isn't to overwhelm your law firms with terms that paralyze their ability to do good work. The key here is to set clear expectations. Legal billing guidelines don't need to be complex. View your guidelines as a living document that you are constantly building and reiterating as your legal team grows and changes.
If you're looking for a more detailed breakdown of billing guidelines and what detail you should be including, download our white paper Legal Billing Guideline Best Practices. This comprehensive guide covers the key segments of billing guidelines and provides strategies for effectively communicating and enforcing them.