Manage, automate, & control your invoice process with Invoice Validation Rules

Take your invoicing process to the next level with billing guidelines – they're the key to financial accountability and control over legal spend. Ensure invoices from legal vendors meet your standards and are quickly reviewed by in-house counsel – don't settle for subpar enforcement with limited options when violations happen. It's time to empower your team with powerful solutions tailored to your needs!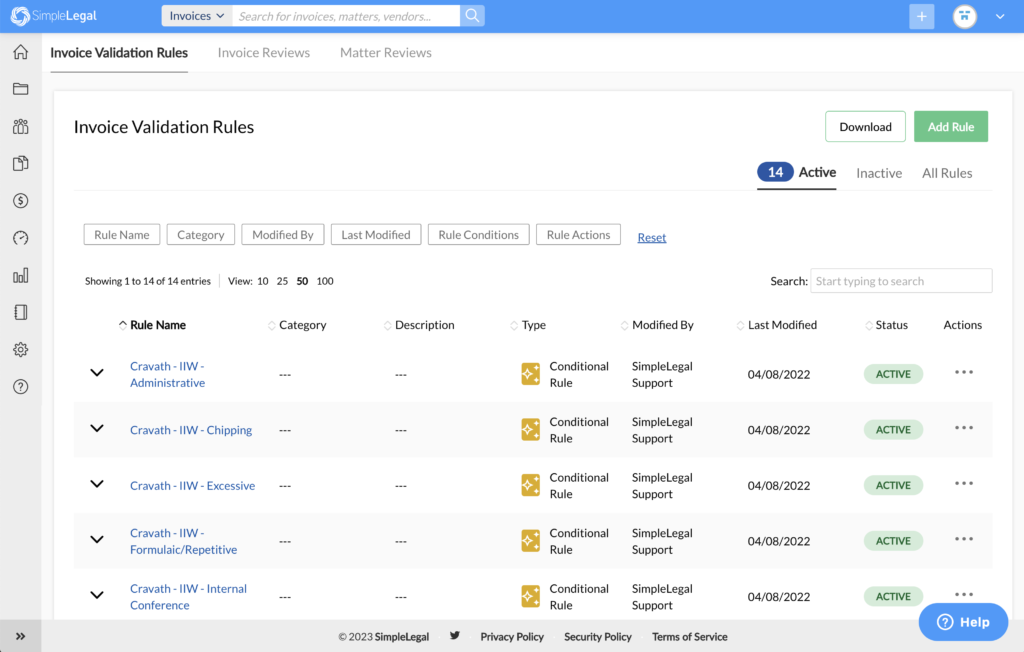 Our latest cutting-edge feature, Invoice Validation Rules (IVR), lets you set your own configurable rules to enforce complex alternative fee arrangements (AFAs), billing guidelines, vendor discounts, invoice approval routing, and more. With IVR at your disposal, you can streamline your invoice process and ensure compliance with ease. Say goodbye to manual reviews and hello to a faster, more accurate, and cost-effective solution.
Invoice Validation Rules allow you to control a broader set of criteria and provide more options when violations occur. You have the ability to adjust invoices automatically, as well as flag and reject them, enabling attorneys and other legal staff to spend less time manually reviewing invoices, and more time focused on high-value legal work.
By utilizing Invoice Validation Rules, legal departments can:
Reduce Costs: Catch billing errors early and prevent overpayment.
‍
Save Time: Accelerate invoice review and enable attorneys to prioritize high-value legal work.
‍
Limit Errors: Reduce costly errors by ensuring every invoice gets reviewed – no invoices slip through the cracks
‍
Maximize Resources: Boost departmental productivity with automation and streamlined workflows.
‍
Enforce Process: Ensure adherence to business processes by internal and external stakeholders.
‍
Quantify Impact: Easily demonstrate your direct impact on department savings with comprehensive reports and analytics.
‍Want more information? SimpleLegal has you covered – check out our Invoice Validation Rules and SimpleReview datasheet here!