CLOC 2022 in 5 quotes: Celebrating the resilience of the legal ops community

What a way to continue May by wrapping up a fantastic CLOC Institute in Las Vegas! It's been a long time since we at SimpleLegal were able to meet everyone in person and an honor to sponsor for the first in-person Institute in two years. We can't tell you how exciting it was to see how our fellow legal professionals not only addressed, but flourished during a time of unprecedented rapid change.
Whether you were at the conference or couldn't make the trip this year, here are 5 quotes from attendees that summarize key takeaways from the event. Of course, if you have favorite moments or sessions from #CLOC2022, share them with us on Twitter (@simple_legal) or LinkedIn!
Quote 1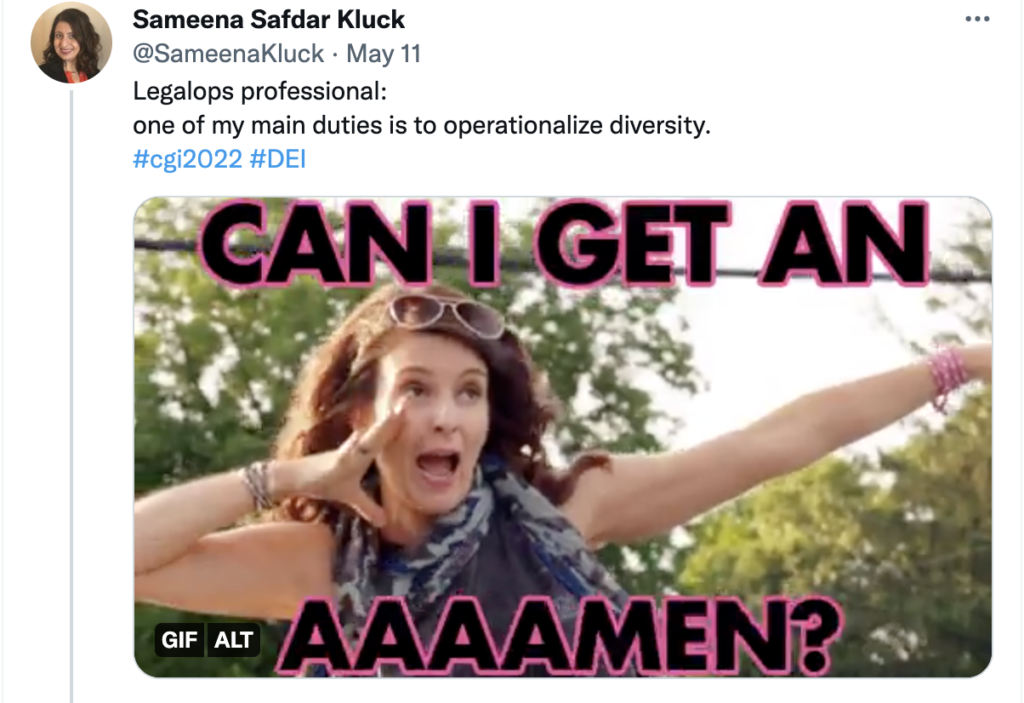 Diversity, equity, and inclusion (DE&I) has been a hot topic of conversation since last year and we're not surprised to see it come up in this year's CLOC Institute. Consilio's session on how law firms and in-house teams can work collaboratively to measure, report, and improve law firm diversity showed that it's no longer just a talking point; it's also an action point.
Data is crucial to inform our conversations with law firms on their diversity. It's harder to backtrack from a promise if it can be measured. However, measurability arose in question across many DE&I metric panels: How does legal ops handle the situation when attorneys choose not to disclose diversity status? The answer? "That's a conversation you need to have with them. Why don't they?"
It's all about having these intentional conversations early on. While it may seem uncomfortable, legal operations has the power and flexibility to ask probing questions about underrepresented attorneys as clients of outside counsel. Legal ops also has the unique ability to share best practices they see their organization and other outside counsel practicing. "We don't want to ask anything of our outside counsel firms that we're not committed to doing ourselves."
The takeaway? Remember it's a marathon, not a sprint. To enact lasting change in the industry, we're all working together to improve and support DE&I objectives with clear visibility into the data.
Quote 2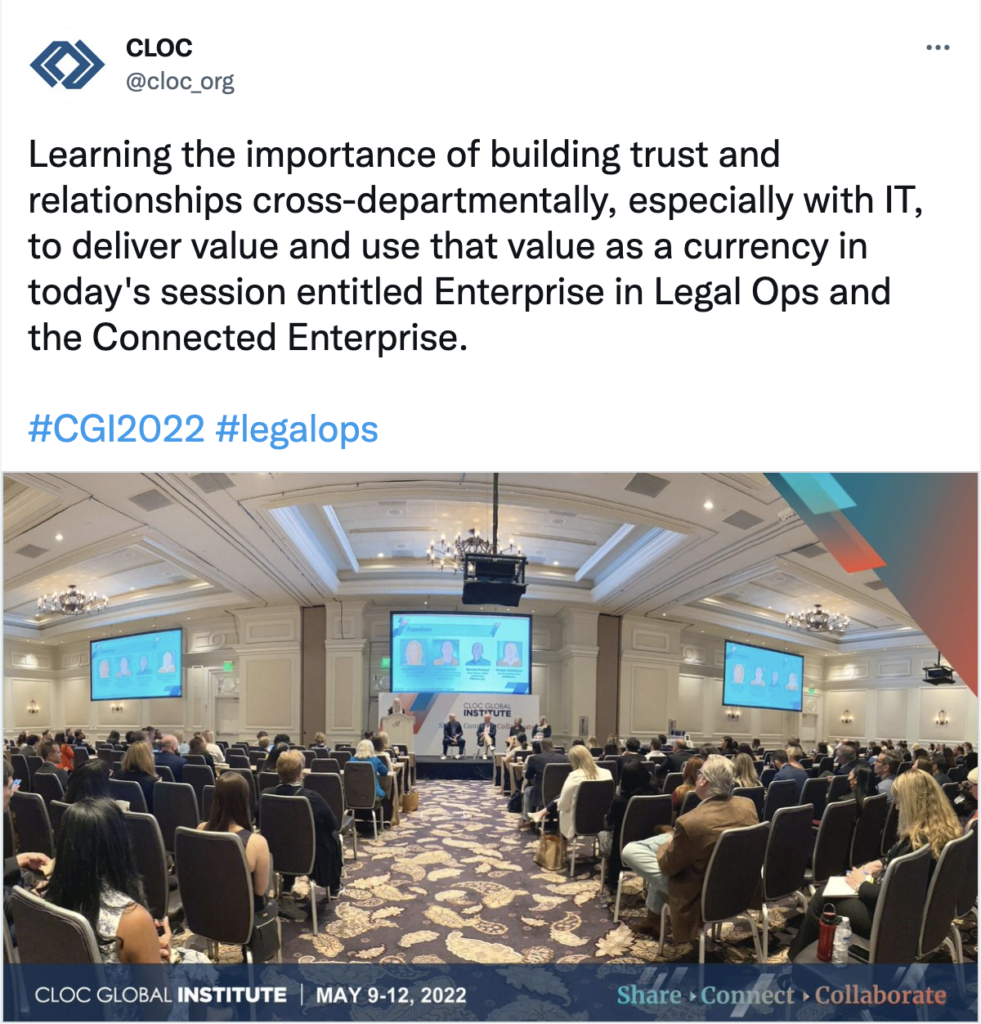 Working collaboratively has shown to be of great importance, especially when remote and hybrid workplaces are a lot more commonplace for legal ops now. In this session, we partnered with our parent company Onit to show how the foundation of communication begins with trust. Trust that your team will deliver value to the individuals you work with, to other departments, and to the overall business. That trust will pay off unexpected dividends, whether your team is part of a scaling business or a well-established enterprise.
That trust also connects back to any initiatives you bring up to the wider organization. Connecting back to our previous quote on DE&I, having that trust means that legal is at a prime position to mold the department and organization goals. Legal already has a reputation for being an unapproachable authority figure in the organization. When we meet, connect, and share some humanity, stopping and listening allows us to better meet the needs of the people we're working with.
The takeaway? Make establishing a good working relationship with other departments a priority. We're all here to ensure the business flourishes. You protect the business from external risks better when you're not facing avoidable internal strife.
Quote 3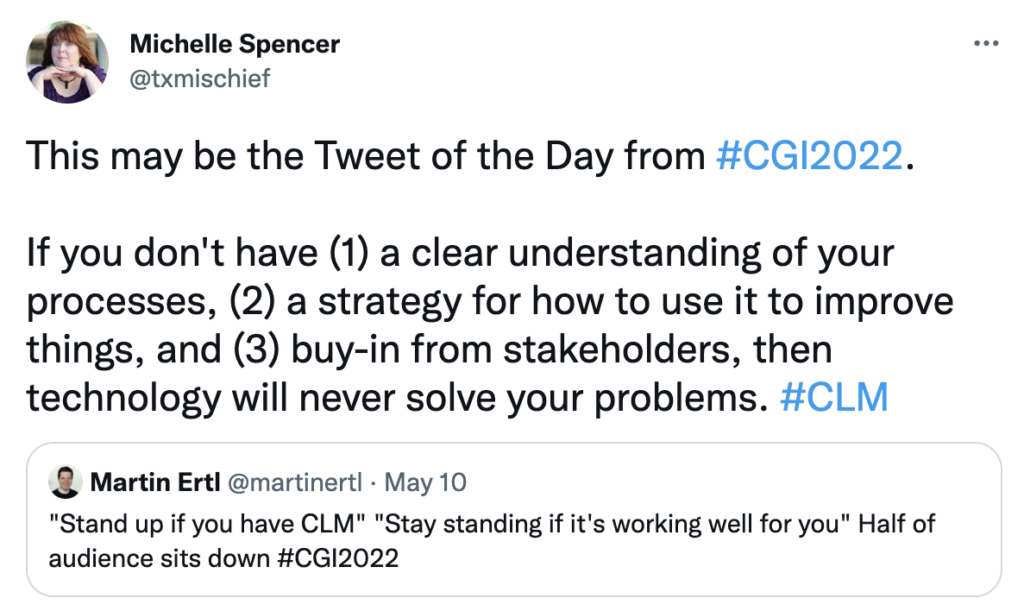 While this specific session may have been addressing contract legal management (CLM) users, we can apply this mindset to any technology solution. Like this attendee said, technology will never solve your problems if you don't have a clear understanding of how it will improve your processes. And it seems like at least half of legal ops professionals are missing that essential understanding part if we take this audience as a microcosm of the larger community.
Would you use a screwdriver to hammer down a nail? Probably not (unless you're desperate and don't have anything better on hand at the moment). Likewise, technology is a tool at the end of the day. Whether or not it's being used effectively all depends on the user. In legal speak, that's you and your team. Having fancy technology to address your pain points might seem great at first, but it's a bandage solution in the end. Kind of like forcing a circular peg into a square hole.
You wouldn't start building a house without understanding exactly how loose wood, stone, and metal end up becoming a solid structure capable of withstanding wear and tear. So why shouldn't your approach to bringing on new legal technology be the same?
The takeaway? Understanding your processes is key. From there, you and your team have the ability to convince others on why you need technology to improve them and how you will go about doing it.
Quote 4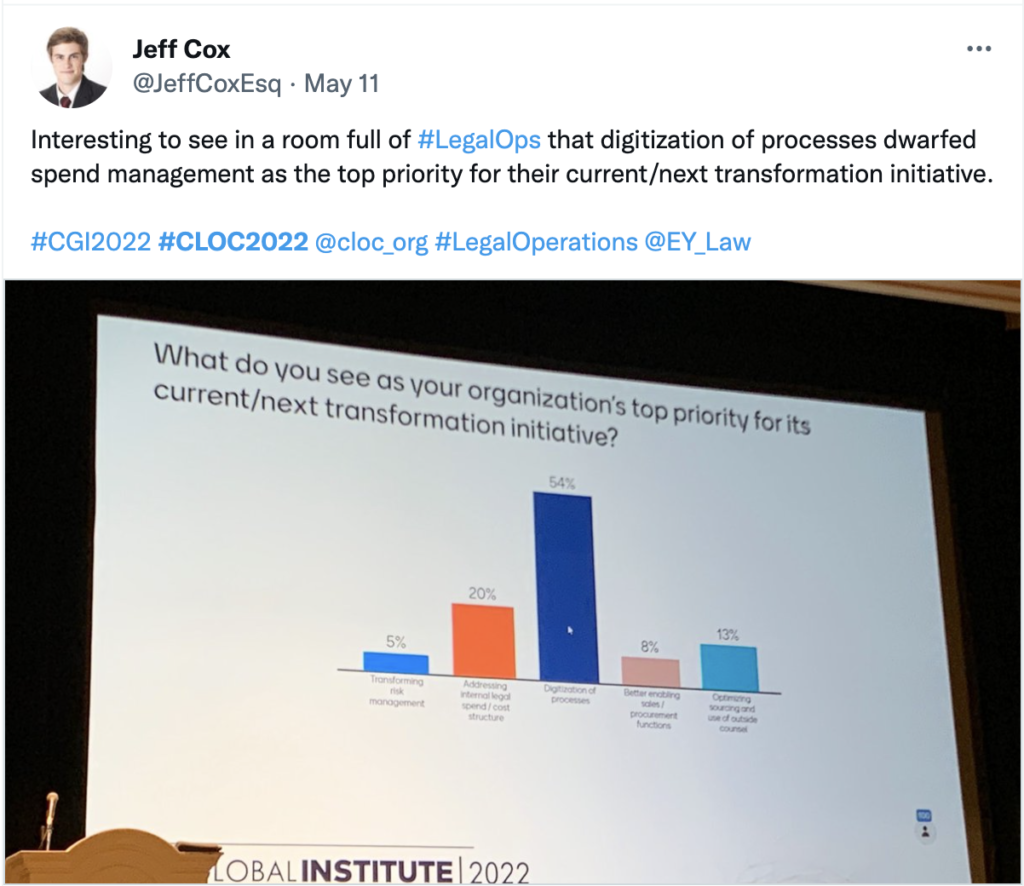 On the topic of technology, we think we can accurately predict the trend for the rest of the year. The top priority for current and future transformative legal ops initiatives is digitizing their processes. That dominated every other topic at a whopping 54% in this panel, beating out the next emphasis on spend management by 34%. The need for technology has continued to increase in the face of a changing workforce and work environment.
This is fantastic news, especially in an industry that has traditionally been slow to embrace change. It's not an exaggeration to say that law firms are still using spreadsheets to track their data even if many law firms are phasing into more secure tech solutions. However, what exactly does digitization of processes mean? An audience member raised an excellent counterpoint. What are the outcomes you want to drive by digitizing processes? And which processes? We know that the answers one legal team arrives at will differ from another legal team. After all, no journey is exactly the same. But wanting to digitize processes is a great sign that many legal departments are ready to take the next step of maturing their legal operations function.
The takeaway? Legal technology is not a fad.
Quote 5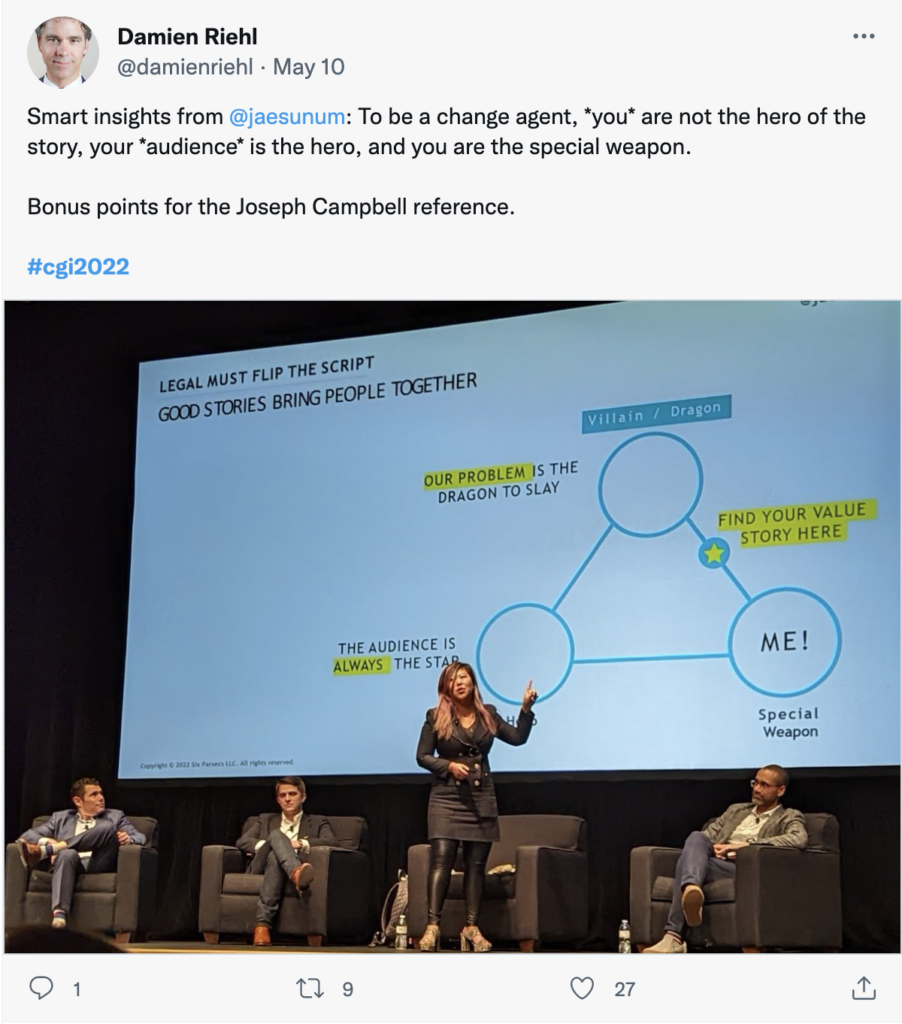 Why do we as in-house legal professionals do what we do? We're here to facilitate risk for sure. But another powerful ability we have is enacting change on a scale beyond our departments. With spending power over outside counsel and protection over the business from external risk, in-house legal teams are in a unique position to become agents of change.
And how do we do that? As this session shows, we flip the script. We're not here to be the heroes of the story. We're here to ensure the end user is the hero. The end user can be anyone: the finance department your team is collaborating with to manage outside counsel, the wider organization you're serving and its goals, or even the clients of whatever your organization provides. We're the special tool they leverage. By empowering the end user, we enact change.
The takeaway? The legal operations community continues to innovate. Our ability to enact change as legal ops professionals are only limited by our imagination. You can always try again with a new perspective.
Wrapping up another successful CLOC Institute
While it can't be denied that legal operations is fluid and constantly changing, these past few years has seen legal ops undergo rapid change— one that the community has weathered well judging by the hot reception at this year's CLOC Institute.
The annual CLOC Institute is a place legal operations professionals – and friends – can come together to discuss everything from the latest industry innovations to the biggest changes over the past year, all to ensure that the legal ops role has sustaining relevance in today's fast paced world. After two years of virtual CLOC Institutes, the legal ops community has shown that they can take what the world throws and bounce back even stronger than ever.
We're looking forward to seeing what #CLOC2023 will bring to the table!