Legal ops: 6 signs your legal spend management system isn't as powerful as you think

Legal spend management is far more than just paying bills online. A truly powerful legal e-Billing system also provides spend management capabilities that give you full visibility into how and where you use your legal budget.
Motivational speaker and author John Maxwell  says, "A budget is telling your money where to go instead of wondering where it went." So, ask yourself: Does your current legal spend management system help you manage a budget and legal operations — or just allow you to spend money at will?
Legal departments tend to stick with the system they have simply because it's what they've always used. But if any of the following challenges sound familiar, chances are your legal spend management solution isn't nearly as robust as you think.
1. Integration limitations create more work
Disconnected tools and systems cut into your team's daily workflows — forcing you to spend time moving between dashboards while entering the same data multiple times. If your legal spend management system doesn't integrate with the apps and software you use on a daily basis, it's creating more work for the entire department.
Instead, look for a system that allows for integrations with machine learning and artificial intelligence (AI) in order to automate data entry. This will eliminate any chance of duplicating your efforts and also reduce the chance of errors.
An Economist Intelligence Unit report showed that 32% of business executives saw a decrease in human errors after automating some manual tasks, and 52% reported an increase in productivity. Teams can use advanced integrations to instantly update information across different systems according to their unique billing guidelines.
Keep in mind, not all integrations are created equal. For example, Legal Tracker relies on older SOAP API technology for integrations — forcing you to manually upload and download spreadsheets between systems and work with asynchronous transactions.
With a SOAP API, you essentially have a flat-file integration option, which makes integrations very limited. Flat-file integration is a perfect example of sticking with a solution that's good but not great. Does it work? Sure. Is it the most advanced and efficient way? Definitely not. Meanwhile, our REST API provides two-way integrations, so both systems update in real time.
With a continuous focus on innovation, SimpleLegal has pre-built integrations with commonly used applications and software, such as Box, iManage, Outlook, and IPfolio. And because our API is open, setting up integrations with other programs is simple. In fact, below is a short video with two tips for getting the most out of your e-Billing system with a finance integration. Can you say the same about your current integration setup?
2. Lack of e-Billing configurability leads to confusion
You say "law firm"; I say "outside counsel" — and now the whole invoice is off. Every organization has its own preferences and nomenclature, but many legal spend management solutions lock you into that software's preferred terminology for everything, from legal invoices and reporting to bill reviews. Lack of configurability can cause miscommunication among your team and department leaders. Plus, historical data gets jumbled during data migration when fields don't line up.
Because some older solutions limit the number of configurable fields for matter management, you're boxed into their setup. This happened to one customer, who decided to switch to us from Brightflag after realizing their e-billing configuration lacked a lot of functionality standard in electronic billing systems today.
SimpleLegal has unlimited configurable fields for legal matters, vendors, and invoices, and it also allows you to report on any of those fields in real time. With that extra level of control for line items, your team can decide what metrics matter most and design templates and reports accordingly.
Another common problem with legal billing systems is the inability to adjust which fields are required. At one point, Legal Tracker had 13 required fields for every matter. Imagine if your team was only interested in five of those fields and had to waste time filling in irrelevant information.
SimpleLegal lets you decide what info you need for each type of document. You can even set up autofill for repetitive information, such as case file names, so you can eliminate some busy work.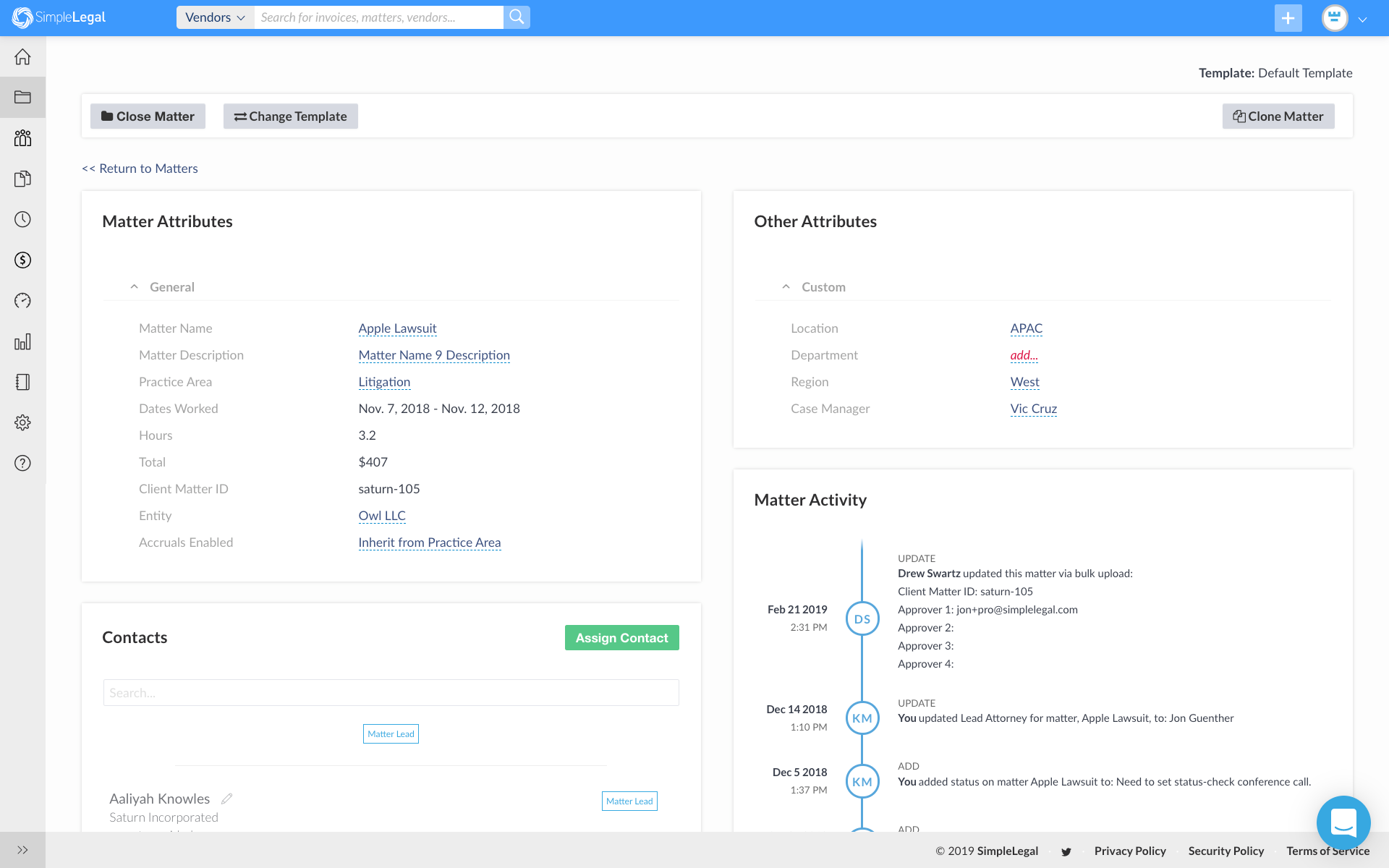 3. Customer support comes at a price
When it comes to legal spend management software, customer service should be a given, not an additional cost. But many providers tack on additional costs, whether that comes in the form of charges on your bill or days spent waiting for a response. If that sounds familiar, it's time to consider other options.
Some companies seem to view training as an à la carte service, but your spend management software isn't very helpful unless you know how to use it. Legal Tracker, for example, charges $2,800 for a 3-day clinic to train admins on its software. At SimpleLegal, the cost savings are built in: admin training and ongoing support are included at no extra charge.
It's also important to consider the cost of your time. Slow response times might not affect your invoice, but consider the cost of reduced productivity. Former CounselLink and TyMetrix 360 customers have shared that customer service at both companies left a lot to be desired. Attorney Andrew Simpson expressed his frustration with TyMetrix 360, saying, "the help section is abysmal…they don't seem to understand the areas where users need help."
At SimpleLegal, we've set the customer support benchmark high by regularly updating our help section and offering personalized support. When you reach out to us, you can expect a response within 24 hours — without having to pay extra. For users who are interested in learning how to use SimpleLegal to its full potential, we keep a robust video resource center available to the public on a variety of different topics.
We also take feature requests very seriously. After a few customers mentioned wanting a better way to store documents, we got to work. In April 2020, we launched a document management solution (DMS) that is embedded directly into SimpleLegal at no additional charge.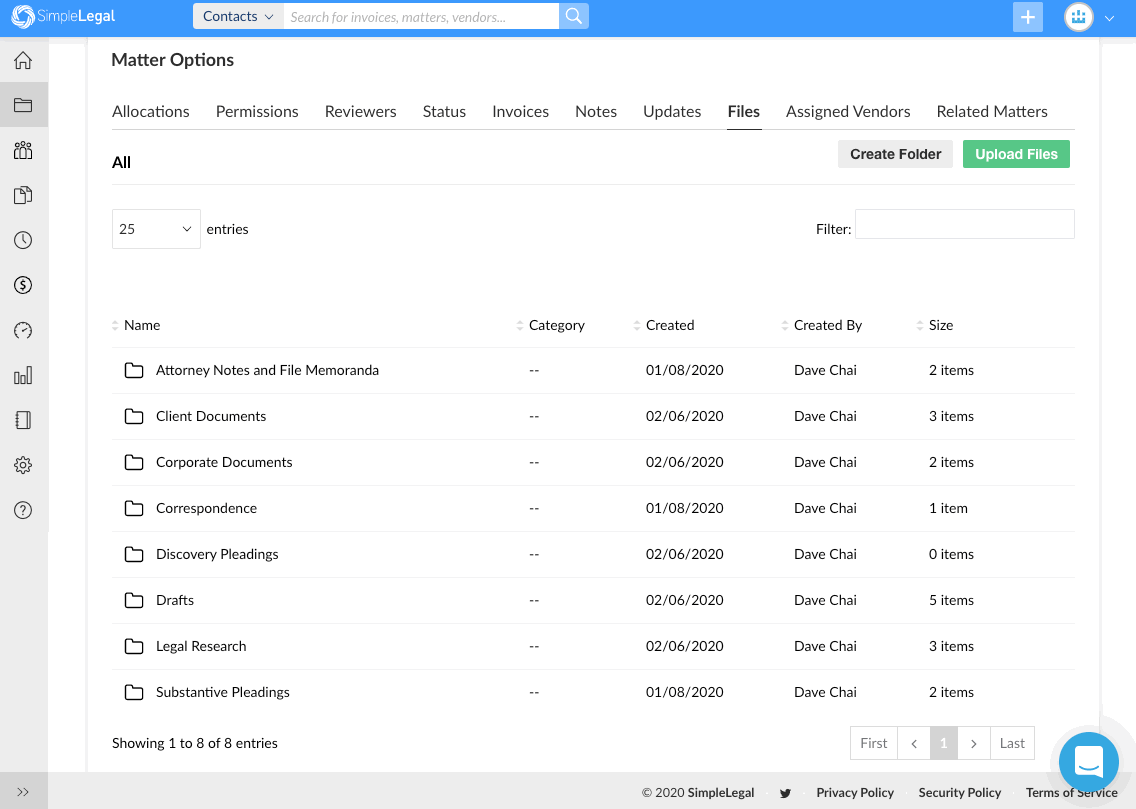 4. Costs are always on the rise
While most legal spend management systems will tout better budget control as a major benefit, they often leave out information about their own fees. Take a closer look at your bills over the course of a year. Do you see any unexpected fees or increases?
Legal Tracker, for instance, charges extra for both setup and training. TyMetrix 360 really leans into the ad-hoc pricing model, charging separately for reporting, accruals, and budgets — something they are not particularly clear about during the sales process.
In fact, one utility company switched to SimpleLegal after using TyMetrix 360 for six years because they were tired of TyMetrix's annual fee increases and poor response times.
Like how SimpleLegal is transparent and upfront with our pricing, we also have a library of useful videos available to help teams extract and identify areas for unexpected fee data.
Watch our on-demand webinar and learn how you can make an impact on your bottom line.
5. Your vendors hate using it
When it comes to your vendors, a strong relationship is vitally important. Unhappy vendors can lead to a variety of billing and administrative disputes. If the outside legal teams, consultants, and providers you work with can't stand your legal spend management system, they probably have a good reason — and it could be the reason your legal spend keeps increasing.
You may find high costs and lack of support are among the top complaints from vendors. While CounselLink, extends support to law firms, "premium customer support" is only available to vendors that work with customers who pay the higher subscription tiers.
Plus, TyMetrix 360 charges firms for every invoice they submit. Legal Tracker does not offer any support for law firms, choosing instead to shift that responsibility to their customers.
We've established that the SimpleLegal support team is always available to our customers — but we're also 100% available to your vendors at no extra cost. By educating your vendors, we ensure that they have a better understanding of how to work in the tool and with your team. We'll even troubleshoot issues directly with general counsel at the law firms you work with, saving you time and helping you maintain great vendor relationships.
If you need help vetting a legal billing solution for your vendors, we've got you covered. Here's a list of 23 questions to kickstart your evaluation conversation.
6. Reporting options to outside counsel are limited
Effective spend management requires robust reporting. Unfortunately, many e-Billing solutions are incredibly limited in their reporting capabilities.
Reporting shouldn't just show what you've already spent — it should also help you predict future spend. On average, there is a 23% variation between monthly accrual estimates and what law firms actually invoice. If your current legal billing software does not have an accrual accuracy report, you'll have a hard time planning your budget.
Custom reporting options are crucial to understanding spend. While standard reports can give you a general idea of how your budget is used, custom reports can help you dig into the details. For example, a report that categorizes spend analytics by practice area allows you to narrow in on specific practice areas that might eat up more money than you think.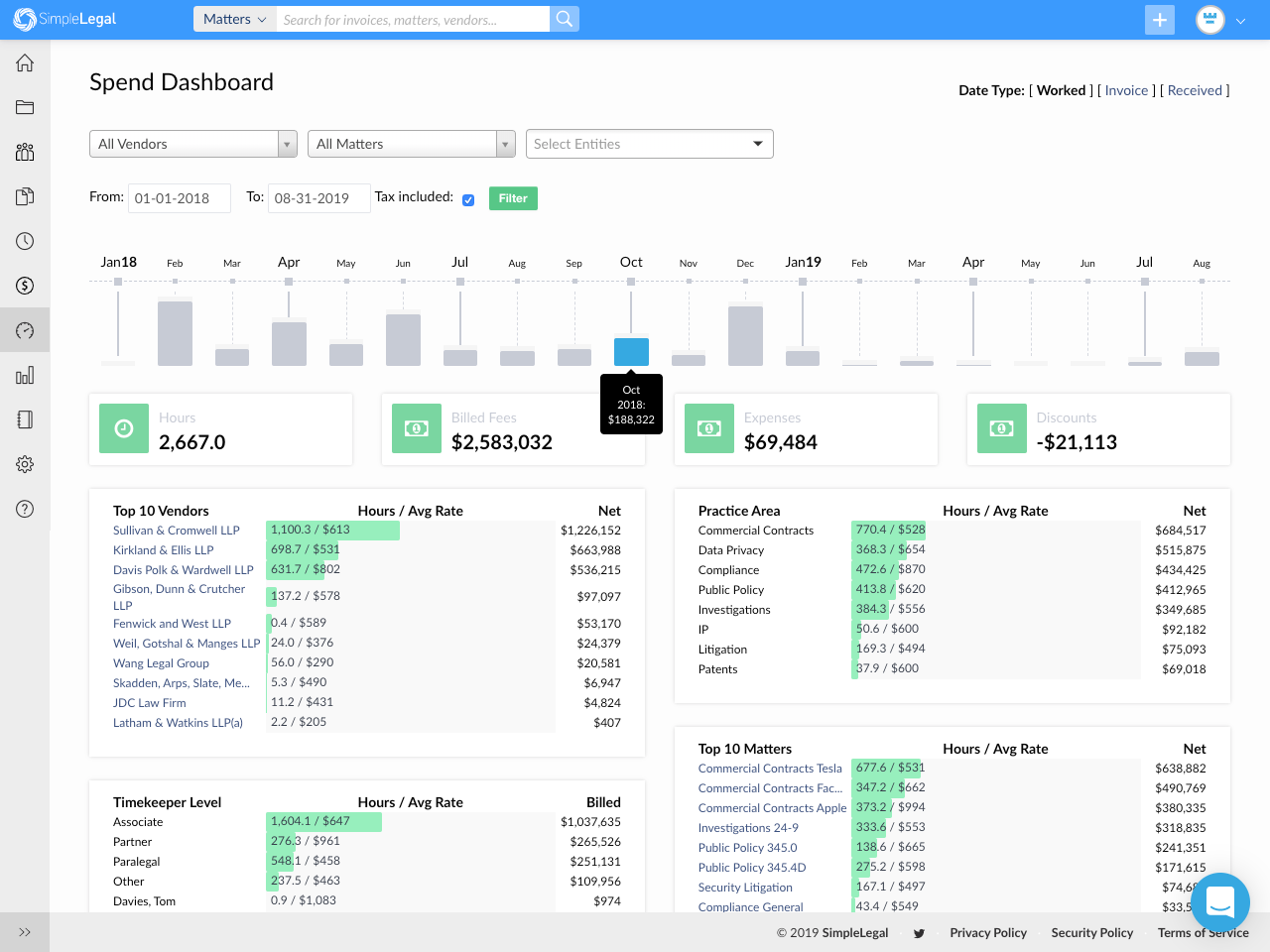 Your team can even use custom reports to evaluate vendors. With SimpleLegal, you can track vendor performance with the metrics that matter most to you, such as spend compared to budget or time to process invoices. Vendor reports allow you to have more data-driven negotiations with outside counsel, optimize your decision-making process, and improve your vendor management process.
Although CounselLink and TyMetrix 360 both offer custom reporting, neither interface is very intuitive. Former customers claim the advanced features were hard to understand, and their teams often turned to outside tools. A large plastics, chemicals, and refining company switched from TyMetrix 360 to SimpleLegal because of this issue. Before switching, the company was manually exporting data from TyMetrix 360 and then creating pivot tables and scripts just so they could analyze their own data.
Reports help you manage a corporate legal department like a business. With SimpleLegal, you get nine essential reports that are easy (and free) to help you run a more cost-efficient in-house counsel. Plus, we're continuously updating our reporting functionality to give users the best experience possible.
Does your legal spend management offer what SimpleLegal can?
With SimpleLegal, you can streamline your team's process, going beyond invoice reviews and online bill pay in order to truly control costs in your legal budget. Plus, you'll get all of the benefits of our attentive customer support team and highly configurable platform.
Sign up for a demo to see how our team can help yours.
*All information related to pricing, functionality, and customer support is, to the best of our knowledge, current as of the date of publishing. This article has been updated to reflect new information and industry trends from the original article, published on June 3, 2020.