Analyst firm IDC joins SimpleLegal & Onit to share insights on the future of legal ops

SimpleLegal and Onit partnered with leading analyst firm IDC to present a webinar on the future of legal ops, highlighting market trends, change management, and predictions. Read on for a recap of the key highlights of the webinar.
Reversing the Opinion that Legal is a Cost Center
IDC Senior Research Analyst, Ryan O'Leary kicked off the webinar by sharing how legal is often seen as a cost center within the organization. By nature, legal work is expensive, especially when hiring outside counsel. According to IDC research, 1st year associate rates are around $500 an hour – that's $1,000,000 per 2,000 hours!
The need to reduce the cost of work being outsourced to law firms (specifically in regards to eDiscovery) and reverse the opinion that legal is a cost center, spurred the need for more efficient workflows, spend management, and of course, legal operations.
The Digitally Transformed Enterprise…
But legal isn't the only department seeing the need for enhanced spend management and process optimizations, it's impacting business units across the enterprise. In fact, IDC estimates that companies will spend $1.25 trillion dollars in digital transformation by the end of this year alone. The result? The rapid adoption of technology – with technology emerging as the cornerstone of success (and efficiency) – and the creation of the digitally transformed enterprise.
The below model provides a visual representation of what the digitally transformed enterprise looks like. Created by IDC, the model places data at the heart of a platform that spans across IT, digital, and business domains. The intelligent core holds the data, which is turned into insights that can be leveraged to drive strategic business decisions.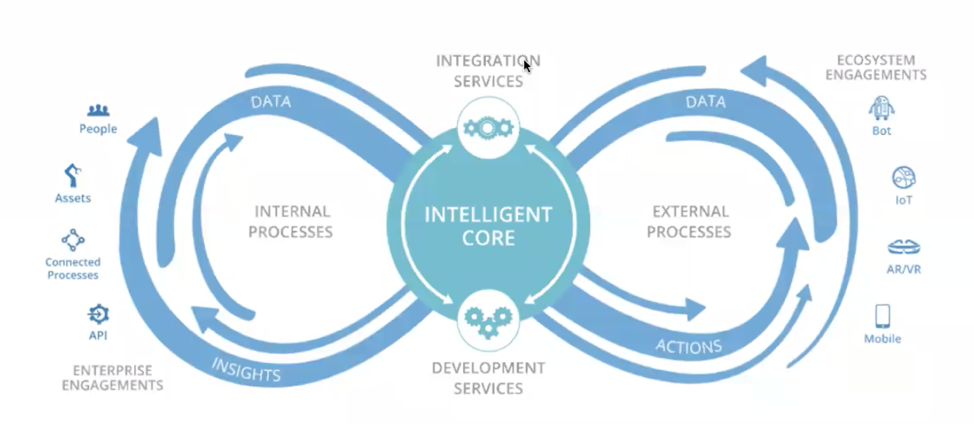 …and the Rise of the "Adaptive General Counsel"
For years, legal has been tasked with growing and protecting the organization, initiatives often led by the general counsel. Yet, today's general counsel have a much more expansive purview and scope of responsibilities. They must make decisions based on data in order to innovate and drive digital transformation across all of the uses cases (in the diagram below), acting as a true business strategist, not just a lawyer. IDC is calling this new general counsel, "the adaptive general counsel."

How Legal Power Digital Transformation
With $1.25 trillion dollars being allocated to enterprises for digital transformation, it's no surprise that legal is going to get a large portion of that spending. To demonstrate how CLOs, the adaptive GC, and their legal teams can ensure their departments are powering digital transformation, IDC conducted a survey asking, "As it relates to digital transformation, how does your organization's legal department feel about change?"
A majority (76.5%) of respondents shared that their legal department completely accepts change or somewhat accepts change (great news!). However, the survey also uncovered that these individuals felt their departments were mostly or entirely integrated, meaning their organizations had already made the jump to using innovative, cloud-based technologies.
It makes sense that legal departments that are more accepting of change are able to adopt technologies quicker and more successfully. It also highlights the need for legal leaders to be open-minded when it comes to technology. When they truly embrace the idea of digital transformation, it becomes easier to relay the benefits a more digitally focused strategy can provide the legal team and greater organization.
Key takeaways for legal leaders looking to embark on legal transformation:
Genuinely embrace the idea of digital transformation
Break down barriers across the organization and get everyone bought-in
Consider hiring a consultant who specializes in digital transformation not just to help create a plan but who can evangelize its benefits cross-functionally
Use metrics to help make the case for digital initiatives and show their ROI
We know how tough it can be to lead the charge for change!
Download our change management white paper for tips that shares the top questions for making major changes, 3 steps for creating a change management plan, and so much more!
Top 5 Challenges Hindering Transformation
Getting your legal team and entire organization to support the idea of digital transformation is by no means an easy feat. IDC shares data from a recent survey that cited the following as the top five challenges hindering transformation:
Cost
Security concerns
Training employees on new technology
Speed of IT
Integration with existing technology
Many of the above challenges tie back to IT, making it important to change how we traditionally view the function as a service center, when we really need to view IT as a partner. Doing so will create a stronger relationship between legal and IT, helping to improve the speed and quality of implementation. Other waterfall effects might include reduced man hours and even reduced costs.
More to Come!
These are just a few highlights from the The Future of Legal Ops webinar. Be sure to subscribe to our blog as we'll have a few posts touching on two additional topics discussed in the webinar, The Essential Toolkit for Corporate Legal and 7 Predictions for the Future of Legal Ops.
On behalf of SimpleLegal and Onit, we'd like to extend a huge thanks to our guest analyst, Ryan O'Leary and IDC for joining us on the webinar!