2021 Guide to UTBMS Codes and ABA Codes

The Uniform Task-Based Management System (UTBMS) details a series of code sets that law firms use to classify services on electronic invoices that they send to clients, such as legal operations and corporate legal departments.
UTBMS codes make detailed spend reporting possible by ensuring that each task and expense is categorized. That way, when you notice in Q1 that spending is out of control, you're able to identify and solve the problem before Q4. Of course, in order for reporting to be accurate, you must first fully understand UTBMS codes and how to use them.
What are UTBMS codes?
UTBMS codes are a set of codes originally developed by the American Bar Association (ABA), the Association of Corporate Counsel (ACC), and PricewaterhouseCoopers (PwC). Now, UTMBS standards are maintained by the Legal Electronic Data Exchange Standard (LEDES) Oversight Committee, also known as LOC.
The creators designed UTBMS Codes to standardize the categorization of legal services and expenses so that legal work and the associated costs could be easily identified and analyzed. You can learn more about the LEDES file format and LOC here (https://www.simplelegal.com/blog/ledes-file-format-defined).
UTBMS codes are used in many legal systems around the world, including the United States, Canada, and the United Kingdom. For this article, we will focus on UTBMS standards for e-Billing set by the ABA and LOC.
American Bar Association UTBMS codes
When used consistently and properly, ABA UTBMS task codes allow you to monitor legal spending and associated activities.
All ABA UTBMS codes are broken into categories and phases. Categories are identified by the beginning letter (e.g., L for ABA litigation codes) while phases are specified by the number (100s for phase 1, 200s for phase 2, etc.). While some UTBMS codes are fairly self-explanatory, others require a deeper explanation. We'll walk you through all of the ABA UTBMS codes, and provide more insight when necessary.
Activity
Activity codes identify the type of activity associated with a cost.
A101 Plan and prepare for
A102 Research
A103 Draft/revise
A104 Review/analyze
A105 Communicate (in firm)
A106 Communicate (with client)
A107 Communicate (other outside counsel)
A108 Communicate (other external)
A109 Appear for/attend
A110 Manage data/files
A111 Other
Although not all clients require the use of UTBMS activity codes, this code set is useful for segmenting specific types of work. For instance, the four separate communication codes ensure more accurate spend tracking for both the counsel and the client. In situations where you may need to consult with an expert as well as outside counsel, codes A108 and A107, respectively, would allow you to categorize time spent on each type of communication.
Bankruptcy
Derived from the code set published by the U.S. Department of Justice, bankruptcy UTBMS codes are intended only for bankruptcy matters. All adversarial tasks are covered by the litigation code set. The 21 bankruptcy ABA task codes are broken up into four phases.
B100 Administration
UTBMS codes in the B100 phase include administrative work during preparation, such as research, fee applications, and communication with creditors.
B110 Case Administration: Preparation of coordination and compliance matters, financial affairs statements, and general creditor inquiries
B120 Asset Analysis and Recovery: Identification and review of potential assets including causes of action and non-litigation recoveries
B130 Asset Disposition: Sales, abandonment and transaction work related to asset disposition
B140 Relief from Stay/Adequate Protection Proceedings: Matters relating to termination or continuation of automatic stay under 362 and motions for adequate protection
B150 Meetings of and Communications with Creditors: Preparing for and attending the conference of creditors, the 341(a) meeting and other creditors' committee meetings
B160 Fee/Employment Applications: Preparations of employment and fee applications for self or others; motions to establish interim procedures
B170 Fee/Employment Objections: Review of and objections to the employment and fee applications of others
B180 Avoidance Action Analysis: Review of potential avoiding actions under Sections 544-549 of the Code to determine whether adversary proceedings are warranted
B185 Assumption/Rejection of Leases and Contracts: Analysis of leases and executory contracts and preparation of motions specifically to assume or reject
B190 Other Contested Matters (excluding assumption/rejection motions): Analysis and preparation of all other motions, opposition to motions and reply memoranda in support of motions
B195 Non-Working Travel: Non-working travel where the court reimburses at less than full hourly rates
B200 Operations
B200 codes cover business matters, such as document review, employee benefits, cash collaterals, real estate, and tax issues.
B210 Business Operations: Issues related to debtor-in-possession operating in chapter 11 such as employee, vendor, tenant issues and other similar problems
B220 Employee Benefits/Pensions: Review issues such as severance, retention, 401K coverage and continuance of pension plan
B230 Financing/Cash Collections: Matters under 361, 363 and 364 including cash collateral and secured claims; loan document analysis
B240 Tax Issues: Analyses and advice regarding tax-related issues, including the preservation of net operating loss carry forwards
B250 Real Estate: Review and analysis of real estate-related matters, including purchase agreements and lease provisions (e.g., common area maintenance clauses)
B260 Board of Directors Matters: Preparation of materials for and attendance at Board of Directors meetings; analysis and advice regarding corporate governance issues and review and preparation of corporate documents (e.g., Articles, Bylaws, employment agreements, compensation plans, etc.)
B300 Claims and Plan
The B300 codes are used for all work related to claim inquiries and preparing disclosure statements and business plans.
B310 Claims and Administration Objections: Specific claim inquiries; bar date motions; analyses, objections and allowances of claims
B320 Plan and Disclosure Statement (including Business Plan): Formulation, presentation and confirmation; compliance with the plan confirmation order, related orders and rules; disbursement and case closing activities, except those related to the allowance and objections to allowance of claims
B400 Bankruptcy-Related Advice
All advice, analyses, and consultations related to bankruptcy matters fall under the B400 code set.
B410 General Bankruptcy Advice/Options: Analysis, advice and/or opinions regarding potential bankruptcy related issues, where no bankruptcy case has been filed
B420 Restructurings: Analysis, consultation and drafting in connection with the restructuring of agreements, including financing agreements, where no bankruptcy case has been filed
Counseling
Counseling is one of the broader categories of UTBMS codes. This code set is designed to cover time used by attorneys preparing to provide legal advice. Generally, the counseling ABA task codes do not attribute time to a specific matter. Instead, they serve as a catchall billing code for time spent on research throughout a monthly billing period.
C100 Fact Gathering: All initial inquiries, meetings, and data/information collection related to the assignment
C200 Researching Law: Time spent researching relevant case law or general investigation as well as consultations with experts
C300 Analysis and Advice: Analysis of work performed under C100 and C200 along with providing opinions and advice to client
C400 Third Party Communication: Discussions with third parties such as regulators or parties to contracts with the client
Expense
Expense UTBMS codes help with budget tracking by categorizing types of spending.
E101 Copying
E102 Outside printing
E103 Word processing
E104 Facsimile
E105 Telephone
E106 Online research
E107 Delivery services/messengers
E108 Postage
E109 Local travel
E110 Out-of-town travel
E111 Meals
E112 Court fees
E113 Subpoena fees
E114 Witness fees
E115 Deposition transcripts
E116 Trial transcripts
E117 Trial exhibits
E118 Litigation support vendors
E119 Experts
E120 Private investigators
E121 Arbitrators/mediators
E122 Local counsel
E123 Other professionals
E124 Other
Expense UTBMS codes are generally combined with a related activity code. For example, an invoice might include activity code A102 paired with expense code E101. A102 categorizes the time spent researching, while E101 specifies money spent on printing copies of that research.
This code set not only facilitates educated budget planning but also simplifies the process of submitting attorney expenses.
Litigation
ABA litigation codes are broken into five phases and encapsulate the entire litigation process.
L100 Case Assessment, Development, and Administration
L110 Fact Investigation/Development
L120 Analysis/Strategy
L130 Experts/Consultants
L140 Document/File Management
L150 Budgeting
L160 Settlement/Non-Binding ADR
L190 Other Case Assessment, Development and Administration
During the initial stages, L100 codes could be combined with activity UTBMS codes. For example, A106 (Communicate with client) might be paired with L110 or L120 because client communication would help formulate the litigation strategy.
L200 Pre-Trial Pleadings and Motions
L210 Pleading
L220 Preliminary Injunctions/Provisional Remedies
L230 Court Mandated Conferences
L240 Dispositive Motions
L250 Other Written Motions and Submissions
L260 Class Action Certification and Notice
Expense codes often accompany L200 codes, such as E112 (Court fees) associated with filing for class certification (L260) or filing a pleading (L210).
L300 Discovery
L310 Written Discovery
L320 Document Production
L330 Depositions
L340 Expert Discovery
L350 Discovery Motions
L390 Other Discovery
L400 Trial Preparation and Trial
L410 Fact Witnesses
L420 Expert Witnesses
L430 Written Motions and Submissions
L440 Other Trial Preparation and Support
L450 Trial and Hearing Attendance
L460 Post-Trial Motions and Submissions
L470 Enforcement
This phase also calls for the use of expense fees, such as E114 (Witness fees) when interviewing an expert witness (L420).
L500 Appeal
L510 Appellate Motions and Submissions
L520 Appellate Briefs
L530 Oral Argument
L600 e-Discovery
In 2011, LOC and ABA ratified the litigation codes to include a sixth phase for an e-Discovery code set. Each parent task code has sub-task codes for more granular tracking. To keep this brief, we'll list only the parent tasks.
L600 Identification
L610 Preservation
L620 Collection
L630 Processing
L650 Review
L660 Analysis
L670 Production
L680 Presentation
L690 Project management
Project
For non-litigation matters, project codes are used for administrative filings, transactions, and stand-alone projects. The project code set includes eight phases.
P100 Project Administration: All initial administration work such as developing, negotiating, and revising the plan and budget for the matter at hand
P200 Fact Gathering/Due Diligence
Codes within the P200 phase are used for time spent on fact investigation, document retrieval, and preparation of reports with clients. They also cover coordination with third parties related to these activities.
Each P200 UTBMS code designates time spent on fact investigation/due diligence from a specific perspective, such as tax or environmental.
P210 Corporate Review
P220 Tax
P230 Environmental
P240 Real and Personal Property
P250 Employee/Labor
P260 Intellectual Property
P270 Regulatory Reviews
P280 Other
P300-P800 make up the additional codes within this phase.
P300 Structure/Strategy/Analysis: Time spent on analysis done for the purposes of developing the strategy for a project or transaction. This includes all steps taken to create a written outline or description of the strategy
P400 Initial Document Preparation/Filing: Tasks performed to prepare documents and opinions before being sent to third parties. This includes filing documents, related communications with the client, and review of client-generated transaction documentation
P500 Negotiation/Revision/Responses: Time spent negotiating and revising P400 transaction documentation, including all related document review, meetings and client communications
P600 Completion/Closing: All tasks related to transaction pre-closing and closing, project completion or filing acceptance, such as attendance at closing
P700 Post-Completion/Post Closing: All post-completion or post-closing tasks such as amendments to final documentation and resolution of post-closing issues. Also includes all implementation tasks (e.g., funds held in escrow) and preparation of closing binders (i.e., primarily clerical actions)
P800 Maintenance and Renewal: All tasks related to subsequent maintenance and renewal requirements under the terms of the transaction or project such as monitoring of lease agreements, routine waivers and coordination of UCC requirements
Workers' Compensation
The workers' compensation code set was not originally included but was defined by a 2010 ratification. Many tasks include a "Commentary & Practice Tips" subset that shares the same code as the parent task. For example, WC 110 could refer to Fact Investigation/Development or the Commentary & Practice Tips related to that task.
This UTBMS code set includes a total of five phases and 27 ABA task codes. For the sake of brevity, we will provide a high-level description of each phase. It's important to note that the Workers' Compensation code set does not include phase-level parent tasks (WC 100, WC 200, WC 300, etc.)
WC 100 phase: All actions related to researching the case matter, strategizing, consulting with experts, and settlements.
WC 110 Fact Investigation/Development
WC 110 Commentary & Practice Tips
WC 120 Analysis/Strategy
WC120 Commentary & Practice Tips
WC 130 Experts/Consultants
WC130 Commentary & Practice Tips
WC 150 Budgeting
WC 150 Commentary & Practice Tips
WC 160 Settlement/Resolution
WC 160 Commentary & Practice Tips
WC 180 Alternative Fee Arrangements
WC 200 phase: Time spent preparing and filing pleadings, conferences with judge, negotiating alternative fee arrangements.
WC 210 Pleadings
WC 210 Commentary & Practice Tips
WC 230 Conferences with Judge
WC 230 Commentary & Practice Tips
WC 280 Alternative Fee Arrangements
WC 300 phase: Time spent on all discovery motions, document production/acquisition, and depositions.
WC 310 Written Discovery
WC 310 Commentary & Practice Tips
WC 320 Document Production/Acquisition
WC320 Commentary & Practice Tips
WC 330 Depositions
WC 330 Commentary & Practice Tips
WC 334 Deposition Report
WC 340 Expert Discovery
WC 340 Commentary & Practice Tips
WC 350 Discovery Motions
WC 350 Commentary & Practice Tips
WC 360 Discovery On-Site Inspections/Visits
WC 360 Commentary & Practice Tips
WC 380 Alternative Fee Arrangements
WC 400 phase: Time spent on preparing for and communicating with witnesses, drafting written motions, and preparing for and attending hearings.
WC 410 Fact Witnesses
WC 410 Commentary & Practice Tips
WC 420 Expert Witnesses
WC 420 Commentary & Practice Tips
WC 430 Written Motions/Submissions
WC 430 Commentary & Practice Tips
WC 440 Hearing Preparation and Support
WC 450 Hearing
WC 450 Commentary & Practice Tips
WC 460 Post-Hearing Conferences/Motions/Submissions
WC 460 Commentary & Practice Tips
WC 480 Alternative Fee Arrangements
WC 500 phase: Time spent on all appellate proceedings.
WC 510 Appellate Proceedings/Motions Practice
WC 510 Commentary & Practice Tips
WC 520 Appellate Briefs
WC 520 Commentary & Practice Tips
WC 530 Oral Argument
Easily track legal spend by UTBMS code with SimpleLegal
With SimpleLegal, you can easily process invoices using UTBMS codes to help customers better categorize outside counsel activity and track spend at a more granular level. Custom task, activity, and expense codes can also be used if your department leverages them.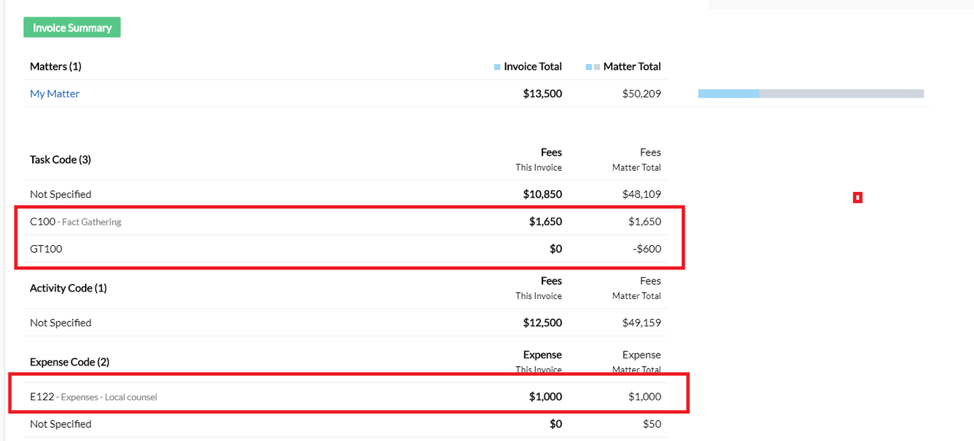 When invoices are categorized, you can run standard or ad-hoc reports for matter-level comparisons of legal spend by task code as well as other insights, such as views into spend by tasks for your practice areas or specific vendors. SimpleLegal also provides a Spend Dashboard that quickly identifies your top task codes in use and provides information about average rates and how much was billed to each task code.
UTBMS codes also allow you to enforce billing guidelines and control spending. You can set limits and create warnings associated with specific codes in SimpleLegal's platform so t expenses can be automatically approved, rejected, or adjusted.
Start using UTBMS codes to streamline spend management
Modern and intuitive, SimpleLegal provides all of the financial tools legal teams need to easily categorize spending, run detailed reports, enforce billing guidelines, and analyze budgets. Schedule a demo to see how you and your team can leverage SimpleLegal to gain total visibility into your legal spend.

This article has been updated to reflect new information and industry trends from the original article, published on December 20, 2019.