5 quotes that sum up CLOC 2019 from an attendee's perspective

We just got back from attending another fantastic CLOC Institute in Las Vegas. We've had the honor of sponsoring CLOC four years in a row and we can't tell you how amazing it has been to watch a small group of legal ops fanatics grow and transform into such an innovative, influential, and supportive community.
Whether you were at the conference or couldn't make the trip this year, here are 5 quotes from attendees that summarize key takeaways from the event. Of course, if you have favorite moments or sessions from #CLOC2019, share them with us on Twitter (@simple_legal) or LinkedIn!
Quote #1: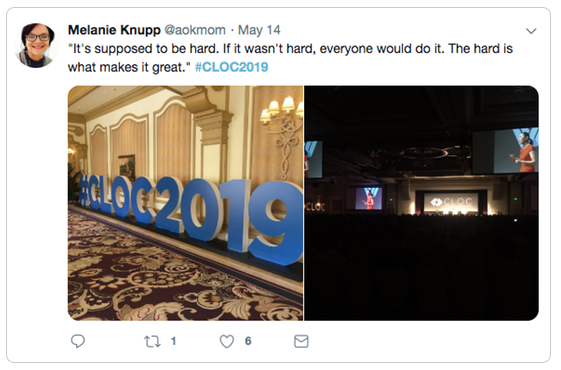 In the always highly-anticipated remarks from CLOC President, Mary O'Carroll, the theme was clear: We (legal ops) don't know what we're doing…and that's okay. But, we must come together as a community to solve the ever-changing challenges we face. It's not going to be easy, but that's what makes it great.
CLOC has grown to more than 2,300 members in three and a half years, with more than 2,000 in attendance at this year's conference. With legal ops clearly transitioning from a buzzword to a key component of any legal department, Mary urged conference attendees to treat the 3 day conference as a gift. To leverage the CLOC experience to make connections, exercising the power to share knowledge, successes, and failures.
The takeaway? Let's all be transparent so we can learn from one another, empowering the community to grow and prosper together.
Quote #2:

While legal tech is always a popular topic at CLOC (and most corporate legal conferences), everyone at the conference – attendees, speakers, vendors, and service providers – had discussions around the benefits of technology, but maintained a clear understanding that technology, and the data it collects, is not a magic solution for solving all of the legal department's problems.
Our very own Nathan Wenzel shared in a separate session on Building and Optimizing a Legal Operations Program, "The only problem technology solves is scale. It's people and process that solve the underlying problem." The legal operations role has the ability to integrate people and process, initiating the right conversations with key stakeholders both from the legal department and other business units, to understand what is preventing the legal department from running as efficiently. From there, legal operations can evaluate, adopt, and incorporate technology to streamline processes, looking to data to facilitate additional optimizations and changes.
The takeaway? Legal teams must get their house in order, focusing on people-driven processes, before investing too much in technology.
Quote #3: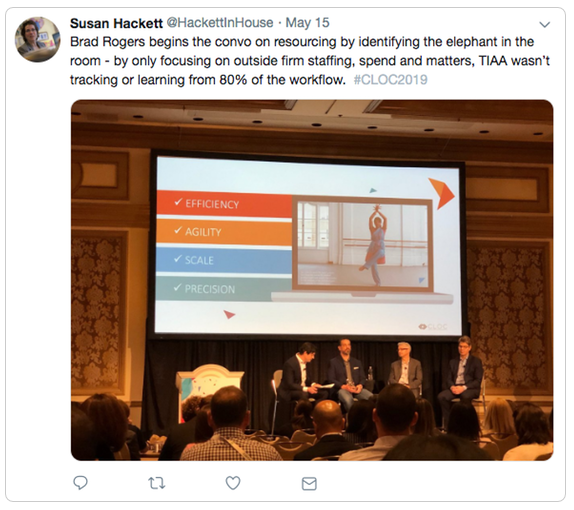 The mindset of in-house teams only looking outward limits the ability for legal operations to reach its full potential. This is where effective matter management can drive in-house measurement of spend, allowing legal ops to go beyond their primary focus of outside spend analysis and identify areas of improvement to create more value for the entire department and organization.
There were additional discussions around how to appropriately staff matters, requiring legal ops to have a clear and comprehensive understanding of what can be done in-house (low hanging fruit) vs what can be completed by law firms (more complex work). While legal ops can uncover the work best suited for each group, success is ultimately dependant on a close partnership between in-house and outside counsel. Both parties must share clearly defined goals, measuring results through metrics that are meaningful for all involved.
The takeaway? Effective management of matters, both internal and external, are key to understand trends over time and make the most strategic and informed decisions.
Quote #4:

With an increasing number of law firms curious about legal ops teams of their own, it's becoming more clear that legal operations has the power to bridge the gap between legal teams and vendors, driving more meaningful partnerships that enhance the overall quality of work and productivity. The idea of closer partnerships between in-house and outside counsel built upon Mary O'Carroll's opening remarks where she announced that CLOC will start beta testing a form of membership for outside counsel in the coming months.
But where do legal ops start? How do they build stronger relationships with outside counsel? While we expect CLOC to be weighing in on this more with their beta program, it serves as a reminder not to shy away from open and honest conversations with vendors and partners. To communicate overall goals and what measurements and KPIs equate to success. It shouldn't be us (legal ops) and them (vendors), but how to create an interconnected ecosystem that thrives off one another.
The takeaway? Legal ops is not a fad.
Quote #5: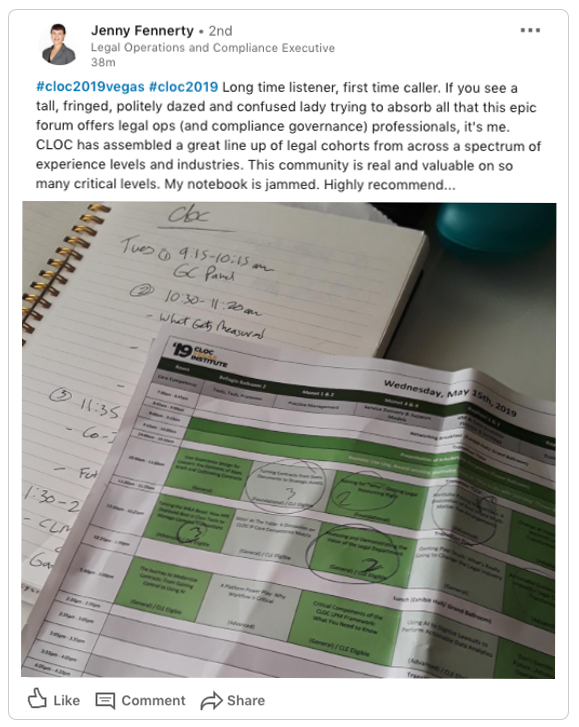 While not a direct quote, this post is a great representation of what CLOC is setting out to do – educate. We all know that when you attend a conference (whether legal or non-legal), there are no guarantees that all of the content shared will be of high-quality. That is definitely not the case with CLOC.
Many attendees shared the same sentiment as Jenny above, describing panels as "all stars" or "dream teams" and that session content was some of the best of any conference they've attended. This energy was palpable amongst various audiences, only further solidifying that CLOC is about sharing and learning – so you can try something new and return to Las Vegas next year to share results, new insights, and optimized strategies all over again.
The takeaway? Whether you're just starting out in legal operations or are an industry veteran, there's a wealth of valuable content to soak in at CLOC.
Another Successful CLOC Institute in the Books!
While legal operations is fluid and constantly changing, the annual CLOC Institute is a place legal operations professionals – and friends – can come together to discuss everything from the latest industry innovations to the biggest changes over the past year, all to ensure that the legal ops role has sustaining relevance in today's fast paced world.
See you at #CLOC2020!