How these 5 types of legal templates will Streamline your legal ops work

"Don't reinvent the wheel, just realign it."
American author, Anthony J. D'Angelo, probably wasn't referring to legal templates when he said that — but his advice still applies.
Why start every new project with a blank document when legal templates can give you a head start? Templates provide a baseline (your wheel), so you can streamline processes, reduce errors, and boost productivity. Once you design templates to your preferences, you can adjust them to align with the project at hand.
Here's how five types of legal templates can lead to a more efficient legal department.
Matter Templates Reduce Human Errors
Manual data entry isn't just time-consuming; it's incredibly error-prone. When you create each matter from scratch, you risk inputting data incorrectly or leaving out important information.
Matters tend to have standard required fields — but the relevant information varies by matter. Outdated enterprise legal management solutions can require 12 to 14 fields regardless of practice area. With matter templates, you can autofill necessary fields and eliminate irrelevant ones.
Matter templates guide your team on how to create matters correctly. You determine how you want specific matters formatted, and the templates keep your team in-line. When matters are created and billed-to correctly, you gain better control over the process and significantly reduce errors.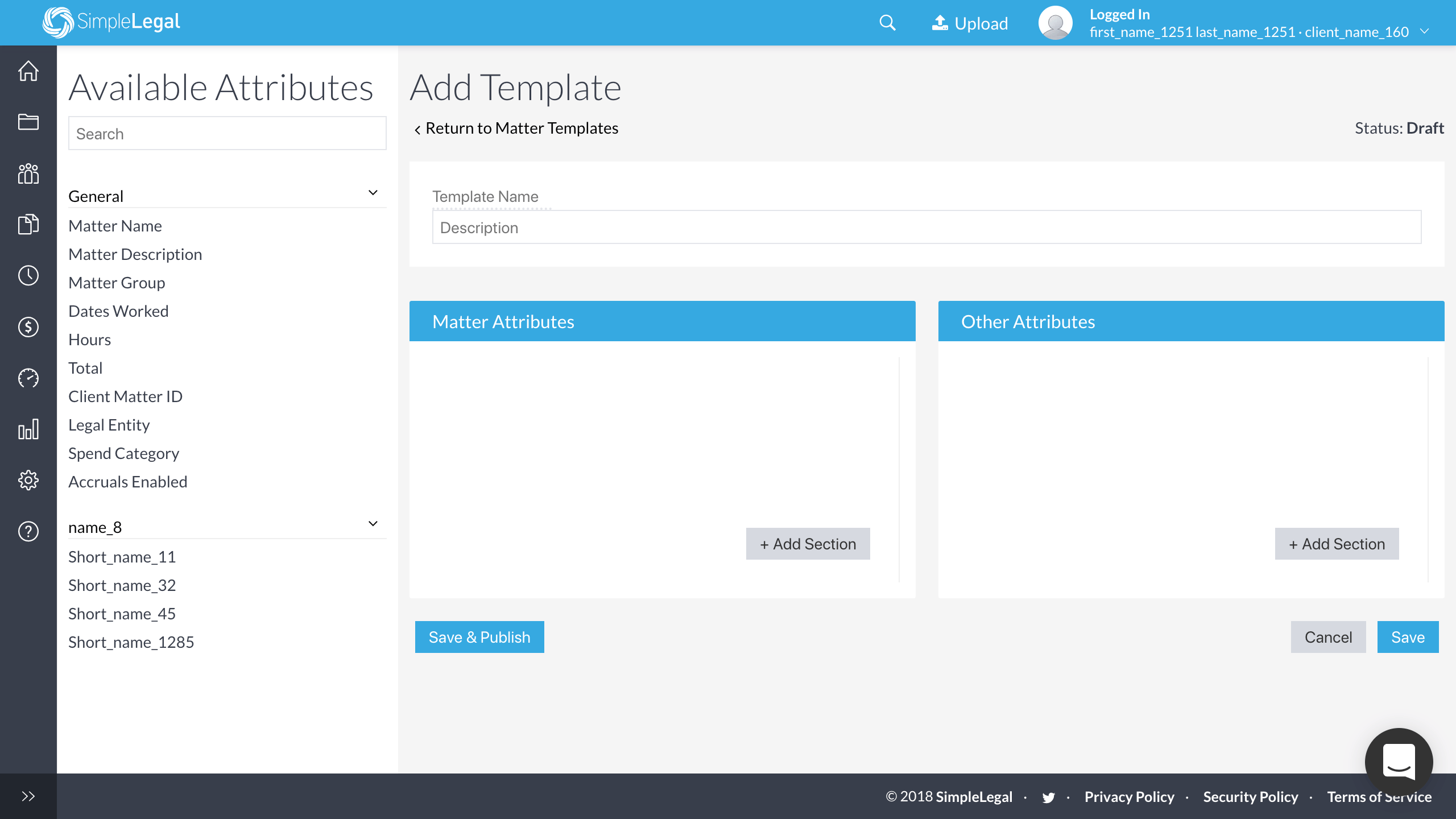 With SimpleLegal, customizing matter templates is effortless. All you have to do is drag-and-drop attributes to design the template to your liking. Then, you can save the matter template and share access with your team.
Contract Templates Minimize Back-and-Forth Between Sales and Legal
If you have to write a contract once, you'll probably need a similar agreement eventually. Instead of making sales run back to legal for every new contract, save time by creating pre-approved contract templates.
When multiple attorneys create contracts, their personal preferences are bound to influence their writing. Contract templates create consistency in legal language. Pre-approved templates expedite contract creation as well. When you have standard legal templates for specific matters or working relationships — such as non-disclosure agreements — you won't need to start with a blank page every time.
Of course, contract templates don't have to be one-size-fits-all. You can create clause libraries that allow attorneys and salespeople to "plug and play" — choose and insert pre-approved clauses as they see fit. Using templates not only speeds up the negotiation process, but it also leads to more efficient contract lifecycle management and decreases friction between sales and legal.
Billing Guideline Templates Establish Expectations
Your billing guidelines define what you expect from outside law firms and what they can expect from you. Billing guideline templates let you clearly establish your core requirements and preferences for every working relationship. For example, if you expect weekly budget updates from every outside law firm you work with, you could include that requirement in your billing guidelines template.
When handled properly, billing guidelines can create partnerships between legal ops and vendors that benefit both parties.
But those partnerships don't come from all-inclusive, 200-page documents. If one vendor uses Alternative Fee Arrangements (AFAs) while another uses hourly billing, you'll need to adjust your billing guidelines accordingly.
However, there are certain things that we all want from relationships — professional or personal — such as mutual respect and clear communication. Your team can build billing guideline templates around your core values, so you always have a strong starting point for each new vendor partnership. Then, you can use clause libraries to quickly swap out sections based on the working relationship, matter, etc.
Standardized summaries of important sections of your billing guidelines can help speed up the vendor onboarding process as well. Use legal templates to ensure your summaries use consistent language to highlight the key takeaways, so you can avoid misunderstandings and prevent disputes down the line.
Invoice Templates Speed Up Processing Time
Small variations in invoice formatting can lead to confusion and billing disputes — both of which cause unnecessary delays.
Invoice templates give you better control over the invoicing timeline — outside counsel won't need to create an invoice from scratch each time, so submissions and payments happen faster.
SimpleLegal's CounselGO vendor portal allows law firms and outside vendors to manage invoices all in one place. Vendors have full access at no extra charge, so they can send invoices in a standard LEDES format directly to your team.
Firms that don't use LEDES files can submit invoices through the CounselGO invoice wizard, which functions as an invoice template. The invoice wizard uses a form to capture necessary information and creates an invoice in the appropriate format.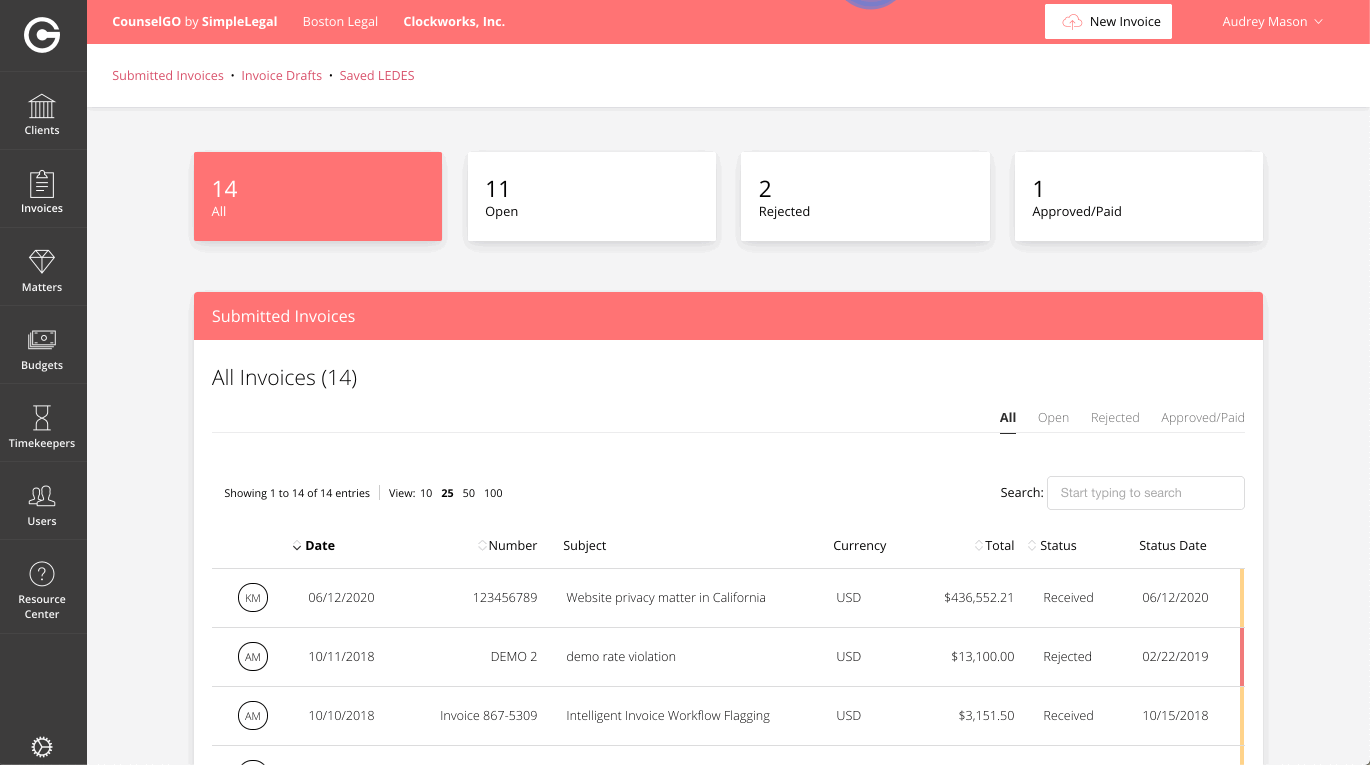 Invoice templates with mandatory fields and standardized formatting help you forecast costs and improve accruals management because you can trust that every invoice will have the data you need to analyze your legal spend.
Report Templates Provide Visibility into Spend and Performance
You likely report on the same type of information monthly — timekeeper rates, spend by matter, accruals, etc. Creating report templates makes the information consistent and accessible to your entire team. With standardized reporting, your department can make more informed decisions about everything, from hiring needs to budget allocation.
You can look at the same data in several different ways. Something as simple as deciding on what treat to buy for the next company-wide meeting can be made easier or more difficult depending on how you view the data. Take a look at the graphs below:

Both charts contain the same data — but Graph B quickly tells you the company-wide winner and the breakdown of favorite foods for each department.
Report templates provide guidance on everything, from which data to include to how it should be presented. So, instead of puzzling over something like Graph A, your team can agree on a reporting format that everyone can interpret.
Use report templates to establish what key performance indicators (KPIs) matter most to your team for each type of work, for example, a report template built on vendor scorecard data that allows you to evaluate vendors side by side. You could also design reports that break down spend by practice area, timekeeper level, and/or UTBMS task code.
SimpleLegal's advanced reporting powered by Tableau takes it a step further. You can leverage Tableau's business intelligence capabilities to build visual reporting templates based on data within SimpleLegal.
Work Smarter with Legal Templates and SimpleLegal
You can create and store matter templates directly within SimpleLegal. You can also take advantage of our built-in document management system to save and share other legal templates such as your billing guidelines and contract clause libraries.
Sign up for a demo to see how SimpleLegal's spend management, robust reporting, and matter management features can further streamline your legal department's operations.