How legal ops can leverage data to improve vendor management

Outside counsel work could easily cost you millions every year — but do you really know how, where, and why that money is being spent with each vendor you work with?
A legal platform with e-Billing capabilities can give you the information you need to better understand your legal spending. With that insight, you can strengthen your relationships with vendors, justify your budget needs to the finance department, and significantly improve your overall outside counsel management process.
Use Technology to Track Vendor Data
The days of handshake agreements between in-house and outside counsel are over. It's not just about making agreements official — formal agreements also allow you to stipulate expectations and track how well those expectations are being met.
Instead of relying on anecdotal evidence on which vendors deliver on time, bill correctly, and do high-quality work, leverage legal technology to make more informed decisions. With e-Billing and spend management, you can narrow in on how and where your budget is used, identifying any outliers in real time, so you can be proactive instead of reactive in your decision-making.
The question is, what data is considered "valuable"? That all depends on what you hope to achieve. To begin, take a look at those high-impact areas where spend management data can have a powerful influence.
Identify Metrics to Measure Vendor Performance
Before you get lost in a sea of data, narrow in on the metrics that matter most to you. These standard metrics allow you to create what's often referred to as a "vendor scorecard."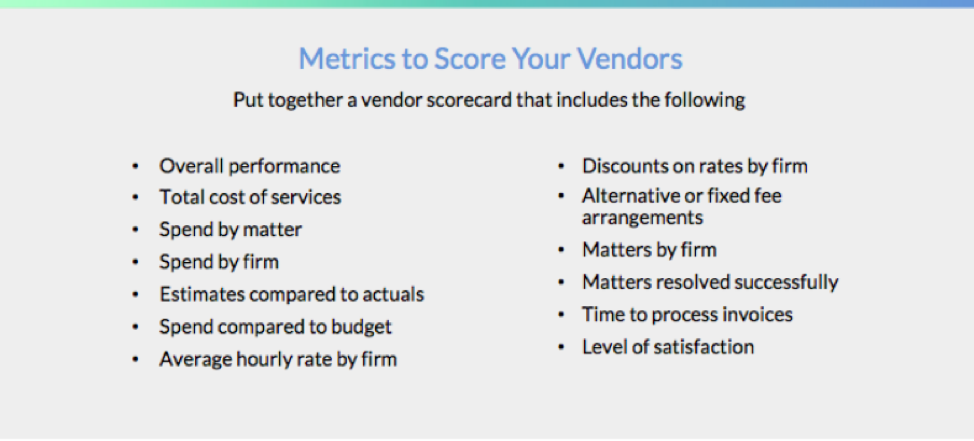 When outside firms work on different matters, trying to measure vendor performance can feel like comparing apples to oranges. Scorecards simplify the comparison by rating vendors based on pre-defined metrics, allowing you to quickly evaluate efficiency, cost, and trustworthiness.
Data points like spend compared to budget, give you a good idea of which vendors are doing well and which need improvement. This way, you can facilitate more honest conversations and negotiations.
Evaluate Internal Versus External Needs
It may seem counterintuitive, but outside counsel management plays an important role in your internal hiring decisions. As you evaluate the matters you have in the pipeline, ask yourself, "Does my internal talent have the expertise and bandwidth to complete this work and hit the deadline?"
You probably have a gut feeling for what your department needs, but educated guesses are still guesses. Backing up a gut feeling with data decisions will help determine if it is more cost-effective to hire staff internally (buy) or to outsource (rent).
For example, if data shows an increase in intellectual property (IP) matters, you can refer to vendor management data to see:
Vendors with the necessary expertise
Hourly rates for this type of work
Average spend on IP matters
Historical total cost of services for IP matters
This data will give you an estimated budget for working with outside counsel on IP matters, so you can make more strategic "buy-versus-rent" decisions and create a long-term plan that is both cost-effective and valuable to the business.
Set and Monitor Goals
What does a successful outside counsel relationship look like to you? Defining the goals you want to reach through vendor management is key to achieving that ideal relationship.
Goals might include:
Make sure your internal team is aware of the goals and knows what metrics are used to track them. For instance, if you are aiming to reduce gaps in estimates compared to actuals by 15%, spend compared to budget and estimates compared to actuals are important metrics to watch.
Goals and KPIs are also a great way to prove your value and efficiency to the finance department. The more progress you can show, the easier it will be to get additional budget approvals.
Let's say you need to increase outside counsel spending by 20%. Instead of just requesting a bigger budget, you can go to finance with a clear plan.
"We need to increase outside counsel spending by 20% but will set a goal of establishing AFAs with 50% of the new vendors. Over the past year, switching to AFAs reduced outside legal spend by 35%."
When presented alongside historical data and clear goals for improvement, your case for additional budget is stronger because you can show that you're spending wisely.
To see how data from an e-Billing and matter management solution can help align legal and finance, check out our customer story with NextRoll. Being able to work from the same billing data and getting their arms around accruals created a stronger relationship built around trust and transparency. Read the story here.
Define Communication Guidelines
Every relationship requires great communication — and vendor relationships are no different. Establishing a process for communicating is a crucial step in creating a healthy client-vendor partnership.
Clearly defining expectations allows you to take a proactive approach to vendor management. When you confirm processes first, you can prevent disputes and miscommunications in the future.
Create billing guidelines and require a signature page to confirm receipt
Determine how often vendors will provide status updates on each matter
Establish which format will be used for status updates (i.e., emails, phone calls, formal reports, etc.)
Once you define your communication expectations, use scorecards to evaluate if these expectations are being met. Metrics, such as overall performance score, average time to process invoices, and levels of satisfaction, will help you judge how well each vendor performs.
How do you know if your billing guidelines are being enforced? Check out 3 benefits of enforcing your billing guidelines with legal technology.
Don't forget to discuss what vendors expect or need from your team as well. Remember, this is a relationship, so it's equally important for you to meet your vendors' expectations.
Ready to Level up Your Legal Vendor Management?
When you have complete visibility into your legal spend, you're better prepared to manage outside counsel effectively. Data-driven vendor management is a win-win-win for you, your vendors, and your finance department.
Request a demo to see how our spend management solutions can help you gain end-to-end control of invoices, budgets, and more.