How sales & legal ops can improve contract management together

Only 10% of B2B companies feel they have the adequate tools to manage their contracts. Often, that misalignment is caused by poor (or non-existing) collaboration between the sales and legal teams.
Sales tends to see the legal department as a bottleneck—the people who slow down their sales process with contract risk assessments and redlines. Meanwhile, legal might think sales puts them at risk by closing deals before legal can approve the terms. Neither department is right or wrong; they just don't work closely enough to understand that sales and legal share common goals. With the right legal technology, both teams can work together from the early stages of a deal and create more efficient internal processes.
Design a Process for Interdepartmental Collaboration
Legal and sales should work together to develop a collaborative process for how the two departments will support each other. When legal operations works with sales, both groups can ensure that everything about a new business deal is included in the contract without introducing unnecessary risk or limiting the scope of negotiation.
Leverage legal tech to integrate systems and design workflows that benefit both teams. For instance, a contract lifecycle management system can give legal and sales better visibility into the status of a contract at any given time. And with the help of e-signature tools, you can get signoff on contracts every step of the way—easier and faster.
You can also share access to your customer relationship management (CRM) and document management system (DMS). Doing so will cut back on time spent hunting down prospects' contact information or searching for a specific version of a contract. Plus, if your DMS is advanced enough to include audit trails and versioning, you can minimize risk and future disputes by making sure you're always looking at the correct version of every document.
Remember to include a process for reporting as well. You can't measure the effectiveness of your process without data. With a spend management platform like SimpleLegal, you can design custom reports so both teams can keep an eye on the metrics that matter most to them and then compare notes. For example, sales reports might reveal that deals offering a net 60 payment term have a 50% higher chance of closing compared to contracts with net 30 terms. Once legal sees those odds, they may be more open to approving longer terms for future contracts.
All of these tools may sound like a lot, but integrations can be a lifesaver. A platform like SimpleLegal can give legal the core functions they need and then integrate with existing solutions such as Outlook, Box, Oracle, and more.
Simplify Contract Negotiations
Negotiations are part of the sales process, but if legal and sales work together, they can significantly limit the time and effort spent on the back-and-forth discussions.
According to a 2020 report, these are the top 10 most negotiated terms: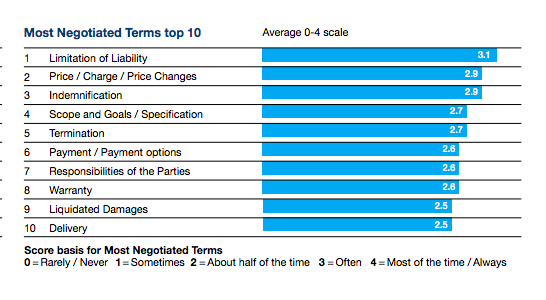 The most negotiated terms in 2020, Source
All negotiations require a bit of back and forth, but legal can help sales get to the middle ground sooner with pre-defined terms. For example, legal can establish three acceptable payment options and authorize sales to accept anything that fits those terms.
Another way to streamline negotiations is to create clause libraries. Legal can use a contract lifecycle management system to create pre-approved clause libraries for frequently negotiated terms, such as limitation of liability. This way, if legal approves three limitation of liability clauses, sales can start negotiations with a contract including Clause A. If the prospect pushes back on Clause A, sales won't have to stall negotiations by checking with legal—they can simply counter with Clause B or C.
Creating a variety of pre-approved terms gives sales the leeway they need to close deals without increasing legal's risk of contract disputes related to contract scope, payment, management of timekeepers and subcontractors, etc.
Take Advantage of Contract Automation
In 2020, 24% of legal departments said they planned to implement some form of contract automation in 2021. If your company isn't automating parts of the contract creation and review process, you're already behind the curve.
Embracing contract automation doesn't have to be a big endeavor. With tools like ReviewAI, you can use programs you're already familiar with, such as Outlook and Word. ReviewAI lets legal establish contract standards so that sales can simply run contracts through the program for a preliminary review without involving the legal team.

The initial review, which takes about 90 seconds, will flag issues and categorize them as low, medium, or high risk. It will also automatically fix issues that do not require legal review. For example, if legal sets acceptable governing laws, ReviewAI will adjust the Governing Law clause of a contract accordingly.


ReviewAI automatically adjusts the contract clauses according to pre-defined standards.
Legal can also dictate which clauses must be present in order for a contract to be accepted, which comes in handy when you're dealing with agreements sent by a third party. For example, legal can stipulate that non-disclosure agreements (NDAs) with open-ended terms will not be accepted.


ReviewAI can flag contracts with missing clauses and make suggestions for adjustments.
With ReviewAI contract automation, sales can get notes from legal in a matter of minutes without involving the legal department. Give ReviewAI a test run with your NDA.
Protect Your Bottom Line With Cross-Functional Collaboration
Poor contract management will cost you. Between 2011 and 2017, the average cost of a contract rose by 38%. But the most efficient organizations—those that leverage contract automation and updated technology—kept that increase to only 9%.
The relationship between sales and legal operations can be a tenuous one, but it doesn't have to be. There's a significant risk in not encouraging these two departments to collaborate and serious opportunities for the bottom line when they do. To learn more about working cross-functionally, read our white paper: Legal Operations 101: A Blueprint for Modern Legal Departments.