Level-up collaboration and conquer tasks with SimpleLegal!

In today's fast-paced in-house legal landscape, effective collaboration and efficient task management are paramount for success. Without a streamlined system in place, legal teams often experience missed deadlines, overwhelmed team members, and compromised outcomes. That's why we're thrilled to announce the launch of SimpleLegal's task management functionality, designed to empower legal teams to achieve more.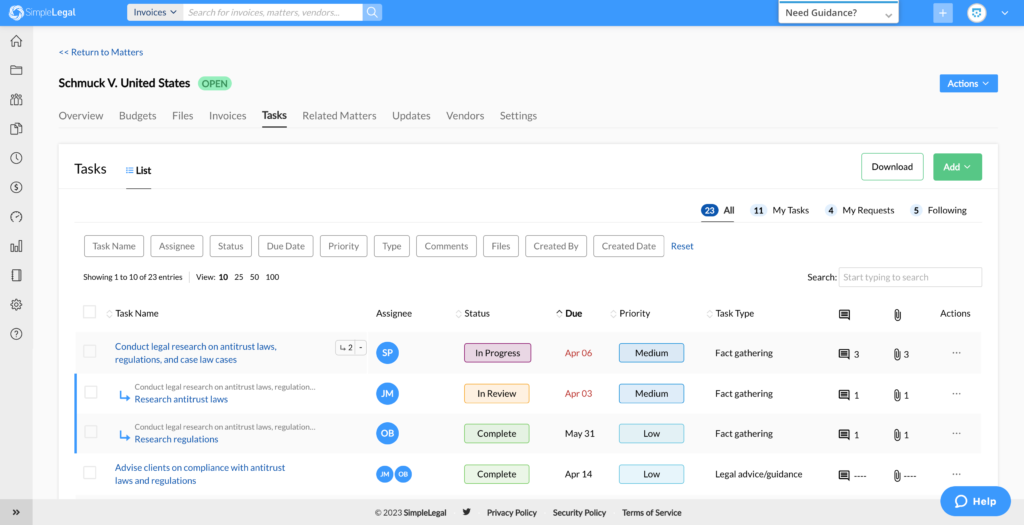 Unify, simplify, and conquer
Imagine having everything related to matters at your fingertips – tasks, documents, associated spend, deadlines, and assignments – all centralized and integrated into one solution. You wouldn't have to deal with headaches like multiple logins, manual data entry, inaccurate reports, and siloed data. With SimpleLegal, you'll get the ultimate command center for legal operations. Our flexible, user-friendly interface ensures your legal department works smarter – not harder – without sacrificing results.
Never miss a beat
Stop scrambling to meet deadlines or losing track of tasks! SimpleLegal's automated email notifications keep your team's productivity on point and tasks on a steady course to completion. Stay in the know and ensure no deadline slips through the cracks, while keeping team burnout at bay.
The future of collaboration
Collaborate anytime, anywhere, with anyone on your team. SimpleLegal lets you easily assign and track a matter's tasks and subtasks, ensuring seamless teamwork and a shared sense of purpose. Keep stakeholders in the loop with task visibility, automated reminders, and real-time updates on task status. Transparent collaboration has never been easier!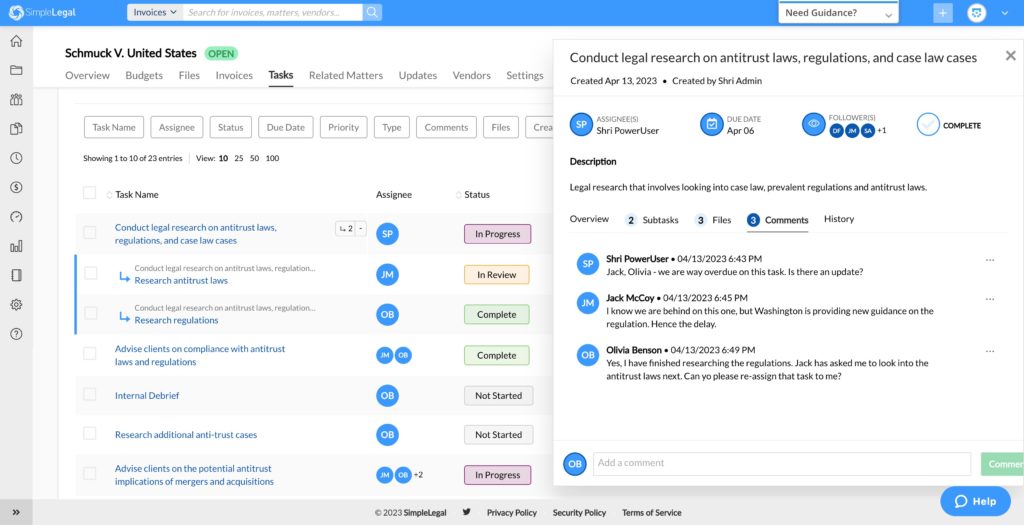 Unleash the full power of task management
With SimpleLegal, you're not just getting a basic task manager – you're getting a powerhouse of features designed for success:
Easy setup: Create and track tasks by type, priority, status, and template, ensuring you have complete visibility and control.
Robust management: Effortlessly create, edit, copy, and delete tasks and subtasks, streamlining your workflow.
Seamless collaboration: Keep the knowledge flowing by adding comments, attachments, and followers to tasks, promoting collaboration and seamless communication.
Multiple views: Easily manage your tasks through multiple views, including the home dashboard, my requests, my tasks, and tasks you're following, making organization a breeze.
Quick notifications: Stay in perfect sync with your team through timely email notifications, ensuring everyone is on the same page.
Bulk edits: Perform bulk editing with ease, saving you valuable time and effort.
Activity log: Access an activity log of all tasks, allowing you to track progress, identify trends, and make informed decisions.
In-house legal teams face a daily avalanche of tasks, but SimpleLegal ensures they don't get buried. Our fully integrated task management solution combines power, simplicity, and effectiveness to help legal teams conquer their workload. From effortless planning and organization to seamless task prioritization, SimpleLegal empowers teams to optimize workloads, make data-driven decisions, and foster collaboration. With SimpleLegal, being overwhelmed becomes a thing of the past, and productivity reaches new heights.
Don't settle for chaos and missed deadlines.
Experience the power of SimpleLegal's task management for yourself! Learn more or request a demo, and embark on a new era of collaboration and productivity.