7 outside counsel management rules efficient general counsels follow

Outsourcing legal work to outside counsel can be a powerful tool for achieving goals in a timely and cost-efficient manner. However, we negate the benefit of outsourcing when we outsource the wrong tasks or even outsource the right tasks to a less-than-ideal vendor.
As an extreme example, you wouldn't want to outsource a lower-value task like a simple employment contract to a partner-level attorney at a high hourly rate law firm. The partner-level attorney has a high hourly rate, plus they will likely take longer to complete the contract since they don't typically do this kind of task.
Outside counsel management helps you understand what needs to be outsourced and to whom so that you can cut costs while still maintaining quality and speed. But it doesn't stop there; strategic outside counsel management will also help you maintain good relationships with your vendors. Those relationships, in turn, lead to benefits like discounts and favorable alternative fee arrangements (AFAs).
Here are seven ways to be more efficient with outside counsel management.
1. Outsource areas of low legal spend
The salary of in-house legal counsel doesn't increase for high-difficulty, high-cost tasks — but it does for outside counsel. So, outsource the inexpensive tasks and let your in-house counsel tackle bigger, more complex projects.
Gartner found that commercial contract management and regulatory compliance take up around 6% of external legal spend each. In comparison, litigation and intellectual property take up more than half of outside counsel spend — 39.1% and 14.5%, respectively.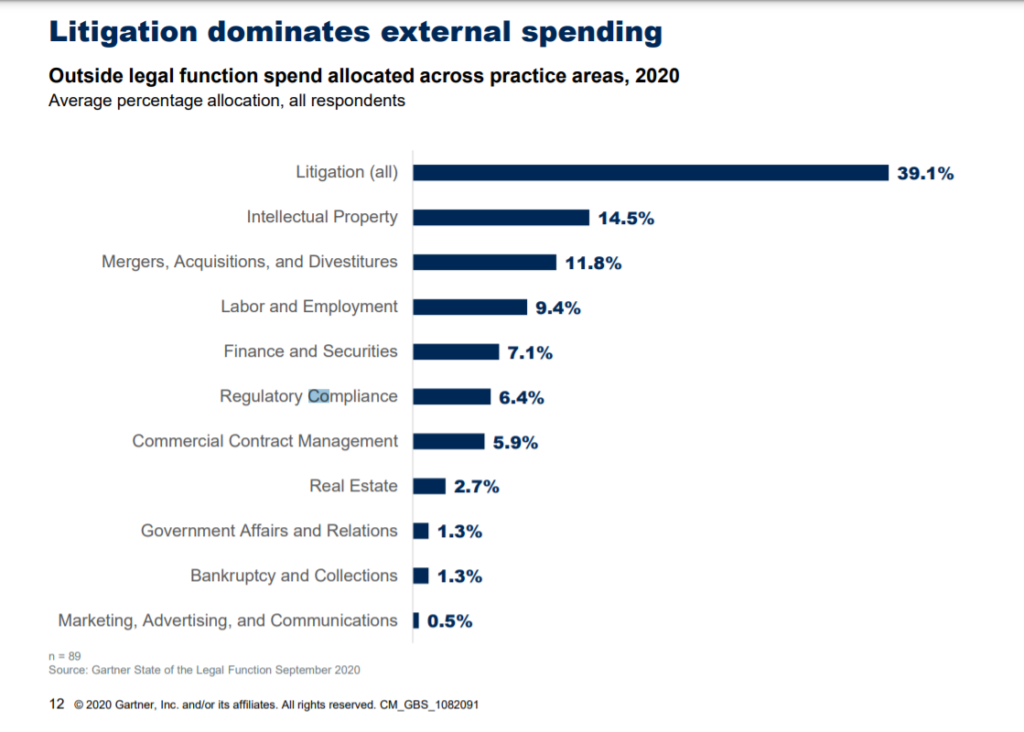 Source: Gartner 2021 Legal Planning & Budgeting
This indicates that most legal departments would save around 39% of external spend just by hiring in-house litigation specialists alone.
Outsourcing repetitive low-risk tasks to cheaper alternative legal service providers (ALSPs) instead of traditional law firms also helps to reduce outside counsel spend. For example, lengthy due diligence takes up a sizeable chunk of legal fees in mergers and acquisitions. If you give that work to an ALSP, they can perform it for a lower price and are known for using legal technology to speed up their turnaround times.
To identify areas where legal spending is high and where it's low, track and classify legal spending based on the type of matter. A matter management system could easily help with this.
Rely on data from vendors' past performance to discover exactly which law firm is the best fit for a legal task instead of guessing. Don't operate off of hunches, which are subject to personal bias — going with a buddy from law school's firm over one that's more aligned with your business goals, for example.
It's common practice for lawyers to detail what they do on a particular matter and how much time it took to accomplish each task. Reviewing vendor data you've collected in your spend management tool will reveal how your vendors spend billed hours. You can use that data to determine whether their speed is worth your spend. For example, if a vendor has high cycle times for matters and you find that they spend most of the time doing low-value work, you could request changes or switch to a different vendor.
Look at the raw data collected in your spend management platform to find revealing insights like:
Average matter spend by law firm
Matter cycle time by firm
Matter close rates and results by firm
Number of AFAs and discounts on offer
Diversity profile of law firm timekeepers
But don't limit yourself to quantitative data only; consider asking your team for qualitative feedback on your law firms for the best results. You can easily do this with a vendor survey tool.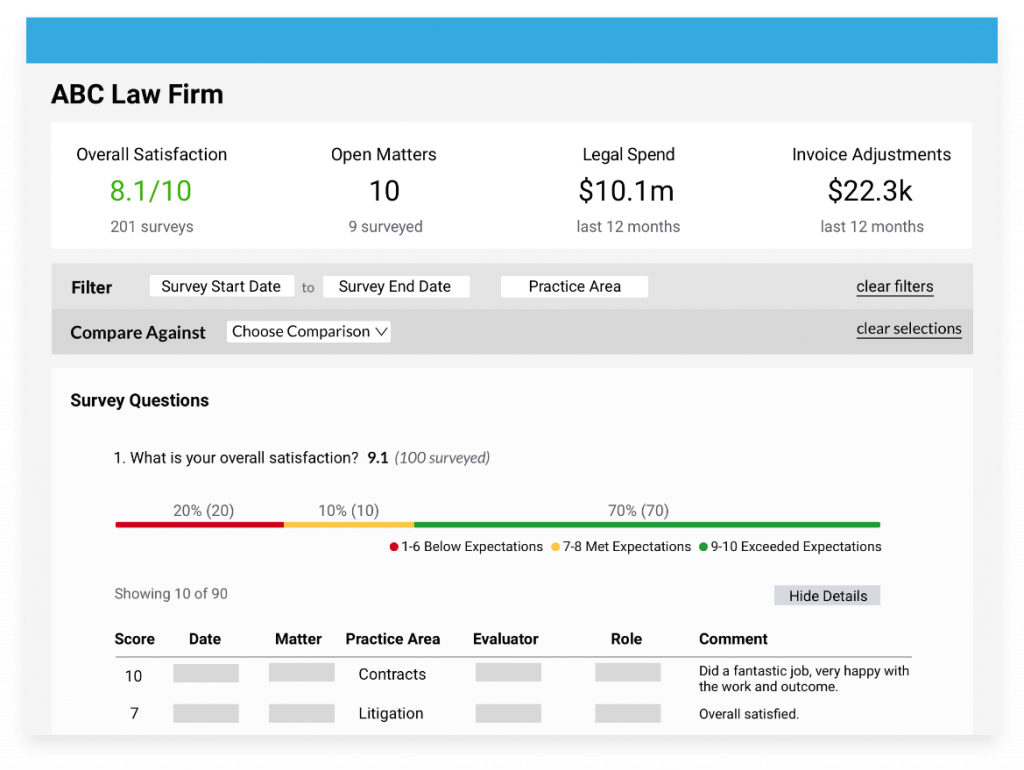 Source: SimpleLegal
3. Request budgets and track spend against them
Requesting and agreeing on an external budget before outside counsel starts work on a matter is key to keeping overspending at bay. Daniel Abrams of Lawyer Quality says, "Lawyers facing their firm's often onerous billing expectations learn that legal tasks which are not subject to budgets are infinitely expandable." Costs are likely to quickly spiral out of control without matter-level budgets.
Aside from keeping costs low, matter-level budgets help:
Legal departments plan projects better since GCs can project costs and assign parts of the legal department budget to other needs
Improve the quality of outside counsel performance since they're forced to focus only on important aspects of a matter according to billing guidelines based on their budget
Track spend against budgets to improve spend predictability
Benchmark outside counsel performance
Request a budget by sending details about a matter to outside counsel before signing a contract. They should respond with an estimate, action plan, risks, and assumptions. This initial planning leads to better collaboration, relationships, and outcomes for everyone.
SimpleLegal customers prefer to use a budget request tool for handling budgets because it shifts the responsibility of creating and managing budgets to vendors, giving the in-house team the ability to focus on higher-priority legal work instead.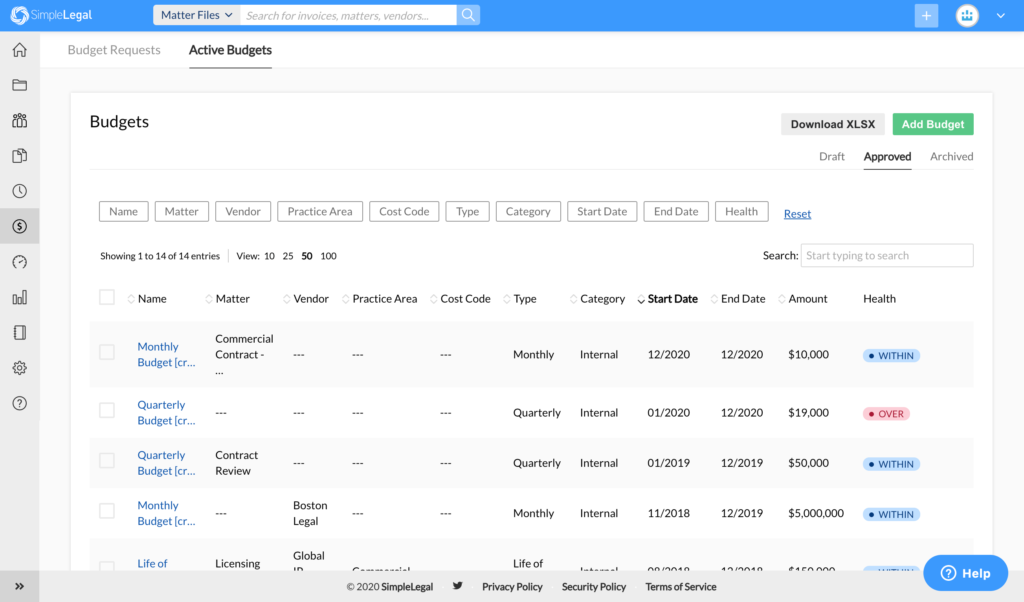 Source: SimpleLegal
In-house counsel can also set boundaries like percentage thresholds to automatically flag invoices that go beyond allocation with the budget request tool. Those thresholds trigger warnings when the budget is almost exhausted. Both of these functions help prevent unnecessary legal spend. They also support better vendor relations because you can reach out to resolve issues in a timely manner.
4. Create and enforce billing guidelines for vendors
Provide your vendors with billing guidelines to reduce surprise fees, unauthorized charges, and late invoices, which throw your budget off. Any great relationship begins with clear expectations. Unless law firms understand what you need from them, they may not be able to deliver on those expectations. Therefore, clear, actionable, and easy-to-understand billing guidelines are important to save costs.
To create effective guidelines, be sure to include key information like:
Expected staffing levels for different projects or tasks
Invoicing and billing procedures
Timing requirements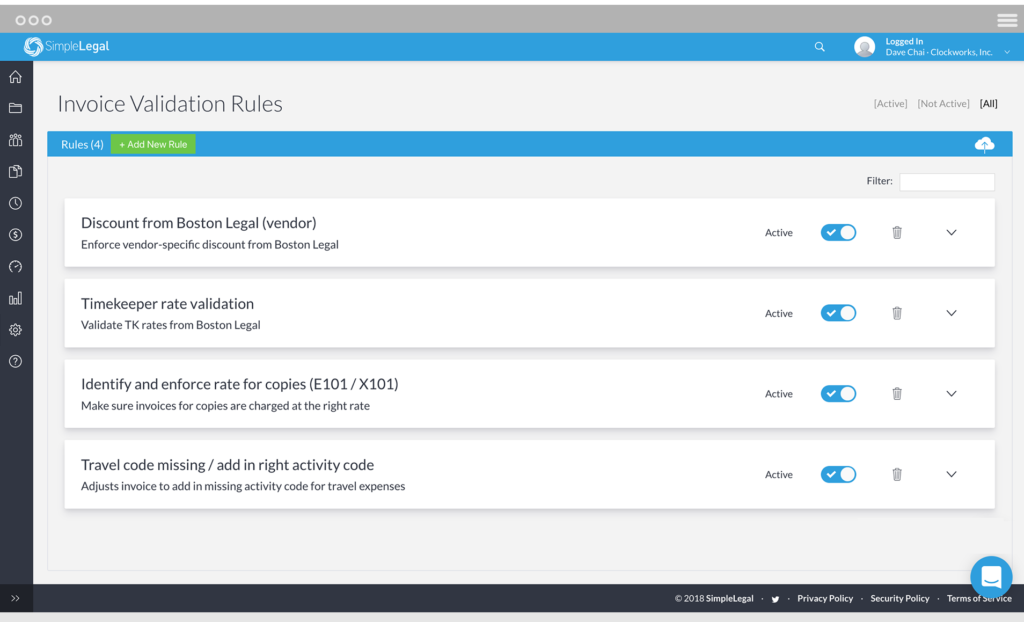 Source: SimpleLegal
Consider using an e-billing solution like SimpleLegal to set up and enforce your billing guidelines. An e-billing platform will check your invoices against guidelines (or "rules") you've set up to process good invoices automatically or flag invoices that don't meet your guidelines.
---
Is billing causing friction between you and outside counsel? Get outside counsel on the same page with you today with these four quick tips for improving legal billing guidelines.
---
5. Negotiate Alternative Fee Arrangements (AFAs) wherever possible
Alternative fee arrangements — a flat fee instead of an hourly rate, for example — offer predictability and ensure that you pay for value delivered rather than hours worked. In a 2017 survey, CounselLink found that more than half of legal departments rated all AFA types except holdbacks as effective for lowering costs and increasing predictability.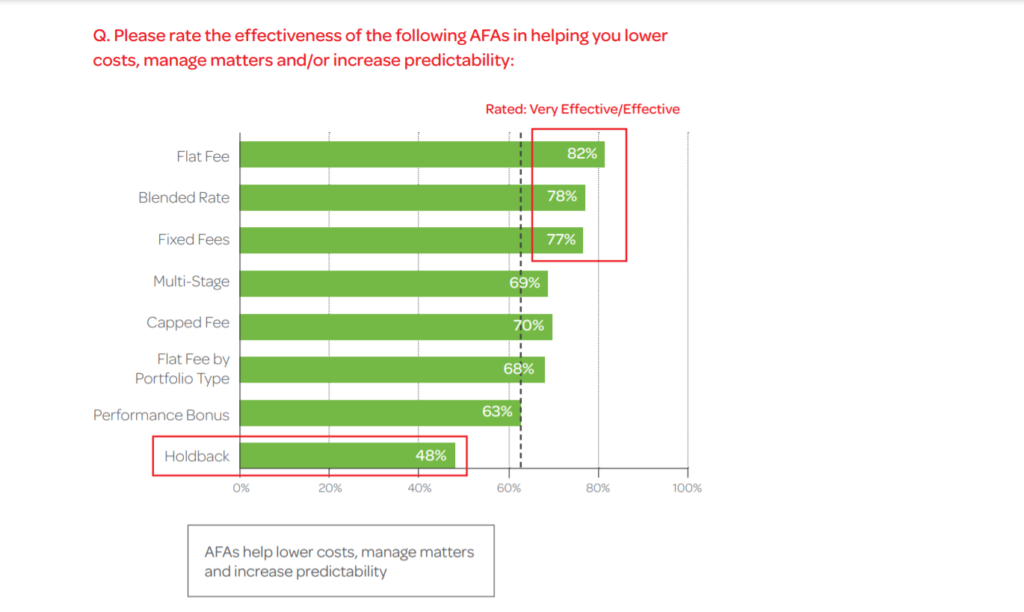 Source: The use and effectiveness of AFAs in Property & Casualty claims and law departments, CounselLink 2017
AFAs help legal departments avoid some of the causes of overbilling, especially hourly billing rates. Overbilling can quickly drain your budget if it isn't caught, so using AFAs will give you more peace of mind with confirmed, predictable legal spend. AFAs also ensure you receive high-quality legal services on time because the law firm benefits nothing from dragging hours on a matter. They also understand that payment depends on providing good service and results.
Your law firms may not offer AFAs without being asked, so you may have to initiate discussions and negotiations for AFAs. According to Bloomberg Law, client demand is the biggest driver for implementing AFAs among law firms. Show your firms how an alternative fee arrangement can be beneficial to them as well. These benefits include long-term partnerships, more work assignments, and predictable income for them.
6. Pay invoices on time
Pay invoices on time, or even ahead of time, to maintain a good relationship with your vendors. Showing that you appreciate good work by paying on time will encourage the firm to deliver good work again. According to a Law.com commentary by Virginia Griffith, JD, you also encourage law firms to accept invoice adjustments when you pay on time, which effectively saves you money.
"Paying law firm invoices on time encourages firms to accept adjustments suggested by the reviewers." – Virginia Griffith
Set up approval workflows using a system such as SimpleLegal so invoices can flow smoothly from approval to accounts payable. SimpleLegal's system, for example, uses rules you've preconfigured to programmatically enforce your billing guidelines, discounts, and AFAs. It may also automatically adjust invoices based on rules before it routes them to the correct person for approval. This process saves time and ensures accuracy as well.
7. Recommend your best vendors to your network
Just like you'd value someone who sends you new business, your vendors will appreciate it when you send referrals their way. If they've done great work for you, build personal rapport by recommending them to businesses that'd need their services. This doesn't benefit them alone; when you send them more business, they are more likely to give you discounts and make other accommodations to keep you happy. Consider keeping track of top vendors and promoting them on LinkedIn or in other networking groups if you're a part of them.
Embrace your law firms as strategic partners to get the best results
Outside counsel are valued partners and an extension of your department; invest in building a mutually beneficial relationship with them. Communicate priorities, set expectations, and look out for them as much as you'd want them to look out for you and your team. If you're looking to create strong partnerships with outside counsel, our Basics of Vendor Management whitepaper is a good place to start.