How to improve your billing process with legal billing software

If you work with a lot of outside counsel, the type of legal billing software you choose will have a sizable impact on the overall efficiency of your billing process. Choosing software that streamlines invoicing is a great start. But if you want to replace your manual system or current billing solution, you need versatile legal billing software. Your software should be able to do everything from automating frequent tasks to offering deeper insights into your spending.
Choose Legal Billing Software with Spend Management Capabilities
The first step to improving your billing process is to gain greater visibility into your legal spend. Your legal billing software needs to provide insight into what you are spending, with which law firms, and for which matters.
Billing software with spend management breaks down invoices in a way that pulls out the details of your legal spend. Invoices give you line-item detail into associated UTBMS task or activity codes along with the work performed, by which timekeeper, at which rate, on which matter.
Use spend management to:
Analyze billing information across multiple outside firms/vendors
Easily identify internal hiring needs
Review in-depth legal analytics to be proactive instead of reactive with vendor relationships and opportunities for improvement
Detailed invoices allow you to home in on trends, such as matters with increasing spend and timekeepers who bill higher or for more hours compared to others performing similar work. This information allows you to make informed decisions in the future. For example, if you notice a steady increase in outside vendor spend on intellectual property (IP) matters, you can use that data to justify hiring internal talent dedicated to IP matters.
Establish Processes Using Automation
You can also leverage your legal billing software to create standard operating procedures for recurring billing processes. Not only will this help legal teams work cohesively while minimizing repetitive manual tasks, it will also help proactively avoid common billing issues like the ones below.
Avoid Payment Delays
Manual systems rely heavily on back-and-forth communication, which inevitably leads to delays in invoice delivery and payment.
Instead, leverage your legal billing software to automate invoice-approval routing. You can avoid bottlenecks by sending invoices to the right person at the right time — and monitor the status of the invoice every step of the way.
Perhaps one of the most powerful ways you can leverage invoice routing is when enforcing your billing guidelines. We've previously discussed the basics of establishing billing guidelines (and why you should) but essentially, guidelines allow you to set clear expectations for outside counsel around what should and should be billed, when those things should be billed, and how.
Download our Billing Guidelines Best Practices guide for more information about how to create organized and enforceable billing guidelines for your vendors
Automatically enforcing those guidelines will significantly streamline your billing process and positively impact the bottom line.
Let's say Lily from legal suspects a timekeeper billed over their approved hours. With a manual system, Lily has to dig up the vendor agreement and look into the hourly limits set for that particular timekeeper. If the timekeeper did overbill, the invoice has to be sent back. This could easily stall the entire process, and no one would be able to check the status of the invoice or know why it was rejected.
With automated invoice-approval routing, the progress of the invoice is visible at all times. Plus, the automatic billing-guidelines enforcement would flag the overbilling right away, allowing you to auto-reject or auto-adjust the invoice.
Pro Tip: Requiring signature pages to confirm billing guidelines is a great preventive measure. If vendors have to acknowledge the rules before they bill a single hour, you can avoid disagreements down the line.
Prevent Miscommunication and Disputes
When receiving, tracking, and managing bills from outside counsel, one of the most common miscommunications happens around accruals. There are four types of accruals: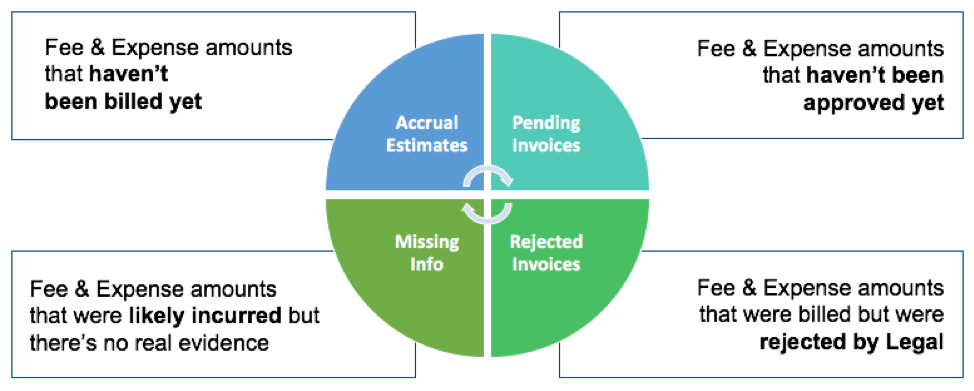 Tracking these types of accruals estimates is an important aspect of budget forecasting, however, emailing dozens of law firms every month to request accruals estimates is tedious. These often manual efforts also tend to ignore rejected invoices or any estimates with missing information when projecting work-in-progress costs.
Similarly to billing guidelines, accruals estimates are valuable only if they are properly understood and enforced. With a solution like SimpleLegal, you can automatically send reminders to every vendor you work with to increase response rate with a fraction of the effort. Our legal billing software with spend management capabilities also makes more accurate reporting possible – giving both legal and finance more insight into accruals.
Connect with Accounts Payable
Linking your legal billing software to finance's accounts payable system allows you to monitor the entire life cycle of a bill while improving communication between departments.
Once connected, the legal and finance departments can work together to optimize the billing process in several ways, including the following:
Eliminating manual errors due to duplicate data entry between separate systems
Allowing finance to access accruals data to more accurately predict future spending
Avoiding compliance issues with financial requirements and SOX
With SimpleLegal, you can easily integrate your legal billing system with accounts payable and keep both departments informed throughout the billing process.
Greater Visibility into Spend Is the Key to Improving Billing
The data you need to make better budgeting decisions and manage your legal spend is often lost in fragmented billing processes. When you leverage legal billing software with spend management, you gain the visibility you need to predict budgets, cut back on unnecessary legal spend, and process accurate invoices quickly.
If you're interested in learning more about our legal billing software solutions, sign up for a demo and find out how we can configure SimpleLegal to align with and improve your billing processes.