Why SimpleLegal is one of the top legal technology companies

The legal tech market is booming. Statista predicts an overall economic impact of $144 billion by 2025 — double the impact the market had in 2019. While this is great news for corporate legal departments looking to invest in new legal technology, it can also feel overwhelming trying to sort through so many different brands and products in the legal market.
We believe what sets SimpleLegal apart among top legal technology companies is much more than our software or profit margin. It's about what we choose to do to make a positive impact on our customers and team, the legal profession, and the larger society. For us, that includes acting on client feedback, publicly sharing helpful resources, and building a team that views differences as strengths.
This type of meaningful work creates deeper partnerships instead of transactional relationships. These connections and conversations spark ideas that help our customers and business to grow and succeed.
We're consistently recognized for the value we deliver
We designed our top-of-the-line tech to still be user friendly — hence the name SimpleLegal. Our intuitive design means that legal departments and vendors can pick it up as easily as using a smartphone. And when you don't have to spend as much time learning how to use a new product, you can jump immediately into making progress on your business goals. Our legal management platform is well known for saving customers money and time and helping legal ops collaborate with outside counsel.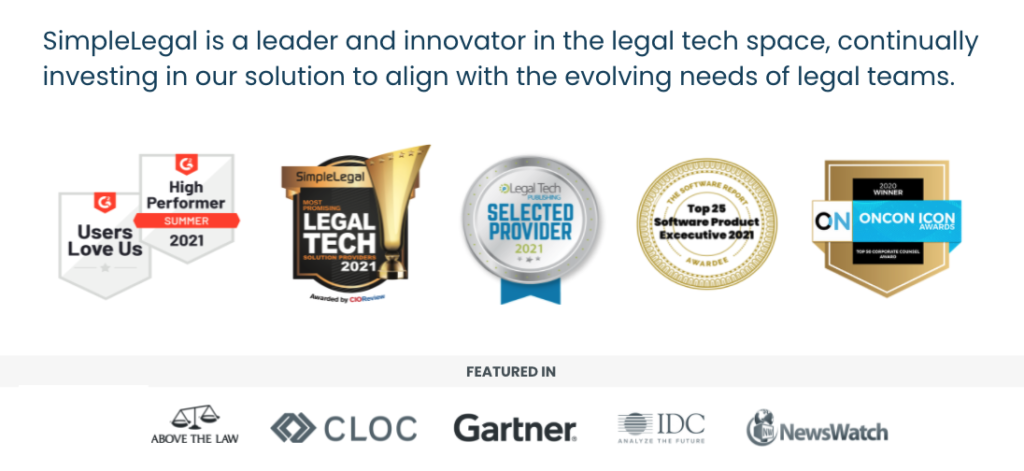 The facts speak for themselves:
SimpleLegal supports over 350 legal teams, processes over $3.4 billion annually, handles over 170 currencies, and has managed around 615,000 matters.
Our legal software won awards from G2, MYTECHMAG, CIO Review, Legal Tech Publishing, The Software Report, and Mirror Review in 2021 alone.
When the global pandemic accelerated the need for seamless legal tech to keep things running, in-house teams turned to SimpleLegal. Our revenue actually grew by a substantial double-digit percentage during COVID-19.
We see these figures as clear markers of customer trust and satisfaction — not to mention how invaluable our legal management solution is to corporate legal departments.
Cost savings
We know a strong return on investment is top of mind for every GC and C-suite, and SimpleLegal brings it:
Time savings
Everything you need is in one place with our platform. We keep our software user friendly and, well, simple, to also decrease the time spent learning how to navigate it.
Some SimpleLegal successes:
Enhanced vendor collaboration
SimpleLegal makes it easier to manage multiple vendors thanks to the following:
Just take it from nonprofit YAI, which saw 100% e-Billing adoption from their vendors once they started using SimpleLegal.
Innovative features
Just because our platform is simple doesn't mean it isn't powerful. From artificial intelligence (AI) to optical character recognition, we incorporate cutting-edge features that help you stay on top of your game as new technologies emerge.
We prioritize data security and privacy
Companies faced 50% more cyber attacks per week in 2021 than in 2020, according to Check Point Research. The average data breach cost also hit an all-time high of $4.24 million in 2021. We are laser-focused on maintaining rigorous cybersecurity measures to protect your sensitive legal data from cybercriminals.
This includes:
Encryption at rest and in transit
Vulnerability scanning
Least privilege access control
Security penetration testing
Regular compliance audits and weekly security updates
We're known for our dedication to our customers
As Anggie Ramirez, head of SimpleLegal's Client Support department, says, "Every decision, internal process, and initiative always has the customer in mind." It sounds cliché, but we truly believe that customer success is our success. We give each client individualized attention and meet them where they are, from big-name enterprises like Instacart, Crocs, and Fender to small businesses and startups. And from reading customer reviews and seeing our 4.5-star G2 rating, we know customers are thrilled with this level of support.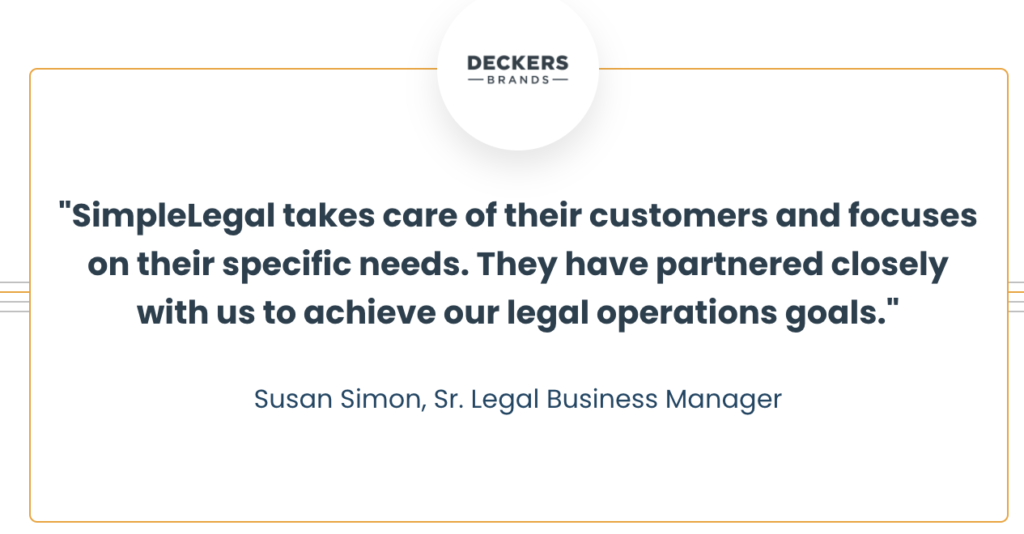 Our clients get added business value from working closely with our dedicated employees, especially our Customer Success team members. This department serves as the primary point of contact for additional software training, advice on best practices, and even business reviews with company stakeholders.
All of our teams share the feedback we get from customers internally. We then use these key client insights to continually optimize products and processes, all with the end goal of creating the best customer experience possible.
We're active thought leaders in the legal industry
SimpleLegal creates knowledge-sharing and networking opportunities for legal ops professionals that drive innovation and growth. With over 350 different member companies, the SimpleLegal community lets customers connect, share advice, and take part in training webinars that help clients make the most of our legal technology solution. It also allows members to get to know our trusted SimpleLegal partners, who offer top-shelf consulting and support services.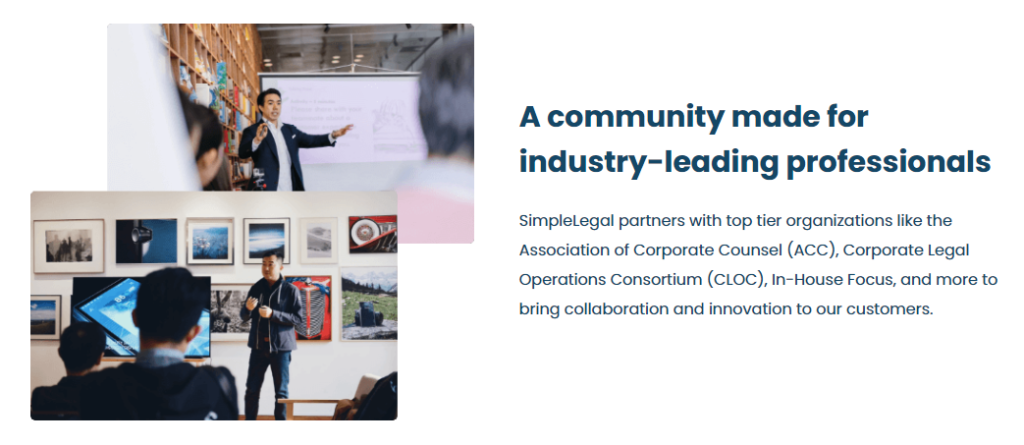 We help legal ops, in-house counsel, and general counsel stay on top of the latest industry trends with our SimpleLegal Learning Center. This free content collection offers tips and tricks to help you succeed, from how-to articles and in-depth whitepapers to webinars. We also share information on open job opportunities in the legal industry, supporting both new and seasoned legal ops professionals in career development.
The SimpleLegal team keeps industry conversations going by regularly sponsoring and speaking at in-person and virtual legal events, including but not limited to:
We've made diversity and inclusion our company cornerstone
Like many industries, the legal field is evaluating how it can do better with diversity and inclusion (D&I). We believe it's imperative to walk the D&I walk ourselves to support our clients in this critical work.
As our co-founder Nathan Wenzel wrote, SimpleLegal "started as a group of white guys born in five different countries across three continents" in 2013. Today, 43% of SimpleLegal's executive team members are women, and 57% are from historically underrepresented groups. And while we're headquartered in Mountain View, California, our team members work seamlessly across the country and globe.
"Certainly there's virtue in wanting to create opportunities for stereotyped, underrepresented, or otherwise marginalized groups. But, I truly believe in the value of leveraging a diverse set of thoughts and approaches to solve problems. This way of thinking allows us to view the notion of diversity as a specific problem to solve, rather than just an abstract cause to support." — Nathan Wenzel, SimpleLegal Co-Founder
This diverse workforce means more unique perspectives get brought to the table, and this flow of information leads to greater innovation. We know it can be difficult — and even uncomfortable — to dig into D&I in the workplace. But we believe it's our responsibility to use our company as an agent for positive change.
Subscribe to our SimpleLegal newsletter if you're looking for tips and tools to build more sustainable D&I in your corporate legal department. You won't want to miss our big D&I announcement in Spring 2022!
We share the same passion and genuinely love working together
We were thrilled to be named as one of Built In's 50 Best Small Companies to Work For in San Francisco. That recognition is mostly because the small-but-mighty SimpleLegal team is #squadgoals.
Our business culture rewards curiosity, empathy, and a drive to continuously improve. We change things that aren't broken because we're confident we can make them better. And we're proud to have created a supportive environment where we celebrate what makes us unique.
SimpleLegalers get things done, and we also make it a point to have fun! From cooking classes and holiday get-togethers to volunteering with San Jose's Our City Forest, our teammates build lasting relationships and contribute to something bigger than ourselves.
Visit our SimpleLegal Careers page and click on one of our seven teams to learn more about the talented individuals who'll support you.
Go with your gut when evaluating top legal technology companies
Knowing that your legal tech company has your back isn't something you can measure with a dollar sign, but we believe it's a huge reason why so many people choose SimpleLegal. We consider it a privilege to connect with so many different customers and partner with them to reach their goals. This is the driving force behind our user-friendly legal management software.
We're here to answer any questions you have, so please reach out to us at [email protected]. You can also check out our Success Stories section to see how different legal ops teams have leveled up by using SimpleLegal, or schedule a free legal software demo with us.