What is legal analytics and how can legal ops use them?

Consider the following scenario: You look at your legal budget and see that your company spent an extra $500,000 this year on specialized outside counsel work. This is an enormous expense, and your C-suite will want to know exactly how that $500,000 benefited the business.
If you could show how that legal spend led to a 30% decrease in lawsuits filed against your organization, it would be much easier to get a higher legal budget approved for the next year — not to mention you'll have more satisfied leaders.
This is why using legal analytics is so valuable for a legal ops department. A data-backed approach lets you evaluate decisions objectively and determine which processes and projects are working, which ones aren't, and what can be done to improve in the future. However, while there's a growing expectation that legal departments become data science experts, you might feel intimidated or confused trying to figure out exactly what you should do with a mountain of legal numbers.
Keep reading to understand the basics of legal analytics and learn three ways analytics can improve your performance as a corporate legal department and steer your company in a successful direction.
What is legal analytics?
The Association of Corporate Counsel defines legal analytics as "collecting, organizing, and using data to inform decision making and performance management."
The most basic data points to use for legal analytics include:
Traditionally, only legal operations analysts handled that third piece of the definition: applying data analytics to create strategic recommendations and reports supporting high-level initiatives.
But that's changed with the increase of legal technology and dedicated legal analytics tools. Now, the C-suite expects all legal professionals to shift from simply summarizing figures like legal spend to assessing those numbers to find the "so what?"
Here are three introductory ways to apply legal analytics:
1. Use legal analytics to set realistic performance targets
Monitoring overall spend by practice area lets you set realistic expectations for different projects. For example, knowing the average time and costs associated with employment law matters versus patent prosecution can help you make more educated estimates for future projects in those areas.
Evaluating spend by practice area data helps corporate legal departments:
Reduce risk by determining which practice areas have high legal spend
Identify savings opportunities by shifting work to in-house counsel when hiring external vendors is not cost effective
Set realistic budgets and timelines for future matters based on past data for each practice area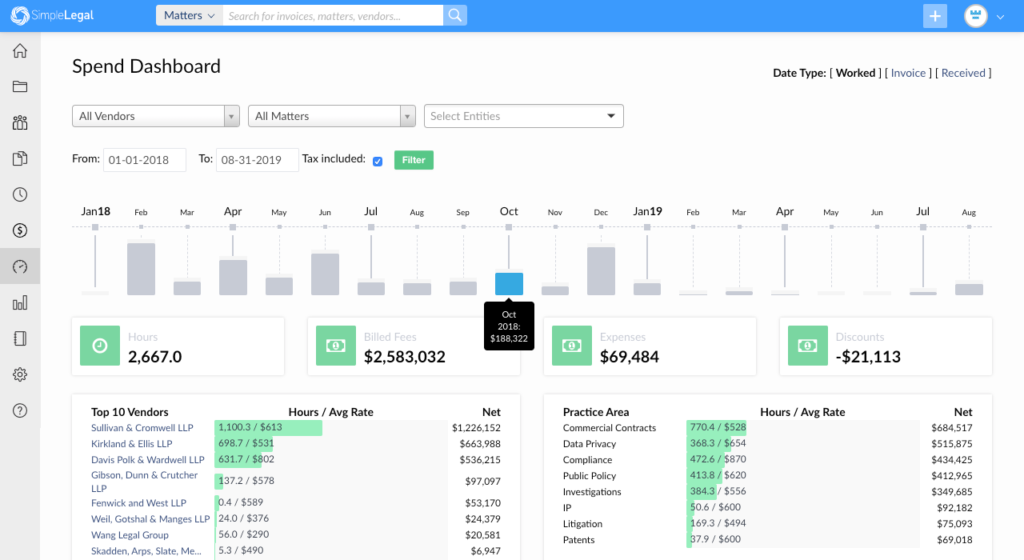 Source: SimpleLegal
The value of legal analytics means you can take the guesswork out of budget decisions and performance targets by isolating data by time period and practice area. Instead of assuming a commercial matter will take 800-900 hours, you can leverage past data to establish a more precise budget and timeline. More accurate budget and labor forecasts help reduce legal costs for your company, which is particularly important in an uncertain time like COVID-19 when leaders are closely scrutinizing spend.
2. Use legal analytics to make more informed hiring decisions
Determining when to use in-house attorneys or outside counsel is essentially a "buy vs. rent" decision. For each matter, you have to determine whether it makes more sense to buy (hire internally) or rent (pay outside counsel) to perform the work.
Data analysis can help you identify savings opportunities, flag productivity issues, and more to inform your decisions. Analyze these key areas to guide your buy-versus-rent decisions:
Trends in spending
Legal budgets change as your company grows. Watching for trends in spending lets you keep a pulse on your internal versus external costs and make adjustments as needed.
Start by setting a target for in-house and outside counsel spend, such as 50/50 or 80/20, then monitor how close you stick to it. Be sure to drill down by matter type, as different matters often require different splits. For example, while you discover intellectual property disputes may benefit from a 70/30 internal/external split, other matter types may benefit from a 60/40 split.
Resource allocation
Regularly reviewing in-house versus outside counsel performance and spending allows you to better gauge your hiring needs. Internally, using legal analytics helps you identify issues such as low-value work being done by experienced, high-paid attorneys or practice areas that require a higher percentage of partner work. It's important to use data to better allocate resources so your in-house talent is used effectively.
Of course, it won't always make sense to keep work in-house. For occasional tasks, such as 10-Q quarterly filings, it may be more cost effective to "rent" outside firms rather than keep someone on staff.
Vendor management
Each vendor offers different legal services at different hourly rates. To make educated vendor management decisions, you need to compare vendors based on several vendor metrics.
Track timekeeper rates to determine which law firms are worth the cost. If you notice a particular law firm charges much higher rates than others, dig further to evaluate whether another firm could perform the same work at a lower price.
You can also strengthen your vendor management by paying close attention to the following law firm data:
Practice area (matter group) activity by vendor
Task code cost comparison by vendor
Rate comparison by vendor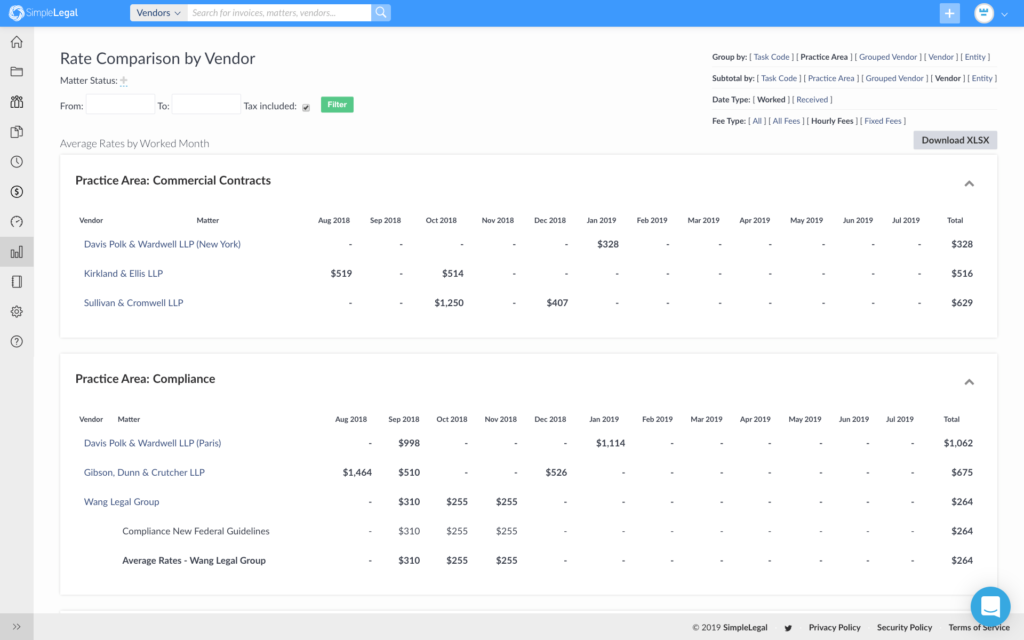 Source: SimpleLegal
Vendor management legal analytics help you clearly determine which law firms are the most reliable and have competitive advantages over other vendors. For example, if you run a report that compares accruals versus actuals, you'll get a better idea of how well certain firms estimate the cost of the work they will provide.
Not only does this allow you to flag overbilling, but it also gives you objective information to support discussions on performance and efficiency with outside counsel. Identifying firms that frequently go over budget makes it easier to negotiate rates or decide to move work to other law firms.
3. Use legal analytics to prove your department's value
People tend to go to the legal department when they have a problem that needs to be solved. It's easy to forget that legal work is ongoing and adds significant value to the business overall. As Bloomberg Law legal analyst Francis Boustany notes, legal departments that use legal analytics to objectively show their worth gain "perspective on where they stand," and "it can also lead to more informed decisions and the establishment of better practices."
The key is to demonstrate the value of your department by highlighting how your ongoing work leads to far-reaching financial and productivity benefits. Show your team's efficiency by tracking the following legal analytics:
Average opened and closed matters per month
Average pending days for each matter
Spend by matter type
Proactive, preventative legal work is another high-impact metric worth tracking. When you monitor the time and money spent on avoiding issues down the line, you can confirm the return on investment. For instance, spending more time up front to design a clear patent prosecution process could lead to a decrease in patent rejections. The upfront investment would be justified by saving the department the time and money needed to file appeals and re-submit applications.
Providing evidence of internal productivity and cost savings is important, but it's also valuable to show how your department leverages knowledge gained through analytics to make future decisions.
When analytics simplify setting accurate budgets and choosing which vendors to work with for each matter, your department is seen as proactive rather than reactive. It shows that your in-house team can manage their internal projects and also actively manage outside counsel.
Understanding legal analytics doesn't require a law school degree
When you're building foundational legal analytics skills, the right legal solution will set you up for success and accelerate your learning much faster than just tracking data in spreadsheets. Check out our whitepaper that covers the top legal tech tools that help you easily leverage legal analytics while saving time and money.

This article has been updated to reflect new information and industry trends from the original article, published on January 30, 2020.