3 powerful ways to use legal analytics

If you want to be the best run department in your organization, you need to learn how to work backwards.
This may sound a bit strange, but when you're armed with legal analytics, you can look back at your decisions and determine which processes are working and which ones need to be revised.
Think of it this way — spending an extra $500,000 a year on specialized outside counsel work may seem like a huge expense, but if analytics shows you that a $500,000 increase in legal spend led to a 30% decrease in lawsuits filed against your organization, it's a lot easier to get a higher legal budget approved for the upcoming year.
While legal analytics can cover a wide range of metrics, leveraging legal analytical data and applying it to your spend management is a great place to start. In today's post, we're sharing 3 powerful ways legal analytics can improve efficiency and help you make more informed business decisions.
1. Set Realistic Performance Targets
Keeping an eye on overall spend by practice area allows you to set realistic expectations for different projects. For example, knowing the average time and costs associated with employment law matters versus patent prosecution can help you make more educated estimates for future projects in those areas.
Spend by practice area analytics helps legal departments:
Reduce risk by determining which practice areas have high legal spend
Identify savings opportunities by shifting work in-house when hiring outside counsel is not cost-effective
Set realistic budgets and timelines for future matters based on past data for each practice area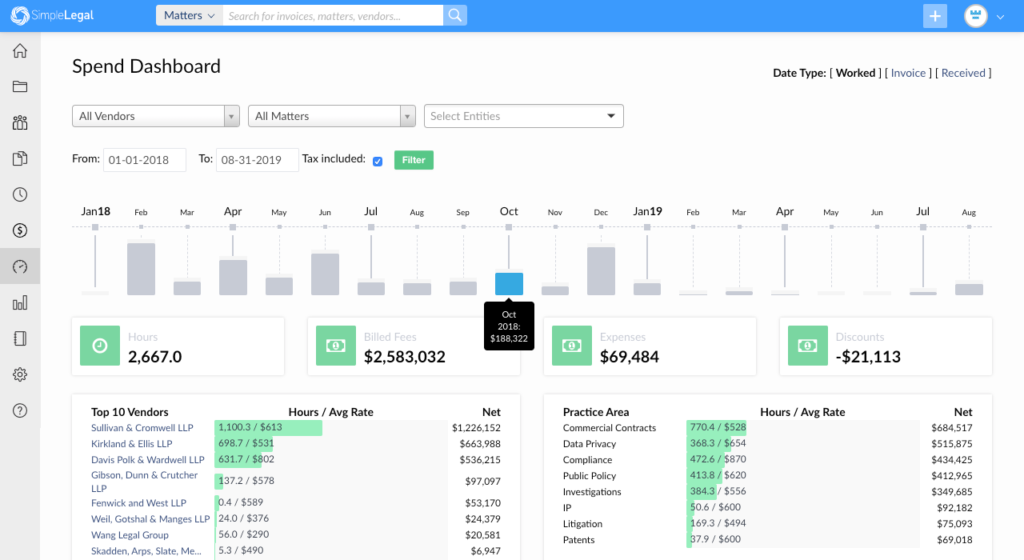 When you isolate data by time period and practice area, you can take the guesswork out of budget decisions and performance targets. Instead of assuming a commercial matter will take 800-900 hours, you can leverage past data to establish a more precise budget and timeline. More accurate budget and labor forecasts help companies save money and continue to grow.
2. Make More Informed Hiring Decisions
Determining when to use in-house talent or outside counsel is essentially a "buy versus rent" decision. For each matter, you have to decide if it makes more sense to buy (hire internally) or rent (pay outside counsel) to perform the work. Legal analytics can help you identify savings opportunities, flag productivity issues, and more.
Analyze these key areas to guide your buy-versus-rent decisions.
Trends in Spending
As you grow, how and where you spend your budget will change. Watching for trends in spending allows you to keep a pulse on your internal versus external costs and make adjustments as needed.
Start by setting a target for in-house and outside counsel spend, such as 50/50 or 80/20, then monitor how close you stick to it. Be sure to drill down by matter type, as you may discover that while intellectual property disputes, for example, benefit from a 70/30 internal/external split, other matters benefit more from a 60/40 split.
Vendor Management
Each vendor offers different skills at different hourly rates. To make educated vendor management decisions, you need to be able to compare vendors based on several metrics.
Track timekeeper rates to determine which law firms are worth the cost. If you notice a particular firm charges much higher rates than others, take a step back to consider whether another firm could perform the same work at a lower price.
Other metrics to pay close attention to include:
Practice area (matter group) activity by vendor
Task code cost comparison by vendor
Rate comparison by vendor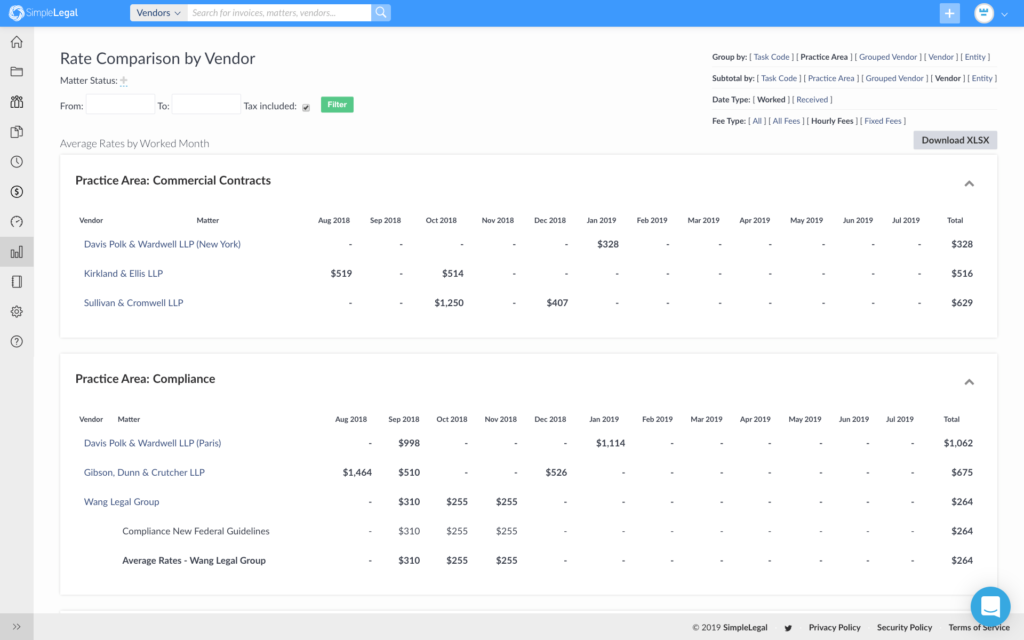 Vendor management legal analytics also gives you a better look at which law firms are the most reliable and effective. By running reports that show unbilled estimates versus actuals, you can get a better idea of how well certain firms estimate the cost of the work they will provide.
Not only does this allow you to flag over billing, it also gives you the data you need to discuss performance and efficiency with outside counsel. Identifying firms that frequently go over budget makes it easier to negotiate rates or make the decision to move work to other law firms.
Resource Allocation
Regularly reviewing in-house versus outside counsel performance and spending allows you to better gauge your hiring needs. Internally, legal analytics points you to issues such as low-value work being done by experienced, high-paid attorneys or practice areas that require a higher percentage of partner work. It's important to use data to better allocate resources so that your in-house talent is used effectively.
Of course, it won't always make sense to keep work in-house. For occasional tasks, such as 10-Q quarterly filings, it may be more cost-effective to "rent" outside firms rather than keep someone on staff.
3. Justify Your Department
People tend to go to the legal department when they have a problem that needs to be solved. It's easy to forget that legal work is ongoing and adds significant value to the business overall. Legal analytics ensures you track the right metrics so you can clearly demonstrate your department's worth.
Show your team's efficiency by tracking the following legal analytics:
Average opened and closed matters per month
Average pending days for each matter
Spend by matter type
Proactive and preventative legal work is another high-impact metric worth tracking. When you monitor the time and money spent on avoiding issues down the line, you can authenticate the return on investment. For instance, spending more time upfront to design a clear patent prosecution process could lead to a decrease in patent rejections. The upfront investment would be justified by saving the department the time and money needed to file appeals and re-submit applications.
Providing evidence of internal productivity and cost savings is important, but it can also be valuable to show how your department leverages knowledge gained through analytics to make future decisions.

When analytics simplify the process of setting accurate budgets and choosing which vendors to work with for each matter, your department is seen as proactive rather than reactive. It shows that your in-house team can manage their internal projects and also actively manage outside counsel.
The key is to demonstrate the value of your department by highlighting how your ongoing work leads to far-reaching financial and productivity benefits.
Use Reports to Put Legal Analytics Back into Context
To properly leverage knowledge gained from tracking legal analytics, you need to know how to put it into language that business heads will understand. Don't bog down C-level decision makers with confusing legalese — put the data back into the context of the business by focusing on things they care about the most, such as profit margins.
When you use SimpleLegal to track key metrics, running the reports that will drive these important budget conversations is easy. Sign up for a demo to see how you can harness the power of legal analytics and become the best run department in the organization.