How using spreadsheets undermines your legal department reporting

Millions of people across the globe use spreadsheets like Microsoft Excel and Google Sheets to organize, analyze, and report on data. Many legal ops teams rely on spreadsheets for project and spend tracking because they're familiar (Excel has been around since 1985), they require minimal training to learn the basics, and they let you automate calculations through custom formulas.
However, just because spreadsheets are widely used doesn't mean they're the best option — especially for complex tasks like legal department reporting. Solely relying on spreadsheets to inform and create your reports actually comes with more problems than benefits, from inaccurate and outdated data to difficulty collaborating. These issues decrease the quality of your reports, making it more difficult to prove your value as a strategic partner in your organization.
The most effective legal ops teams avoid these complications by using a modern legal ops platform. This technological tool streamlines the reporting process and boosts your ability to craft strategic, data-backed recommendations that move the business forward.
Manually building spreadsheets leaves less time for strategic analysis
A Sage survey of small- and medium-sized businesses across 11 countries found that approximately "120 working days" were spent on admin tasks — and it largely chalks it up to outdated technology. The more time you spend on data administration in spreadsheets, the less time you have for thoughtful data analysis.
Consider how spreadsheets make the complex task of reporting even harder. You have to spend a significant amount of time manually entering and assessing a huge amount of data. Then, you spend even more time distilling this vast quantity of information in multiple spreadsheets into an easy-to-understand report. But it's challenging to think critically after entering and staring at rows of data for hours.
Even if you have some extra coffee on your side, spreadsheets still impede your ability to develop advanced insights to share with company leaders. It's much harder to identify the high-value "why" and key performance indicators without a single source of truth capturing all your spend data. If you're bouncing between spreadsheets, you're more likely to miss patterns and opportunities to optimize and reduce spend — including beneficial alternative fee arrangements (AFAs). This negatively impacts the bottom line and your team's value as a strategic business partner.
How modern legal technology helps
Legal ops platforms pull all your spend data into one central digital location — no manual uploading involved! You can then easily view and sort data based on different categories, from monthly spend summaries to more granular ones like accruals vs. actuals at the entity level. This ability to quickly dig into your financial activity with different levels of detail gives you more time for analysis. It also makes it easier to identify trends and opportunities to optimize spend. Best of all, you can generate reports with the click of a button.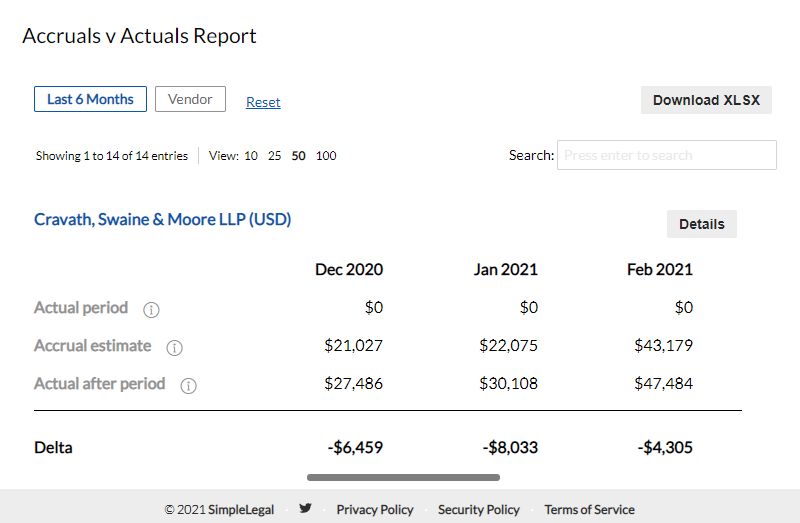 Source: SimpleLegal
It's easy to make mistakes in your legal department reporting (and hard to notice them)
With spreadsheets, the best defense you have against inaccurate data is reviewing it yourself. And if you're building reports from multiple spreadsheets with hundreds of rows, simple human errors are bound to occur.
In fact, IBM found that 88% of spreadsheets have at least one error, and spreadsheets are so prone to issues that Europe created its own Spreadsheet Risks Interest Group so professionals could learn spreadsheet risk management. These inaccuracies can cost businesses millions, and they only get worse when you have multiple people working in the same document. And if you find an error hiding among hundreds of Excel rows, you can't determine who caused it or when because there's no live tracking.
These issues lead to less effective business decisions. Inaccurate reporting causes serious problems for your company, especially in a difficult economic time like COVID-19, where every dollar counts. It can also cause problems for you and your team if your general counsel (GC) or chief legal officer (CLO) calls out an error you didn't catch.
It's difficult to perform quality assurance with spreadsheets. You have to manually check your own spreadsheets, and you either trust that ones from coworkers are accurate or have to review them yourself. This labor-intensive review process takes you away from other strategic priorities, and it's not even foolproof.
How modern legal technology helps
Legal software integrates with applications like finance systems and time tracking software, and it automatically flags and adjusts billing guideline violations and incorrect matter codes from outside counsel. This reduces manual errors and duplicate data entry, giving you greater confidence in the accuracy of your reporting. Additionally, these platforms let you see who's working on what in real time, so it's much easier to collaborate and address any issues that come up.
You can't track real-time data updates
It's a problem if you can't get your GC or CLO the new information they need in a timely manner. This puts them at a disadvantage in making the best business decisions. 90% of surveyed legal staff feel they slow down their company's initiatives, and operating off lagging data definitely plays a role.
Spreadsheets don't automatically pull in information from different sources. This means you can't generate a report showing the latest critical updates, like new spend or matter data, without having to find and enter them yourself. This leads to an increased chance of data inaccuracy because you're rushing to appease stakeholders while manually pulling information from different sources.
How modern legal technology helps
Because it automatically pulls in critical data from other applications, a legal ops platform can show you centralized, real-time dashboards with the latest updates. From there, you can quickly generate reports for stakeholders with up-to-the-minute information in just a few minutes, not hours.
Spreadsheet knowledge levels vary from person to person
While it's relatively easy for someone to learn the basics of spreadsheets, the same can't be said for learning more advanced functions. There are full Excel and Google Sheets certification courses because they have so many layers. And when your team members don't share the same working knowledge and training, this leads to discrepancies in reporting accuracy and formatting.
When people say they "know" how to use spreadsheets, that has different meanings. Some might just be able to create a table, while others might have a solid working knowledge of some of Excel's 450 different mathematical capabilities. So, reports from your team members may have completely different levels of depth and will lack a cohesive presentation. The last thing you want is for your team to provide disjointed reporting to your C-suite.
If you want to see more consistency in your team's legal department reporting from spreadsheets, you'd have to take the time to develop specific templates or procedures to follow. This takes you away from other high-level priorities. Your team might also resist being told how to approach spreadsheets because their way has always worked for them.
These differences in spreadsheet knowledge also make it harder to generate custom reports and accurately track a wider variety of key metrics (productivity, time to process invoices, etc.). If someone on your team doesn't know how to calculate a certain metric in a spreadsheet for reporting, they'll have to try manually solving it or will have to ask another team member for help. Teamwork is great, but it can frustrate individuals if they have to keep pivoting from their own time-sensitive work to help troubleshoot Excel or Google Sheets questions.
How modern legal technology helps
Legal software that comes with robust customer support and training gets your team members on the same page by walking you through best practices to optimize your reports. You also don't need to worry about a lack of consistent formatting because you have access to pre-built report templates, which also save you time.
A legal ops platform is the key to high-value legal department reporting
Using ineffective spreadsheets to inform financial decisions will hurt your company's bottom line far more than investing in legal technology to improve reporting and other strategic priorities. It's time to make the case for legal technology to your team and C-suite so that you can optimize your reporting and deliver KPI analytics faster and safer than ever.