What is legal operations?

Legal operations (also called "legal ops) is the combination of all the business activities, processes, and people that empower an in-house legal team to serve a company's legal needs using a strategic business approach.
Unlike the legal administration team in law firms, which focuses on admin tasks like answering calls, drafting documents, and conducting legal research, legal operations teams support in-house counsels with skills like planning, financial management, vendor management, technology management, and legal data analytics.
How legal ops has changed over the years
Before 1990, legal operations was more focused on risk management than on maximizing resources. The goal was simple: reduce outside counsel costs.

The '90s – mid-2000s saw an official, more complex legal operations department that facilitated heavier use of outside counsel even though keeping costs low was still a goal.
The major transformation began in the mid-2000s and carried on to 2019.
Legal ops began to focus on not just reducing costs but also on the granular breakdown of those costs and the ROI they delivered. By embracing technology and automation, legal ops teams could break down spend by matter type and evaluate outside firms by their past performance.
Because of the strategic insights legal ops delivered, legal departments could now see the value in having a legal ops team. Whereas only larger legal departments could afford a formal legal operations team before 2000, a formal legal operations team has become more common now, even at smaller companies.
In our own customer base, we've seen formal legal operations manager job titles in legal departments with as few as five people. But some teams are even smaller. A 2020 Association of Corporate Counsel (ACC) report found that almost 25% of legal departments only have one legal operations professional on the team.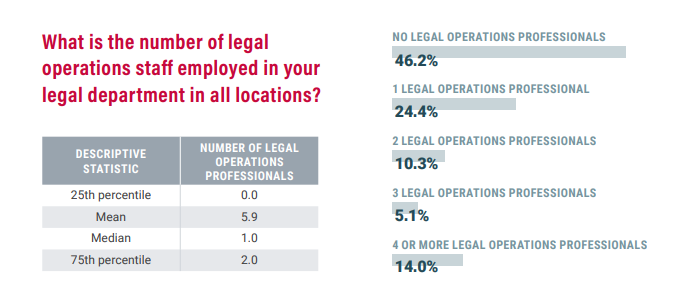 And while 46.2% of legal departments still have no legal ops team, the same ACC report shows that the number of departments with a formal legal ops team has more than doubled (2.5x) over the past six years.
The key functions of a legal ops team in 2021 and beyond
According to the recently updated Corporate Legal Operations Consortium's (CLOC) "core 12" competencies list, the 12 key legal operations functions are:
Business intelligence: To collect and analyze data based on important metrics so as to glean actionable insights for more strategic decision-making.
Financial management: To plan legal spend, create budgets, implement and monitor e-Billing for legal services, manage accruals, and forecast expenses, among other things.
Firm and vendor management: To choose the right firms by performing due diligence, uncover opportunities, negotiate better rates, handle contract management, and, overall, onboard new vendors quickly.
Information governance: To create clear policies so as to lower corporate risk, to communicate those policies to employees, and to manage data security and compliance.
Knowledge management: To facilitate knowledge hubs, create templates, and prevent knowledge loss, e.g., from staff departure or role changes.
Organization optimization and health: To create a hiring vision for cultural fit, encourage team members' work/life balance, and maintain a good pipeline of talents.
Practice operations: To allocate tasks to the right skill level for better speed and efficiency.
Program/project management: To manage projects, workflows, and programs faster without compromising on quality.
Service delivery models: To define and structure service provider relationships, to break down larger projects into assignable tasks, and to reduce reliance on more expensive law firms.
Strategic planning: To create team goals that align with the priorities of your stakeholders.
Technology: To automate time-consuming and repetitive tasks and to increase accuracy in data collection.
Training and development: To create training resources for new hires and to facilitate career development for employees.
Ideally, a good legal ops department will be able to carry out most of these functions to improve logistics and processes and, overall, allow your law team to focus on being better lawyers for your organization.
How do you build a legal operations team?
Building the right legal ops team for your department involves understanding what you need, hiring the right person for each role, and equipping them to do their job.
Determine what your department is ready for.
There are three levels of legal operations: admin, optimizer, and strategizer. They all have different responsibilities. The admin-level focuses on basic management activities, such as vendor management, payments, compliance, and reporting. The optimizer-level focuses on improving those processes, and the strategizer focuses on maximizing results. Understanding your legal department's maturity level will help you pinpoint what position you need to be hiring for.
Choose what role to hire for based on your needs.
It can be overwhelming to try to build a complete team from scratch, and the time investment can be a drain on your internal resources. If you are just starting out (at the admin level), you need a manager more than you need an analyst.
Empower your team with the right tech.
Legal operations is not nearly as effective without technology. 67% of chief legal officers say that technology is the main factor for efficiency within their department. Tech allows you to automate manual work, streamline document management, and simplify data collection and reporting to name a few. Your team will need dedicated legal ops software that features e-Billing, reporting and analytics, spend, matter, and vendor management to run efficiently.
Typical legal ops jobs
There are three main legal operations jobs: the legal operations manager, the legal operations specialist, and the legal operations analyst. There's a fourth position — the director of legal operations — who would be the overall head of the legal ops department, but we're not including that role right now because it's more common for the department to be led by the legal operations manager.
These positions work together to manage, improve, and analyze activities in the legal ops department.
Here's a brief rundown of what each role does:
Legal operations manager: Also called the legal operations director, the legal operations manager manages and supports the team around tasks like vendor management, budgeting, and staffing. Where there's no director of legal operations (the head of legal operations), the legal operations manager also reports directly to the general counsel and oversees tasks like resource allocation, change management, and decision-making.
Legal operations specialist: Works with the legal operations manager to create and improve processes for an efficient and effective legal team, to facilitate change, and to control costs.
Legal operations analyst: Regularly examines the legal team's operations to identify room for change and helps implement those changes.
Qualities of good legal ops leaders
Good legal operations leaders tend to fit one of four distinct personas:
The uber-analyst who brings quantitative rigor to the legal department
The MBA who brings additional operational and financial discipline to the legal department and their vendors
The lawyer who has chosen a more business-focused career path
The highly analytical JD/MBA who is valued for their legal and business expertise
And while a JD or an MBA is a great addition, the people you require for these roles don't need to have those degrees. What they need to have is:
A strong understanding of the core business
The ability to translate the needs of business departments into legal requirements
The ability to manage outside law firm performance
A commitment to using the internal legal department to grow the company
If building your legal operations team is something you want to focus on, we have four legal ops job description templates you can look at to get you started.
It's time to embrace legal operations for a value-driven legal department
Legal departments have a company-wide responsibility to protect and grow the business while also managing internal and outside counsel budgets. They face increasing pressure to do more with less. That's where legal operations comes in.
But a legal operations team is only as effective as the technology available to them. In fact, CLOC lists technology as one of the core competencies for effective legal operations professionals. Want to empower your legal ops team with software that makes it easier to get results? Our solution helps modern legal teams better manage their spend, matters, vendors, and so much more for efficient legal operations. Schedule a demo of SimpleLegal to learn more about dedicated legal operations technology.
This article has been updated to reflect new information and industry trends from the original article, published on March 30, 2016.