Introducing SimpleReview: AI-Powered Invoice Reviews

SimpleLegal is excited to introduce SimpleReview, our latest innovation that uses machine learning and natural language processing to make invoice reviews hyper-focused, more thorough, and simpler! SimpleReview analyzes every invoice and line item description to identify common billing errors, clearly surfacing them for customers.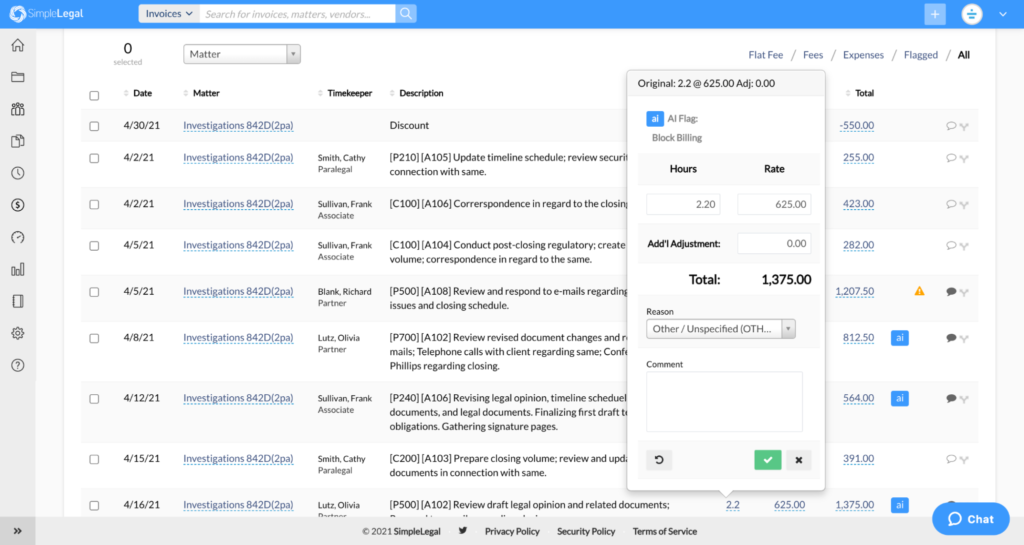 With billions of dollars of historical invoice data, our AI model can experience the many intricacies of legal billing in the real world, as well as several billing scenarios specific to legal billing to yield a very high degree of accuracy. SimpleReview continuously learns so accuracy continues to improve with every invoice!
The Struggle is Real
Outside counsel invoices can span hundreds of pages and thousands of line items – it's no surprise that many legal teams struggle to review invoices due to bandwidth constraints and may find it difficult to give every invoice the attention it needs to ensure savings aren't missed.
SimpleReview ensures that every invoice gets reviewed thoroughly and helps to better focus the time spent on reviewing invoices, allowing attorneys to review invoices quicker, then return to protecting and growing the business.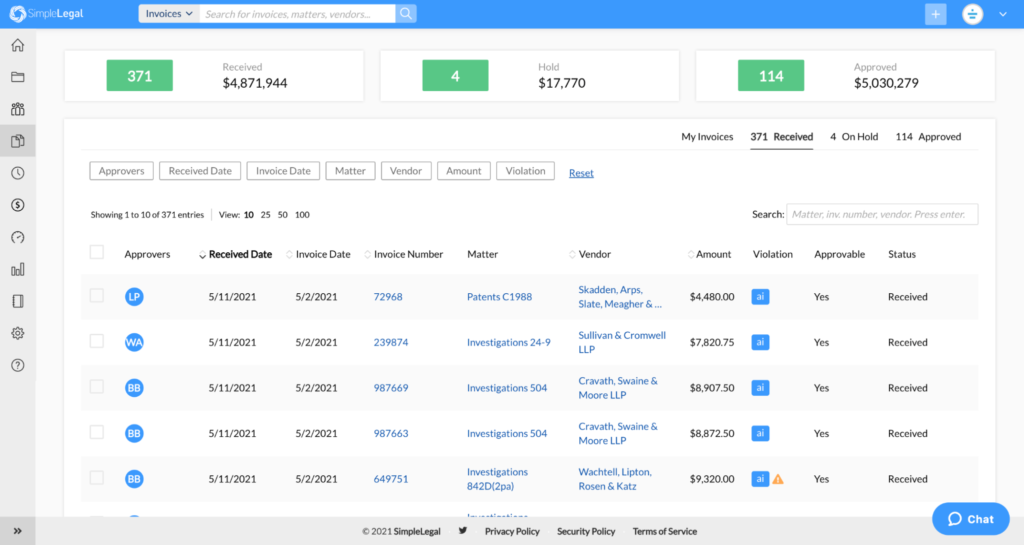 SimpleReview is great for legal teams of all sizes and maturity levels, especially those who want to ensure their law firms and vendors are only billing them for approved work and expenses. The technology offers additional benefits that transform how legal teams conduct invoice reviews:
Hyper-focused invoice reviews: SimpleReview flags invoices that have a high confidence of errors, pinpointing exactly where attorneys need to focus on, reducing the effort of reviewing invoices.
Enhances the billing process: Flags will surface common issues and provide data to help improve billing guidelines and vendor management.
Maximizes savings: SimpleReview identifies violations that can slip through the cracks because 100% of invoices get reviewed.
Frees up valuable attorney time: SimpleReview does the heavy lifting in invoice reviews, allowing attorneys to focus on other legal work that helps their organization achieve goals.
Improves law firm billing practices: When SimpleReview catches invoice issues (especially vague and/or block billing), it provides customers with data to influence and change how a law firm invoices, leading to better information on what the firm actually did for the customer.
For more information on SimpleReview, please download our datasheet or request a demo!