Product Launch: DE&I Tracking and Reporting

Legal departments everywhere are getting serious about diversity. Are you?
Diversity, equity, and inclusion (DE&I) has been a topic of discussion among corporate legal departments for years and has generated ample ideas for change. But only recently has legal technology caught up to provide scalable ways to turn ideas into action.
The state of diversity in legal
Why is diversity such a big topic in legal? According to a recent American Bar Association (ABA) survey, women and minorities at U.S. law firms are severely underrepresented in leadership positions, receive lower compensation, and are excluded or overlooked for promotional opportunities. In fact, the depiction of males and females at the Associate level is about even, but representation diverges at higher levels of the firm to favor males. For Non-equity Partners, the numbers split to 70% vs. 30% and for Equity Partners, the split is even greater at 80% vs. 20%. The survey also shows more white attorneys are promoted to Equity Partner than attorneys in other racial groups.
Legal teams across industries have recognized that their law firms and vendors are a reflection of their company and their organization's public reputation. They are starting to seek a diverse set of business partners to drive better outcomes and work product.
SimpleLegal steps up to the plate
SimpleLegal is committed to a more diverse and inclusive legal industry – we're all in this together. We know that the success we've achieved so far as a company has been greatly influenced by our diverse mix of backgrounds and experiences.
That's why we're excited to announce that we've added DE&I Tracking and Reporting to SimpleLegal to help our customers easily collect, track, and report on diversity data at their law firms and vendors to help push their diversity initiatives forward.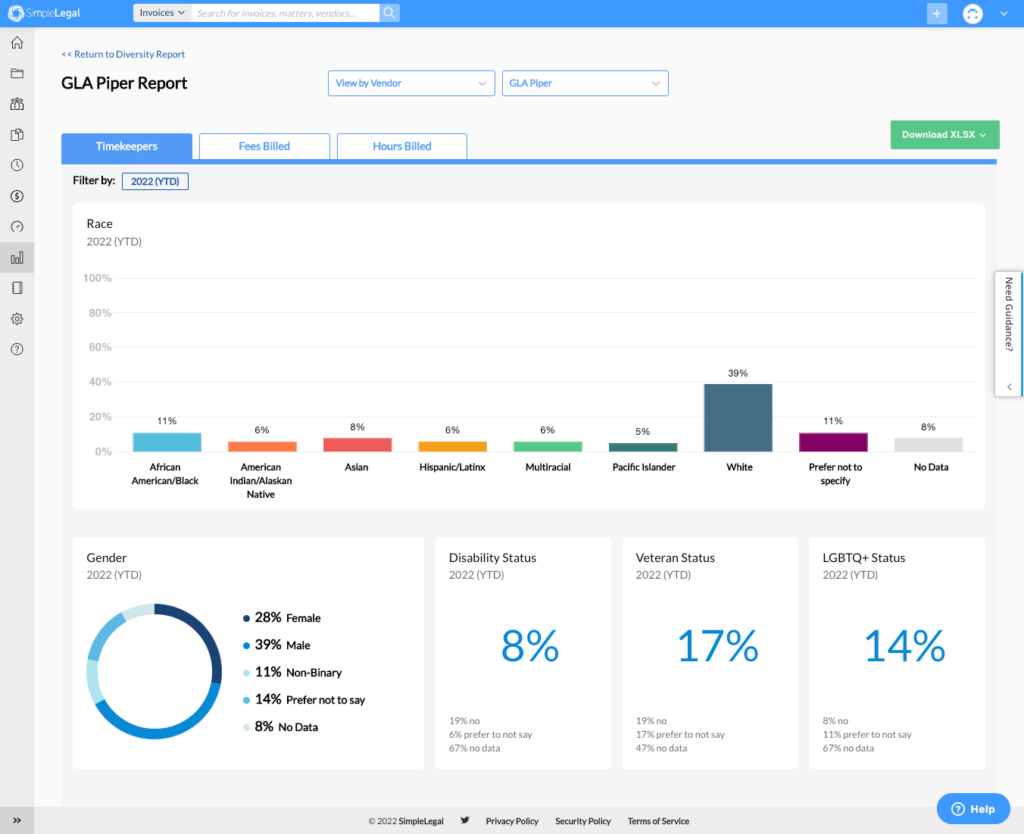 We approached this new feature considering two core focus areas:
1. Collection
Many competing technologies collect diversity data through a survey that's sent to individual timekeepers. We felt that this wasn't the optimal way to collect this information because response rates are typically low, it didn't provide a way for our customers to push back, and we didn't want it to feel like "just another thing to do" for their law firms.
Instead, we collect diversity data leveraging an existing process, the timekeeper rate submission, that law firms are already familiar with, lowering the barriers to respond. Law firms and vendors have to submit their rates for approval anyways, and it puts the power back in the hands of our customers as they can choose to hold rate approvals until diversity questions are responded to.
2. Reporting
In order to have accurate reporting, you need to have good data, so that's where we started when thinking through diversity reports. In order to accomplish this, we standardized inputs for diversity questions on gender, ethnicity, disability, LGBTQ+, and veteran status, influenced by the standards set by the ABA.
Next, we thought about what information and insights are important for our customers so that they can make better business decisions, such as which law firms to source. Based on our research and findings, SimpleLegal provides three types of reports to get a clearer view of law firm diversity and any progress made:
Vendor: See how diverse a specific law firm's timekeepers are.
Practice Area: View the diversity of timekeepers by practice area.
Vendor Lead: A holistic view of diversity among matter leads.
You can compare by year and multiple years to see the progress your law firms and vendors are making, and where they could pay more attention. For an even more comprehensive view of how your vendors stack up, a side-by-side comparison report of up to ten different vendors is available on one page to see which vendors are working with you to achieve diversity goals and which aren't.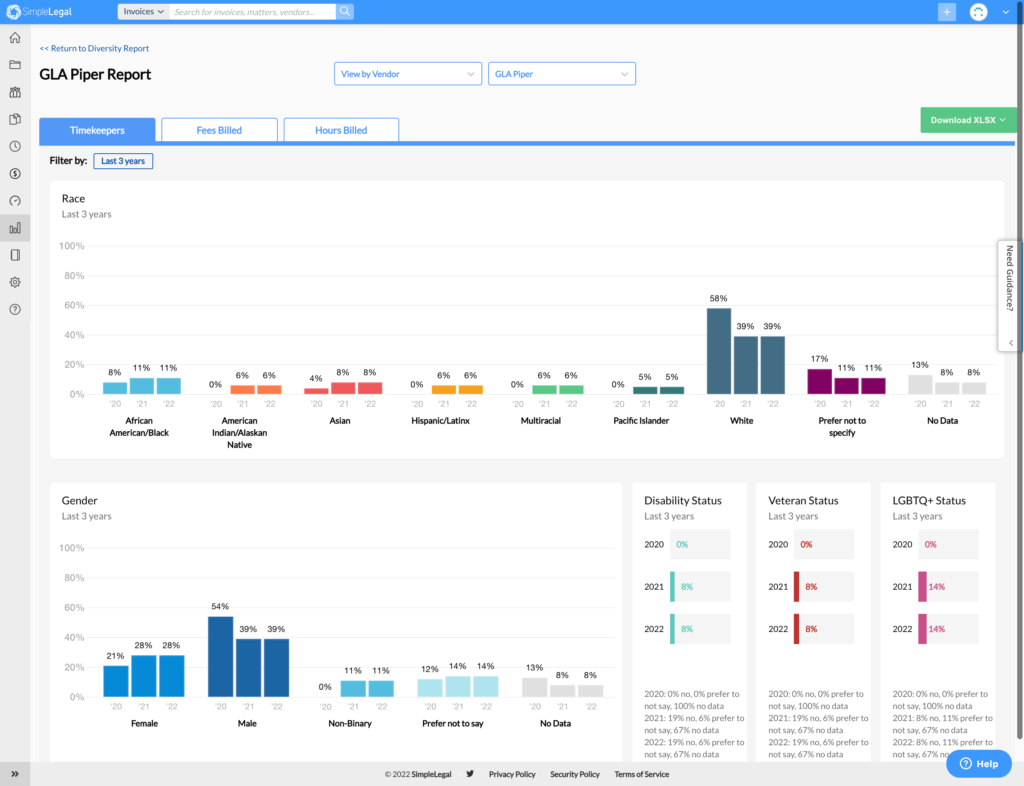 Ultimately, the ability to analyze and act on insights to make better sourcing decisions is what DE&I Tracking and Reporting provides. With comprehensive and robust reports, you can easily benchmark and gauge diversity progress over time, allowing for relationship-level conversations backed by data to happen.
Benefits of diversity
Not only is a focus on diversity, equity, and inclusion the right thing to do, it has a meaningful impact on the overall business. Research from McKinsey shows that companies in the top quartile for gender or racial and ethnic diversity are more likely to have financial returns above national industry medians, and diversity has a positive effect on creativity, innovation and decision-making in the workplace. This makes sense as different backgrounds lead to different experiences and perspectives, broadening options for creative and innovative solutions to problems an organization may face.
Consider these findings from McKinsey:
There's a connection between diversity and earnings: In the United States, there is a linear relationship between racial and ethnic diversity and better financial performance: for every 10 percent increase in racial and ethnic diversity on the senior-executive team, earnings before interest and taxes (EBIT) rise 0.8 percent.
There's room for improvement: While certain industries perform better on gender diversity and other industries on ethnic and racial diversity, no industry or company is in the top quartile on both dimensions.
It's a differentiator: The unequal performance of companies in the same industry and the same country implies that diversity is a competitive differentiator shifting market share toward more diverse companies.
It's clear that prioritizing diversity means more to a business than simply societal good – it's good for their employees, customers, partners, and bottomline!
For more information on how to better collect and understand diversity data, sign up for a demo or learn more by reading our datasheet.